By Skip Bayless
Page 2
I defended him a year ago.
No, I said, Bob never Stoops to running up the score. His father, a high-school coaching legend in the state of Ohio, would spiral in his grave if Bob ordered his starting quarterback to throw for a late touchdown in a blowout. Bob's three brothers, all coaches, would immediately offer up some tough love.
No way Oklahoma coach Stoops ran up the score on Texas A&M in last season's 77-0 annihilation in Norman. Backup quarterback Paul Thompson played most of the third quarter and all of the fourth. The Sooners didn't score a single fourth-quarter point.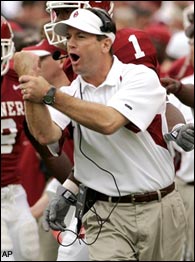 Bob Stoops isn't holding back on running up the score anymore.
That's why Stoops and Sooner Nation stood up and fought back when Mike Lupica scolded Stoops on ESPN's "The Sports Reporters" last year for running it up on A&M that day. Lupica later said the e-mail backlash was the worst he has experienced -- and Lupica has taken almost as many shots in his career as Michael Jordan did in his.
Mike, that was a rare miss.
Or maybe you were just seeing the future.
Imagine my shock and disappointment last Saturday as I rubber-necked my TV while Stoops ran up the score on Kansas in Norman.
I view Stoops as a young Lombardi -- as college football's toughest, brightest, classiest coach, and one of its cleanest recruiters.Though Stoops treats former OU coach Barry Switzer with respect -- Switzer did win three national championships and a Super Bowl -- Stoops is the anti-Switzer. Switzer played fast and loose with NCAA regulations and unwritten coaching rules. Switzer ran it up on and off the field. Stoops is a family-first coach who honors his profession the way his father, Ron, did for 28 glorious years at Youngstown's Cardinal Mooney High School, where he coached Bob.
Imagine my disillusionment as reigning Heisman Trophy winner Jason White threw an eight-yard touchdown pass against Kansas with 35 seconds left. That made the final score 41-10.
Bob Switzer?
Stoops also left freshman sensation Adrian Peterson in the game in the final quarter to pile up 99 of his 122 yards against a tiring Jayhawk defense.
Bob Spurrier? At Florida, Stoops coached under Steve Spurrier, the run-it-up master, and the two remain close. But I thought Stoops would always insist on doing it his way, the right way, the only way.
Seemingly worst of all, Stoops rubbed it in on one of his closest friends, his former offensive coordinator, Kansas coach Mark Mangino.
What in the name of Lombardi is going on here?
It appears Stoops is finally playing the game the way college football almost forces a coach to play it.
Almost.
As it turns out, Stoops pretty much apologized in advance for what he did to Kansas. At his media session the week before, Stoops said he would now take full advantage of late scoring opportunities. To the angry surprise of Sooner fans, Miami had opened the Bowl Championship Series rankings at No. 2 behind USC, and ahead of OU. Oklahoma had been ranked second all season in the Associated Press and the USA Today/ESPN coaches' polls. But when Miami came out on top of OU in the ranking that matters the most, Stoops heard some retroactive grumbling from fans and commentators about a late touchdown he left on the steak-dinner plate against Texas Tech in Norman on Oct. 2. That final was 28-13.
The general attitude among OU fans is: "Stoops makes about $2 million a year to get us to the national championship game. If that takes scoring late touchdowns in blowouts, Boomer Sooner."
Lupica was just a year ahead of himself.
After OU 41, Kansas 10, Stoops was asked if the BCS ranking factored into White's late touchdown pass.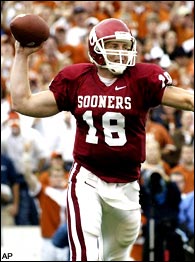 Jason White might win another Heisman. He also might get hurt again.
"It's not fair to say it doesn't," he said. "As opposed to just sitting on the ball the last minute of the game, it forces you to play."
OU insiders explain Stoops actually found it easier to run it up on Mangino because Mangino, of all people, knew it wasn't personal. What are friends for? Mangino told reporters he wasn't bothered by the late touchdown because -- coaching 101 cliche -- "it's our job to stop 'em."
Whatever, Stoops' heck-with-sportsmanship approach worked. OU climbed back over Miami into the No. 2 spot in this week's BCS ranking. Of course, the top two teams play for the "national championship."
Yet here's what doesn't quite add up: The "human" polls (AP and USA Today/ESPN) each count for one third of the BCS. Because the sportswriters and coaches who vote in those polls are often too busy coaching or covering one game to watch many others, they can be influenced by reading that OU scored 40-something instead of 30-something. When they vote on Sunday, they might not be aware that Stoops kept pounding away with Peterson and let White throw well after Saturday's game was in hand.
Yet while it remained No. 2 in both "human" polls, OU lost one point in the coaches' poll, down to 1,469. So OU 41, Kansas 10 did not enhance OU's mystique among those voters. Maybe it will later, if voters scan a season's worth of scores. But it didn't this time.
The other third of the BCS score -- the average of six computer rankings -- supposedly disregards margin of victory. Yet OU somehow improved enough in the computer rankings to rally past Miami. This does not compute. Miami won at North Carolina State, 45-31, and N.C. State is a slightly stronger team than Kansas.
Yes, yes, yes: As I've written for 30 years, the obvious solution is a playoff. Don't get me started.
Yet I ask Stoops: With rugged road tests this week at Oklahoma State and next week at Texas A&M, couldn't you wait to let your team impress voters and computers against quality competition? Win those two games 41-10 and you're a virtual lock for the championship game. Margins of victory against Texas Tech and Kansas would be rendered irrelevant.
This leads to Question No. 2 for Stoops: Aren't you playing the Heisman game as much as the BCS game?
Stoops has two players -- White (who won it last year) and Peterson -- with legitimate shots at winning this year's Heisman, and that's rare. And Stoops knows that final stats are all that matter to most voters in that campaign.
So Stoops allowed White to climb back into the Heisman race by throwing his fourth touchdown pass of the game -- no matter how cheap it was. White now leads Heisman quarterback candidates with 17 touchdown passes against four interceptions. If defenses continue to load up for Peterson -- and OU goes undefeated -- White surely could throw his way to another Heisman.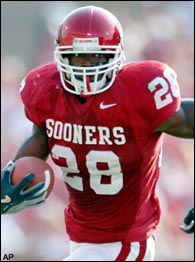 Adrian Peterson's had quite a freshman year. But what if he goes down?
Stoops also allowed Peterson to remain among the Heisman front-runners by avoiding a disastrous day. What if Stoops had called off the first-string dogs and left Peterson with only 23 yards after three quarters? To many voters, 122 yards are 122 yards, regardless of how and when they're gained. You couldn't blame Stoops quite as much for running Peterson down the Jayhawks' throat.
Imagine how a freshman Heisman winner would enhance OU's recruiting appeal. The nation's best prep quarterbacks and running backs would start thinking of OU as Heisman U.
But this runs us head-on into my final question for Stoops: What if Peterson or White had been injured in the fourth quarter?
Peterson runs as hell-bent recklessly as any back in college football. White has had reconstructive surgery on both knees. Especially if White goes down, OU can forget winning it all.
If either had been hurt, Stoops would have come off as college football's Mike Martz.
The better judgment he learned from his father surely should have warned him.
No matter how much BCS/Heisman sense it made to run it up, I lost a little respect for Stoops last weekend. I wonder if other coaches did, too. I wonder if the coaches at Oklahoma State and Texas A&M will use the Kansas game film for motivation before the big, bad bully from Norman visits.
I wonder if Stoops has more in common with Switzer and Spurrier than I want to believe.
Skip Bayless recently joined ESPN after a career as a sports columnist that includes stops in Miami, Los Angeles, Dallas, Chicago and San Jose. He can be seen Monday through Friday on "Cold Pizza," ESPN2's morning show. His column will appear weekly on Page 2.