By Skip Bayless
Page 2
Let's say Terrell Owens is right. Let's say God has miraculously healed him. Yes, let's say God works in extremely mysterious ways.
Is it possible God actually blessed Owens with this injury?
God forbid his injured ankle threatens his career. But has a reasonably minor NFL injury -- one that should heal completely by next season -- ever benefited a player more than this one did this guy?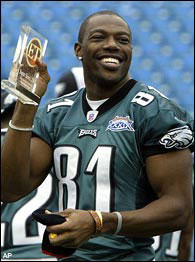 In a way, Terrell Owens has already won this week.
If Owens hasn't completely brainwashed you by now, please put down the T.O. Kool-Aid for a moment and think about this.
This injury has turned T.O. -- as in Terribly Overrated -- into The Most Important Player in Super Bowl History, and he hasn't had to prove one thing in either of the Philadelphia Eagles' pressure-cooker playoff games. This injury has guaranteed he will be the hero, win or lose. This injury has taken every drop of sweat-soaked pressure off a guy whose arms sometimes shrank and whose fingers sometimes turned to butter at crucial moments when he played for the 49ers.
Terrell Owens is the only player on either team who cannot lose. Merely defying his doctors' orders and playing a few plays will be hailed as a courageous achievement. If he can't contribute and the Eagles lose, so what? But if he can't contribute and the Eagles win, his mere Willis Reed Memorial presence will be credited with lifting a 7-point underdog to an upset. And if he actually catches some key passes and the Eagles stun the Patriots ... oh, my God.
Going into this game, Owens must feel like he has died and gone to heaven.
I waited all season to see how Owens would bear up under the big-game burden of being hailed by Eagles fans as their Moses, come to lead them to the Roman-numeral promised land. I wanted to see how he stood up to to the fire-and-brimstone NFC East challenges in Dallas, Washington and Giants Stadium. But perhaps God did protect Owens: One by one, the Cowboys and Redskins and Giants turned into pillars of salt. The defending NFC champs, the Carolina Panthers, turned into Job's Team, suffering a plague of early-season injuries.
So T.O.'s team had to play only one truly tough game, at Pittsburgh. The Steelers won 27-3. Owens did catch seven passes for 53 yards, but one went for 20 and none for touchdowns.
Ah, but Owens, whose media savvy should never be underestimated, was shrewd enough to take the focus off his performance by aiming a sideline rant at his soulmate and quarterback, Donovan McNabb. Knowing the cameras would capture his every grimace, Owens appeared to be chastising and exhorting McNabb in the spirit of, "You're better than this, dog."
The more McNabb attempted to walk away, the more Owens followed. Right, left, right, left: Owens choreographed a brilliant ballet of subtle blame deflection.
But other than Pittsburgh, T.O.'s team encountered laughably little adversity. The Vikings and Packers -- who played some of the worst defense this side of a wax museum -- had to play in T.O.-ville. So did offensively challenged Baltimore, which effectively plays with one Kyle Boller tied behind its back.
Oh, does the showboating front-runner known as T.O. love to pour it on and rub it in when you're down. When Owens caught what surely would be the clinching touchdown pass against the Ravens, he mocked the pregame dance of middle linebacker Ray Lewis.
Note that Owens did not have the guts to, say, mock Lewis during pregame introductions. No, he waited until he had the upper hand against a team the Eagles don't regularly play. Owens knew Lewis might never get the chance to settle that score.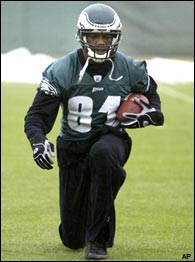 Owens has made himself into a hero by practicing and planning to play on Sunday.
This is the Owens I came to know and eventually loathe in San Francisco. At first I defended him, because he worked so hard on his body and, according to 49ers sources, avoided drugs and off-the-field trouble. But one game in 2001 opened my eyes. The 49ers blew a 28-9 third-quarter lead at Soldier Field and found themselves in overtime against the Bears, who were just boarding the magic carpet they would ride into the playoffs.
The 49ers won the toss. On the first play, Jeff Garcia threw a perfect slant pass to Owens, who flinched from a possible collision with middle linebacker Brian Urlacher and alligator-armed the ball. It popped off his fingertips into the eager hands of safety Mike Brown, who returned it for a touchdown.
The following day, Owens blamed coach Steve Mariucci for "taking it easy" on his old friend Dick Jauron, the Bears' coach, when the 49ers had a big lead. General manager Terry Donahue was privately furious with Owens for coming up so small on the first play of overtime. But in San Francisco, Owens constantly blamed Mariucci, then Donahue, then Garcia. He has been on a year-long, low-blow campaign to condemn Garcia for everything that went wrong for Owens in San Francisco.
This, apparently, was all part of God's plan.
Maybe T.O. stands for The One.
Playing a pretty easy schedule, Owens did have a pretty sensational year. McNabb threw him 1,200 yards worth of passes for 14 touchdowns before T.O. tore ligaments in his ankle and cracked a bone against Dallas in the third-to-last regular-season game. While Eagles fans were devastated, I was disappointed. Eagles fans still haven't seen the real T.O., on and off the field. They got a glimpse against the Steelers, but at no other time this season did this notorious finger-pointer need to point at anything but the sky, to thank God.
It's certainly possible Owens has had a spiritual awakening in Philadelphia. But the me-first self-promoter I covered in San Francisco -- the one who alienated most of his teammates and all of his coaches and management, even as the team was making the playoffs in '01 and '02 -- did not walk the believer's walk.
Now Owens says God has cleared him to play Sunday. And all this time I thought God concerned Himself with more important issues than who plays in -- or wins -- the championship game of a violent sport played on the Sabbath.
Yet Owens has won over millions of mortals with his Christian-soldier courage. His doctor wouldn't clear him, and many medical experts have chimed in on how risky it is to play about four weeks ahead of schedule. But Owens says we will witness a miracle.
The real miracle is that he already has won the Super Bowl MVP without having to play a single postseason down.
Owens would have been expected to be the difference-maker in two home playoff games for a team that had lost three straight NFC title games. Fearing the worst, Eagles fans would have expected the best out of a healthy Owens. Yet all he had to do was lead camera-hogging cheers as, somehow, the Eagles twice scored 27 points and survived without him.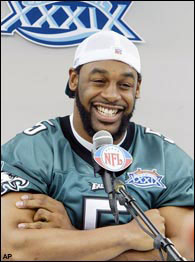 Donovan McNabb hasn't been all smiles when the topic of T.O. comes up.
McNabb played two of the best games of his career as the Eagles' offense became much more versatile and far less predictable. Without Owens, the Eagles were able to feature Brian Westbrook, who can be a little more valuable than Owens because he can hurt a defense in so many ways from so many spots. I say the Eagles would have played in last year's Super Bowl if an injured Westbrook hadn't missed the playoffs.
I could be wrong, but it sure sounded as if the relentless T.O. questions finally rubbed the Eagles' pride raw this week -- especially McNabb's.
More and more, McNabb answered them with a forced smile framing clenched teeth. The smile momentarily vanished only once, on Monday, when McNabb was asked if T.O. had made him a better quarterback. McNabb responded that if either had made the other better, "I made him a better receiver."
You get the feeling that if Owens didn't play, his teammates would play with a chip on their shoulder pads the size of T.O.'s ego. I'd like their chances a little better without him. McNabb wouldn't have to waste any early plays seeing if Owens can plant and cut off his injured ankle and make catches without trying to protect his not-quite-healed leg. Perhaps lightning will strike me for writing this, but I say there's no way Owens can play as quick or as fast as he normally does.
But is there any way coach Andy Reid could tell Owens he couldn't play, even if Reid thought that was best for the team? No. Reid would risk his job if the Eagles lost. Any way management could force him to sign an injury waiver? No. Owens would make more noise than the Liberty Bell, and his fans would storm the Eagles' offices.
The only mortals who aren't in awe of him play for the Patriots. If they basically took Marvin Harrison away from Peyton Manning, and Plaxico Burress away from Ben Roethlisberger, do you think they're losing any sleep over God's favorite receiver?
Forgive me, God. But h-e-double-hockey-sticks no.
The Patriots will win 27-10. And so will Owens.
 Skip Bayless joined ESPN after a career as a sports columnist that includes stops in Miami, Los Angeles, Dallas, Chicago and San Jose. He can be seen Monday through Friday on "Cold Pizza," ESPN2's morning show, and at 4 p.m., ET, on ESPN's "1st & 10." His column will appear weekly on Page 2. You can e-mail Skip here.