By Skip Bayless
Page 2
Allen Iverson did exactly what he told Chris Webber he was going to do.
Late in Saturday's game, he shot his second free throw just long enough that it caromed squarely off the back iron. The ball bounded beyond the two Sacramento Kings with the inside position and fell perfectly within reach of a now-former King. Out flashed one of Webber's tantalizingly long arms. Suddenly, improbably, the newest Philadelphia 76er had the ball and an open path to slam it home just before the buzzer. The basket would force overtime.
What a fairy-tale moment this could have been: Sixers Could Be Kings ... Webber Burns Former Team in Philly Debut.
Yet this was the last place C-Webb wanted to find himself.
See Webb cower. See Webb shrink.
Instead of going up strong, Webber took off toward the right side of the rim, almost as if inviting interference from an ex-teammate. Ironically, the only challenge came from an ex-Sixer, Kenny Thomas, one of three players traded last week for Webber. Yet Thomas didn't block or bother Webber's little scoop layup. It merely didn't have enough oomph.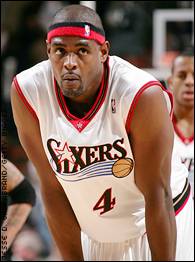 You can take the player out of Sacramento . . .
The shot came to a no-guts, no-glory end against the rim. Kings 101, Sixers 99.
Webber sent himself into an exaggerated and unnecessary fall, as if to fool the Sixers' first official sellout crowd of the season into believing he had been knocked off balance up near the rim. He yanked former teammate Darius Songaila down on top of him.
But C-Webb, more lover than fighter, quickly hugged and patted Songaila as if to say: "Thanks for falling with me, man. I still love you guys."
At least, Webber loves all the Kings except the one who couldn't play Saturday night. The town of Sacramento wasn't big enough for both Webber and Peja Stojakovic. That was one reason Webber had to go. General manager Geoff Petrie wants the Kings to finally become Peja's Team.
Oh, the pain: Even with an injured Peja watching from the end of the bench, the Kings outscrapped and outshot the Sixers in the fourth quarter and upstaged the Seventy-Webbers in his first game in Philly.
As I watched, I felt a little sorry for Webber. I've always felt a little sorry for a guy who was blessed with way too much talent — attached to way too much sensitivity and intellect. Gut feeling: Mayce Edward Christopher Webber III has never wanted to be as great as we expected him to be.
His mother, Doris, a teacher, has always told him: "The more you've been given, the more that's demanded of you."
She means money. But this also applies to ability.
Webber stands 6-foot-10, but his arms and springs have always allowed him to play 7 feet tall. Until he hurt his knee in the 2003 playoffs, he was the quickest-jumping big man who ever played. Such natural strength. Such sweet touch, inside and out. Such point-guard feel for the game.
All of which allowed Webber to dominate the competition at Detroit's Country Day prep ... and as the Fab One of Michigan's Fab Five ... and in lots and lots of regular-season NBA games at Golden State, Washington and Sacramento.
But more and more you get the feeling that Chris Webber doesn't want to be Chris Webber. It's the fame that haunts him, not the fortune. He surely doesn't mind the max-contract wealth that basketball has provided. But deep down, Webber is a complementary player trapped in max-contract expectations.
And he's introspective enough to let it eat him alive. This, after all, is a man who speaks eloquently about black history and who has built one of the country's finest collections of black artifacts and art. Here is a deep thinker — maybe too deep to be a franchise-changing, clutch-shooting superstar.
No shame there. Where does it say that just because you're born with extraordinary ability, you also get Michael Jordan's tunnel-vision rage to win?
The late, great Jim Murray, whose columns were as insightful as they were hilarious, once told me: "Hit me a fly ball with two outs, bases loaded, bottom of the ninth in the seventh game of the World Series, and I'm going to have four or five of the longest seconds of my life. I'm going to think about how I could be forever remembered as the guy who dropped this fly ball. And I'm going to drop it."
That's an underlying reason the Webber trade wasn't as great for the Sixers and awful for the Kings as initially portrayed.
This trade definitely is a burden for Webber, who now must try and fail to live up to even greater expectations. Now, sigh, he's supposed to be The Answer for The Answer.
Yes, Webber provides Iverson with the perennial All-Star teammate he hasn't had. Yet as he nears his 32nd birthday on Wednesday, what exactly is Webber? A finesse forward? A point center? A big tease?
No player can build you up and let you down quite like Webber. Oh, what a tangled C-Webb the Sixers weave. In the end, they'll realize they can't win without or with him.
Petrie decided he had a better chance without Webber. Webber could take the Kings to the threshold of greatness, but he didn't have the confidence or the killer will to carry Sacramento over it.
It became painfully obvious that the Kings were a better team, offensively and defensively, while Webber was rehabbing his knee last season. The offense had much better flow and rhythm, and Stojakovic turned into an MVP front-runner. When Webber returned, his knee never was quite right, and he turned into a ground-bound, ball-eating lane-clogger. If the ball went in to Webber, time stopped. And the ball did not come back out.
But this season, Webber had found a new comfort zone as a facilitator. The Kings' offense was running through him instead of ending with him. He had four triple-doubles. He was averaging about 21 points, almost 10 rebounds and 5.4 assists.
Still, Petrie wasn't buying it. Especially not for the $62 million the Kings would owe Webber over the next three seasons. Petrie knew all too well how little passion and intensity Webber brought to the defensive end. Petrie knew better than anyone how Webber usually runs from the ball in pressure situations, especially in the postseason.
For years, I've talked to various NBA GMs, who usually refer to Webber's "loser's intangibles." It all started, of course, in that NCAA championship game against North Carolina when Webber called the timeout that Michigan didn't have, down two with 11 seconds left. That technical foul took the Wolverines out of the game. Carolina won 77-71.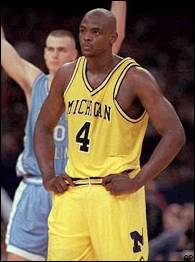 'Ummm, OK, I meant I deserve to be put in a timeout.'
Webber's Michigan team lost two NCAA title games — the first to Duke.
Corliss Williamson won an NCAA title at Arkansas. His Detroit Pistons won an NBA title last season. Williamson has "winner's intangibles."
Williamson, Thomas and Brian Skinner were traded for Webber. They'll make the Kings a little better as a team. Yes, Saturday night was just one game, but Williamson contributed 17 points (on 7-of-11 shooting) with six rebounds, three assists and two steals. Thomas added 16 points and 10 rebounds.
Webber had 16 and 11. Webber hit his first two jumpers. Iverson set up Webber to make the last shot.
"Everything happened just right," Iverson said of his intentionally missed free throw. "But we just couldn't finish."
That seems to be the epitaph for every Webber team. They always expect too much. That's their fault, not his.
Skip Bayless can be seen Monday through Friday on "Cold Pizza," ESPN2's morning show, and at 4 p.m. ET on ESPN's "1st & 10." His column appears twice weekly on Page 2. You can e-mail Skip here.