Oh, was McGwire lucky that Canseco wasn't granted immunity for Thursday's hearing. Rep. Tom Davis, who chaired the committee, told Canseco that "we did try to get immunity from the attorney general, but we weren't able to get it in time." Canseco, who remains on probation, possibly risked further prosecution in Florida if he spoke openly about his steroid use. So without immunity, he wasn't able to repeat – and perhaps add to – what he wrote about McGwire and Palmeiro: that he injected them both with steroids.
That's not secondhand hearsay. That's first-person detail.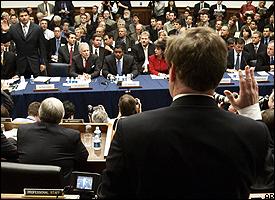 Can Congress handle the truth about steroids?
Sunday's New York Daily News quoted FBI sources saying that McGwire's name came up in an early '90s steroid investigation of suppliers. Yet the story said that McGwire was not a target and that no evidence was collected on him. That story didn't raise nearly the suspicion that Canseco's book does.
Yet Canseco was forced to sit silently through shot after shot from McGwire, then Palmeiro, then Curt Schilling. Canseco was able to talk in generalities about the extent of baseball's steroid problem and what Congress should do about it. But he wasn't able to defend himself as – especially Schilling – tried to drill the messenger.
Again, I can't vouch for Canseco's personal-life credibility. But when it comes to steroid use, he speaks and writes knowledgeably and convincingly. Perhaps Palmeiro also was fortunate that Canseco had both hands tied behind his back. You wondered whether Palmeiro would have been so vehement in his denial if Canseco hadn't been muzzled.
It appeared that the only reason Palmeiro was invited to testify – then subpoenaed when he declined – was because of such a definitive accusation in Canseco's book. Canseco says that, upon joining the
Texas Rangers
, he taught Palmeiro,
Juan Gonzalez
and
Ivan Rodriguez
how to use steroids.
In "Juiced," Canseco writes:
"Raffy, Juan and Ivan were definitely scared the first time I injected them, but after a while it became no big deal to them, either. And throughout my time on the team, they were on a combination of growth hormone and steroids -- mostly Deca and Winstrol, but with a small dose of testosterone."
Either Canseco or Palmeiro is really lying.
Now you wonder whether Palmeiro will follow through on his previous threat to sue Canseco. After all, Palmeiro plays for an owner – Baltimore's Peter Angelos – who is known as one of the country's best litigators.
Or maybe there was some truth in what Canseco and his lawyer suggested before the hearing – that baseball's power brokers somehow influenced Congress to deny Canseco's request for immunity, to protect current players who were (and weren't) present. Once the hearing began and it became clear that Canseco wouldn't be able to speak freely, you wondered whether it would free McGwire to say he never used steroids and give vague answers to broader questions. Yes, McGwire was under oath. But several congressmen had said this wouldn't be a witch hunt. Plus, retired McGwire will never be tested for steroids and the FBI sources told the Daily News that no evidence was collected against him. Oh, well, at least McGwire didn't lie to Congress. Sosa was not a direct target in Canseco's book. Canseco, who wasn't a teammate of Sosa's, writes only that Sosa's physical transformation "seemed even more dramatic than McGwire's" and that it was so obvious Sosa was using steroids "it was a joke." After Sosa's opening statement that he flat-out has never used performance-enhancing drugs, his answers often were comical. As a columnist in Chicago, I spent enough time around Sosa to tell you he can speak and understand English extremely well when he needs to. But at Thursday's hearing, with his lawyer to his right and an interpreter to his left, Sosa often acted as if he didn't quite understand the question and some of his answers were nonsensical.