Single page view
By Skip Bayless
Page 2
I write this at the risk of being sentenced to one year in solitary confinement with a TV I cannot turn off that runs an endless loop of Dick Vitale saying, "COLLEGE BASKETBALL – IT'S AWESOME, BABY."
College basketball is awesome, baby.
But pro basketball is better.
I love the NCAA Tournament, don't get me wrong. But I love the NBA playoffs more. Better format, better rules, better refs, far better players.
If you sentenced me to one basketball season in solitary confinement with a choice between the NCAA or NBA TV package, I'd go pro. When I flip back and forth between college and pro games, the difference in skill and athletic ability is as startling as the difference between men's and women's college games.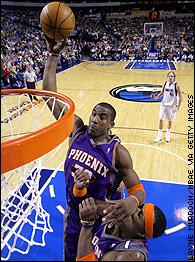 Amare Stoudemire could be dominating the NCAA Tournament ... but he's dominating the NBA instead.
Do I want to see "A Streetcar Named Desire" on Broadway, or in, say, St. Louis? I like St. Louis, site of tonight's NCAA title game. But gimme Broadway. Gimme NBA streetcars with desire and the greatest overall athletic ability of any players in any sport.
And please don't gimme that old wives' tale – probably started by Dick Vitale's wife – that pro basketball players play hard only in the last two minutes. Pure propaganda. I am astounded by how hard most NBA teams play – tip to buzzer, on both ends – night after night of an 82-game schedule. If veterans don't continually give it the old college try, they'll lose their jobs to one of the onslaught of straight-out-of-high-school players.
That's the biggest reason that college basketball has lost a little appeal for me. I want to see stars shine – to see things I've never seen before – and so many of the players who could be dominating this NCAA Tournament are already taking over NBA games. LeBron. Carmelo. Amare. Even Dwight Howard and J.R. Smith are already emerging as All-Star candidates.
Forgive me, but I haven't seen a single player in this 65-team NCAA field who will have a significant impact in the NBA. Andrew Bogut, Sean May, Chris Paul, Wayne Simien and Deron Williams will be starters, but I'm not sure they'll be stars. Two NBA general managers have told me they think Williams could be a top 10 pick because he's such a mentally tough floor leader who does so many "little things." But I don't see the quickness, the penetrating ability, the creativity -- the big things.
The media buzz is that North Carolina freshman Marvin Williams could be the most talented player in the tournament. Yet when he plays, which has been surprisingly sparingly, he often looks like a freshman trying to fit in. Give me Gerald Green, who went Tracy McGrady on his competition the other night in the McDonald's high-school all-star game. Green has signed with Oklahoma State, but it won't surprise me if he's playing in the NBA next season. He's too good for college basketball.
This year I see no Kareem or Walton, Magic or Bird, Ewing or Olajuwon. This year, the games have been the stars. No all-time great team? No problem for the dyed-in-the-wool-letter-sweater college diehards. This is democracy at work, the American dream. At least 20 teams could've gotten hot and won it all. The early-round results were far more amazing than the individual feats. Vermont beat Syracuse? Kansas lost to Bucknell?