Single page view
By Skip Bayless
Page 2
You imagined Augusta National's golf gods convening in the shadows beneath the heaven-touching pines at Amen Corner.
You could hear Bobby Jones clearing his throat and Georgia-drawling, "Gentlemen, I think the young man has suffered enough. Let's give him a break."
You could hear Ben Hogan sighing and saying, "No, Bobby, I don't trust that new swing of his. Make him earn it."
And you could hear Clifford Roberts, who ran The Masters for years, breaking the tie with, "I appreciate what you're saying, Ben, but I'm with Mr. Jones."
And so it was that the New Tiger finally won his ninth major after a 10-major drought. This Tiger needed some heavenly help. This Tiger was almost too busy beating himself to beat a guy who could barely hit it out of Tiger's shadow.
During Tiger's three-year reign around the turn of this century, he would have snacked on Chris DiMarco in Tiger's lair – Augusta National. This is the tournament Tiger was born to dominate. This was where he announced his arrival with the first of his four Masters victories, by 12 shots in 1997.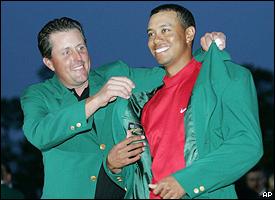 Let's see . . . Same size as before? And before that? And before that?
The Old Tiger was the greatest front-runner this game has ever known. Give him a two-shot lead and suddenly it was 10 or 12. But the New Tiger battles inner doubts the way DiMarco battled him all day long. The New Tiger isn't sure about his new swing, remade by Hank Haney. Sometimes, it looks more like it was sold to him by Mr. Haney, the junk salesman from "Green Acres."
Sometimes Sunday, Tiger looked as if he were playing "Green Acres" instead of pursuing his fourth green jacket. Was Tiger ever lucky. Then again, was Tiger ever good when he absolutely had to be.
He won with his "C" game, even bogeying 17 and 18. He won not as robo-golfer, but as just another very good player who kept himself together and pulled it out. He won a playoff on No. 18 with his best drive, best iron and best putt of the day.
Give this man an A-plus for making gutty putts and one Very Big Chip.
Tiger's chip-in from the back of the 16th green will go down in Masters lore with Larry Mize's 11th hole playoff chip-in that brought Greg Norman to his knees. In 16th-hole lore, Tiger's chip might have been even more electrifying than the putter-raising bomb Jack Nicklaus dropped into the cup in 1975. This one was so stunning because it was so unexpected.
DiMarco had a 15-foot birdie putt and the momentum. Tiger, leading by one, stood over a ball wedged against the collar of the deep grass behind the green. How could he get the club through the grass and cleanly against the ball, while trying to play about 30 feet of break? The ball looked as if it came out too hot, but it bit hard, died, caught the break and picked up steam down the slope, finding the perfect right-to-left line.
But on its final revolution, Tiger's ball went New Tiger. It did not believe. It came to a complete halt on the lip of the cup.
That surely was when the ghost of Bobby Jones heaved just enough of a sigh that an imperceptible gust blew the ball over the edge.
All heaven broke loose.