Single page view
By Skip Bayless
Page 2
Forgive me if I'm beating a dead horse – or at least a thoroughbred whose popularity is dying in Philadelphia.
In my last column, I challenged Terrell Owens to a face-to-face debate on "Cold Pizza." Now I must add that this invitation stands no matter where Owens is playing.
<!––––––––––-INLINE TABLE (BEGIN)––––––––––->
MORE ON T.O
On Friday, Skip Bayless, fed up with Terrell Owens' latest contract-demand shenanigans, challenged T.O. to come on "Cold Pizza" for a one-on-one showdown debate. Back in early February, Skip wrote that T.O. had already won the MVP, even before the Super Bowl. And last November, Skip warned Philly fans that only when the chips are down will you see the real T.O. Alan Grant likes T.O., but wishes he'd stop making bad decisions.
<!––––––––––-INLINE TABLE (END)––––––––––->
You have to wonder how much longer the no-nonsense, no-player-is-bigger-than-the-team Eagles will put up with Owens' renegotiation demands. Coach Andy Reid's history quietly predicts he'll soon decide Owens is for the birds, but not the Eagles. The team has indicated it will not improve on the $3.25 million Owens is scheduled to make next season; and if it doesn't, Owens' history screams that he will make as many waves as catches.
I'd shop Owens now. In fact, I have a trade suggestion that makes sensational sense for both teams.
Owens straight up for the Raiders' Jerry Porter.
I must admit, this trade fascinates me partly because I'd do handsprings from New York to Oakland to see how long Al Davis could juggle the nitro egos of Owens and Randy Moss. But if anyone could make it work, Al could.
Trust me, he would love to try.
Davis believes he has better rapport with superstars – and commands more respect from them – than any owner or coach in the league, and he's probably right.
But Reid has to be close to "good riddance."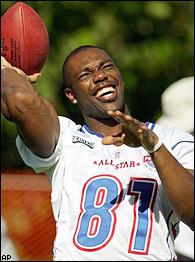 Skip would like to see T.O. throw this pass all the way to Oakland.
To reiterate, Owens' ex-agent blew last year's free-agent deadline, keeping him the property of the 49ers and holding him to the final year of his contract. The 49ers auctioned him off. The Eagles clearly weren't as interested as Baltimore, which offered considerably more in trade.
But when Owens began to campaign through the media over the injustice of his plight, the NFL crumbled and worked out a compromise. Owens, desperate to play with Eagles quarterback Donovan McNabb, got his wish. And the Eagles, desperate for a receiver, got Owens at a relatively bargain price.
But remember, word was out around the league that Owens was bad news. As former 49ers general manager Terry Donahue told any league insider who asked: "Terrell demands respect from everyone, but won't give it to anyone."
Bill Walsh, then a 49ers advisor, heard me get so frustrated over Owens on a radio show that I wondered out loud why the 49ers didn't get him some counseling. Walsh called me and said: "Believe me, we've tried that, and we just can't reach him."
So the Eagles knew they were taking a risk – and they were under no obligation to tear up Owens' old deal. Yet they gave him a very fair $16 million guaranteed bonus – though $7.5 million isn't due until 2006. But, yes, the annual salaries of the seven-year, almost-$49 million contract are heavily back loaded; and next season's $3.25 million base salary is woefully low, considering the sizzling numbers Owens put up last regular season.