Single page view
By Skip Bayless
Page 2
His inner torture will increase this weekend. His eyes will dart more than ever when he lies to the media about what it feels like to be back. He'll say it's always fun to visit Oakland, but that he still loves being a Yankee in New York.
Dance, Jason, dance.
In a way, your baseball life has been one big lie since the Oakland A's called you up to the big leagues in 1996. According to Jose Canseco, that's when Mark McGwire helped turn you into what you are – or were.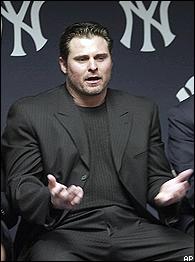 Jason Giambi will have to answer a lot of questions in Oakland this weekend.
A steroid creation.
The Giambi I closely observed as a Bay Area columnist was an under-confident overachiever. Giambi always has been a nice guy – maybe too nice for his own good. Too sensitive, too insecure to withstand the game-upon-game pressure to produce the way his father – his hero – always dreamed Jason would.
In Oakland, Giambi defeated that pressure by drinking, partying – and injecting. In "Juiced," Canseco writes: "As surely as he went overboard with partying and chasing women, Giambi went overboard with steroids."
Giambi needed the physical and psychological edge that steroids provided. Giambi needed to play the good-guy, bad-boy role he portrayed for the "Born to be Wild" cover of Sports Illustrated. He needed the Hell's Angels mane and the invincible feeling that he could party, and hit, like hell. He needed the tattoos (the tribal symbols, the skulls, the dragon) to cover up the scared little guy inside.
That's why Giambi needs to escape the $80 million trap in which he's now caught at Yankee Stadium. Now, he is Sampson shorn, literally and figuratively. George Steinbrenner's rules require him to cut his hair and shave. Presumably, baseball's new steroid policy has taken away much of his physical and psychological edge.
Giambi's only hope is to admit defeat and negotiate a buyout of the nearly $80 million the Yankees owe him for four more seasons. You know what, Jason? Fifty cents on the dollar would provide a pretty fair nest egg.
Giambi's only hope is to return to a small-market team for minimum wage. A team like … Oakland, where the Yankees play this weekend.
It will do Giambi no good to accept the Yankees' suggestion that he spend some time at Triple-A Columbus to rebuild his confidence. No amount of minor-league at-bats will prepare him for the pressure of living up to one of baseball's biggest contracts on baseball's biggest stage. And no amount of money will be worth the abuse Giambi will take if he tries to ride out his contract as a part-time player, just to collect his guaranteed millions.
As Joel Sherman wrote in Thursday's New York Post: "What cost is Giambi willing to pay? … He seems physically and mentally whipped by his self-inflicted problems, an albatross to a team and a payroll. Does he really care? Or is the man who could not replace Tino Martinez – with the fans or on the field – comfortable with where he is now? Viewed as a guy stealing money."
That, Jason, is just the tip of the New York media iceberg with which your one-man Titanic will soon collide. As the summer drags on, Yankee Stadium will seem as cold to you as hell is hot.