Single page view
By Skip Bayless
Page 2
Playboy is offering millions if she'll pose topless on her motorcycle.
Rumor has it Brad Pitt might leave Angelina for her – if she'll dump Orlando Bloom.
She regularly outdrives Tiger Woods in $100,000-a-hole games and almost always makes him pay in golf and poker.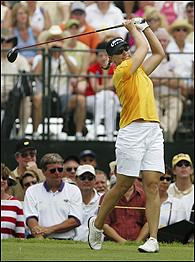 Just win, baby: Sorenstam has won six of the eight tournaments she's played this year.
She is …
Sorry, none of the above is true. I made it all up because I wanted you to read at least three paragraphs about the world's most phenomenal golfer.
Her name is Danica Gulbis-Wie.
Sorry. Just trying to keep your fingers from involuntarily hitting the "back" arrow as soon as your eyes hit the words "Annika Sorenstam."
Annika has become the most astonishing story in sports because she isn't treated like the most astonishing story. If Annika falls in the forest and nobody is there, does she make a sound?
At the start of the year, she announced her goal was to win the first Grand Slam ever by a woman or a man – basically predicted she would – and now she's gunning for the third of four legs!
Yawn, goes the world.
Annika has won six of the eight tournaments she has entered this year and eight of her last 10!
What time does Michelle Wie tee off?
Annika has finished first or second in 101 of her 236 career tournaments!
Bor-ring. When does Natalie Gulbis start her reality show, and will her main squeeze, Ben Roethlisberger, make an appearance?
Annika leads the women's tour in driving distance, but the sports world is still captivated by the 500 miles Danica Patrick drove at Indy. She didn't win, but she did lead late in the race. Who cares that she made three costly rookie mistakes, including stalling her car in the pits?
Danica has long, dark hair and posed for a seductive magazine spread. Danica drives 200 mph against guys. Danica will overheat your engine, dude.
The only thing sensational about Annika is her record.
And these days, winning isn't nearly enough, especially if you're female. The target demo for many advertisers – male, age 18 to 34 – is too easily distracted by better-than-reality video games, a surfer's paradise of cable stations and a tangled Web of temptation. Today's world has been entertained into numbness.
A woman playing golf – even if she's dominating her tour in ways Tiger never dominated his – just isn't enough. Does Annika hit shots you've never seen before? No. Does she act the way Tiger did at the U.S. Open, screaming a profanity in front of the 18th-green stands, slamming clubs and angrily raking his putter across a green? Sorry, no.
Most guys would rather watch beer commercials than watch Annika play golf. She's like Tim Duncan, who just won his third NBA Finals MVP – she's subtly great. Subtle doesn't sell.
Watching Tiger is like tracking an approaching thunderstorm. Will he suddenly hail birdies or bogeys? Annika spoils us with calm, perfect weather day after day.
The most interesting aspect of her game is that she does what beginners are taught not to – she looks up before hitting every shot. That has always helped her shift her weight from back foot to front. Her swing is so grooved that she can make solid contact and hit radar shots blindfolded!