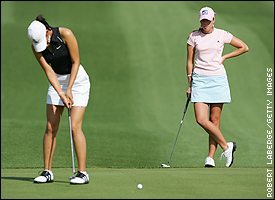 Robert Laberge/Getty Images
Teenagers Michelle Wie (left) and Paula Creamer have even been getting more pub then Sorenstam.
When is Sharapova's next Wimbledon match?
Unlike Wie, Annika isn't an increasingly shapely and attractive 6-foot 15-year-old capable of launching tee shots over Magic Mountain. Unlike Gulbis, Annika isn't a blond bombshell in formfitting golf tops.
It isn't that Annika is unattractive – I think she's kind of cute. And her body could be sexy if she chose to display it that way. In fact, this lady is so ripped she has had to deny rumors of steroid use. Check out those guns, guys.
But on the course, Annika dresses to win golf tournaments. To some, she looks a little too boyish. To many, her little voice sounds so meek and vulnerable when she takes off her shades and describes her field-crushing rounds.
Yet while Tiger was getting married – and perhaps losing some of his drive and dedication – Annika at 34 was getting divorced and basically marrying her Grand Slam goal. But the tabloids shrugged. Her ex-husband wasn't too interesting, and Annika had little to say about the breakup.
Is Kournikova doing TV at Wimbledon this year?
Tiger will make nearly $90 million in endorsements this year. Annika will make about $4.6 million, according to Golf Digest.
She just doesn't have that "it" factor – that charisma, magnetism, sex appeal.
Her marketability peaked when she announced she would play against the male pros at Colonial. Vijay Singh unwittingly detonated ratings as if he were hyping a Tyson fight by saying what most pros merely thought: She shouldn't be allowed to waltz in and take a male pro's spot. She should have to qualify.
Singh, ironically, has been the male Annika. The greatness of his game isn't enough. Many fans find him boring – or worse, boorish. Ripping Annika cinched it: Vijay was golf's biggest villain.
I didn't think she could make the cut – and she didn't after shooting 71 and 74. But she showed me a humble toughness I wasn't sure she had. She stood up to the breathless buildup and the Tiger-like throngs that followed her. What I suspected was a publicity stunt orchestrated by the agent she and Tiger share turned out to be a revelation.
Annika Sorenstam can hold her own with the guys.
Then she surprised me again by saying she was going back to the women's tour, "where I belong."
Instead, she began to reinforce that she doesn't belong on the women's tour. She hit the weight room and practice tee with a vengeance. It was as if she were preparing to compete against men while beating up on the women.
Since Colonial, Annika has won 19 of 38 women's tournaments!
These teenagers Paula Creamer and Morgan Pressel are pretty hot.
Which brings me to my theory about the world's indifference toward Annika: She spoiled us at Colonial. The credibility she gained with the men diminished the credibility of her feats on the women's tour. Now when she wins yet another LPGA major, you tend to think, "No big deal. She probably could be making cuts on the men's tour."
Only, I think she could do more than make cuts.
If she committed full-time to the men's tour for two years, I believe she could win a tournament. She's that good.