Single page view
By Skip Bayless
Page 2
You feel like you're watching an only-in-Hollywood movie produced by the NBA's Spielberg, Phil Jackson.
But after the opening scenes, you can't figure out if "Prince Andrew" is a comedy or a tragedy.
The plot: Andrew Bynum, small-town kid from Plainsboro, N.J., sprouts up to 7-feet tall – and out to 300-plus pounds. Late bloomer physically and socially. Tries to meet girls through Web site personals. Has some athletic ability and basketball skill, and has a pretty good senior year of high school, averaging 22 points, 12 rebounds and five blocks.
Signs letter of intent to play at University of Connecticut.
Chosen as a McDonald's high-school All-American. Catches eyes of some NBA scouts at McDonald's practices. "Like a big, awkward colt," one says. Has a pretty good game – nine points, five rebounds.
But goes on crash diet and drops 20 or 25 pounds over next couple of months. Agent arranges workouts for NBA teams, just to test market. Once-proud Lakers, who missed the playoffs after making one of the worst trades in NBA history – Shaquille O'Neal to Miami – are so desperate that owner Jerry Buss convinces himself the kid could be the Next Shaq.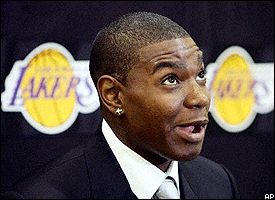 It's all good for Bynum . . . for the time being.
Lakers take him with 10th pick in the draft!
Kid becomes youngest player ever drafted, at just 17! Tries to act cool in first interview with L.A. media and compares self with Shaq and Kareem Abdul-Jabbar, with a little Tim Duncan thrown in! Even makes fun of Shaq's free-throw shooting! Los Angeles media runs wild with "Next Shaq" references!
Hail, Prince Andrew!
Cut to: Jack Nicholson, beaming like proud papa.
Dissolve to: Old/new Lakers coach Phil Jackson grinning devilishly. Prince Andrew has become pawn in $30 million semi-retirement con game Jackson is running on gullible Lakers fans …
Uh, in case you haven't figured it out by now, this is no movie we're watching. It's really happening.
Only in Hollywood.
What happened on draft night validates my suspicion that the Zenmaster – or Spinmaster – came back for the money, not the legacy. At 59, he's far more interested in making $10 million a year for the next three years than he is in winning a record 10th championship.
When Jackson surprisingly said his return isn't about winning a championship and that he'll be surprised if the Lakers are even in title contention when his contract is up, he was telling the expectation-lowering truth.
Jackson knows he can't win big with Kobe Bryant as his lone star – certainly not after Jackson spilled his guts in print about how impossible Kobe was to coach. That was in Jackson's never say never book, "The Last Season."
Now, Phil and Kobe will be lucky to coexist. More likely, this relationship eventually will go down in flames.
But back when Buss wouldn't pay Jackson the double-digit millions he wanted – or give him total control of basketball operations – the coach "retired." Buss ordered general manager Mitch Kupchak to trade Shaq; and predictably, Kupchak's rebuilt team went 34-48.