By Skip Bayless
Page 2
Say a Martian landed in your backyard one Sunday last NFL season. Say you invited him in to watch a little football. Say the conversation eventually got around to which players make the most money.
Quarterbacks do, you would have explained.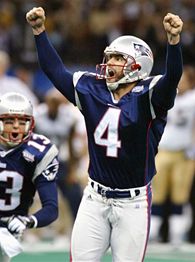 AP Photo/Doug Mills
Adam Vinatieri showed just how important a kicker can be with New England.
And after watching for a while, this is what the Martian would have wondered: "Why aren't the little guys who run in and kick the ball through the poles and win or lose the games the highest-paid?"
Great question.
If you could step back for a moment and forget everything you've been conditioned to believe and accept about football since your dad took you to your first game, you'd wonder the same thing.
Why do the rules allow kickers to have such an impact on the outcome? But, because they do, why aren't kickers the highest-paid players?
Which brings us to the point that readers keep missing as badly as Mike Vanderjagt gagged on his final field-goal attempt in Indianapolis.
The reason I despise place-kicking is the same reason I would want the best place-kicker on my team.
Once more: Field-goal kicking should be eliminated from football. Punting and kickoffs should remain. But if teams decide not to punt on fourth down, they should be forced to go for it (and either fail or score a touchdown), just as they should have to go for two after scoring a touchdown.
Why ask gifted warriors to battle their guts out for 59 minutes and 59 seconds, only to have the game decided by whether some former soccer player with a glass psyche can boot the ball 40-something yards through the uprights?
But I haven't yet been appointed the new NFL commissioner. So it's highly doubtful place-kicking will be outlawed any time soon.
Hence, Adam Vinatieri was the most valuable free agent on this offseason's market. Yes, more valuable than Edgerrin James or Steve Hutchinson or that rapper/author who signed with Dallas.
And even though the Indianapolis Colts lost James, they'll have a little better chance of winning next year's Super Bowl because they signed the greatest kicker ever.
But you'd have to be a Martian to comprehend this.
Or you'd have to be the Colts' management, which finally saw the light and broke the unwritten rule among owners that said kickers will be the lowest-paid players. Gentlemen, I applaud and congratulate you.
Adam Vinatieri is obviously the greatest clutch kicker ever. Beyond the 48-yarder and the 41-yarder that won Super Bowls, beyond the two field goals that shot through the blizzard to save and win the Tuck Rule playoff game, Vinatieri has made so many crucial kicks in first, second and third quarters that created or sustained momentum. While Vanderjagt has been slightly more accurate percentage-wise, Vinatieri has made all the ones that really mattered for a team that won three championships in four seasons.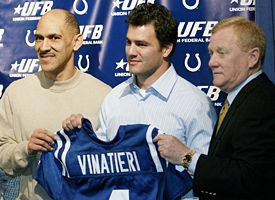 AP Photo/John Harrell
The Colts made the biggest move of this offseason by signing Vinatieri.
Please try to allow yourself to comprehend just how valuable that was.
But you can't, because you've been brainwashed to think they're "just kickers," that they all work for one big temp service, that they're so replaceable because they're so psychologically undependable -- and that they're the lowest-paid "players" because all they do is kick.
But Vinatieri provided the essential mortar for the New England Patriots' dynasty.
Here is the one kicker who has been slump-proof. No demons have penetrated this man's steel psyche. No recycling for Vinatieri. He was a Patriot for his first 10 seasons.
You can argue that Tom Brady made all the gotta-have-it passes. But Brady never felt pressure quite like Vinatieri felt. Brady was always clutch in the read-and-react flow of the game. But Vinatieri always had to trot onto the field with play and time stopped -- with time to consider the live-in-infamy consequences of missing. Vinatieri had to think about making the putt that wins the Masters or the free throw that wins the NCAA championship -- from 40-plus yards.
Vinatieri always had the higher degree of psychological difficulty, and Vinatieri always stood up to it.
So why didn't New England use its franchise tag on Vinatieri for the second straight year? Because that would have cost the Patriots a little more than $3 million, and they said no. Not for a kicker.
Not even for one who rivaled Brady in popularity among Patriots fans. Not even for one who rivaled Tedy Bruschi as a team leader. Not even for one who, at 33, remains the best and fittest athlete among kickers. Not even for the greatest of the great outdoors kickers.
Not even for Adam Vinatieri.
Shockingly, pro football's smartest organization made the dumbest decision of the 2006 offseason. Good luck, Pats, with Paul Edinger, if he's your new Vinatieri. Edinger is not slump-proof, and nothing is more damaging to a football team than a kicker with an incurable case of the shanks or hooks.
So when the Patriots said "no" to Vinatieri, this story turned into "V for Vendetta." Vinatieri was driven to get what he was worth on the open market -- and the Colts were driven to replace Vanderjagt with a kicker they could trust, in the clutch and in the locker room.
ESPN.com's Len Pasquarelli reports that, according to NFL sources, Vinatieri was upset that free-agent kicker Ryan Longwell failed to drive up the market by settling for only about $10 million for five years in Minnesota. The owners appeared to be holding firm. Kickers would be paid like, well, kickers.
Vinatieri visited Longwell's old team, Green Bay. Oh, couldn't the Packers have used a kicker who isn't bothered by snow or wind chill? The Packers said all the right things -- but didn't show Vinatieri the money. No offer.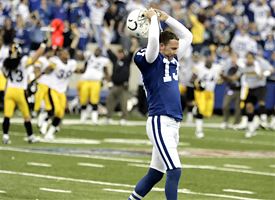 AP Photo/Darron Cummings
The Colts will feel a lot better in the clutch with Vinatieri, not Vanderjagt, attempting the kicks.
No clue.
Enter … the Colts?
Here's the inside-joke irony: Recently the Colts signed the poster boy for unpredictable kickers, Jose Cortez. But general manager Bill Polian had his eye on the biggest prize.
For sure, Polian had decided Vanderjagt's time in Indianapolis ended the moment he banana-sliced that 46-yarder that could have sent the divisional playoff game with Pittsburgh into overtime. He didn't just miss it; he missed it 15 yards right.
How big was that kick? It merely could have won the Super Bowl for the Colts. Of course, Pittsburgh eventually won it, but the Colts would have played Denver in the AFC title game in Indianapolis. The Colts also would have beaten Denver and Seattle.
Kicking is way too important.
Which is why Polian went after Vinatieri. This kicker wouldn't have missed that 46-yarder. And this one won't criticize Peyton Manning or Tony Dungy, as Vanderjagt once did.
Heck, this one will be even better playing at least half his games in a climate-controlled dome.
So Polian gave Vinatieri a guaranteed bonus -- $3.5 million -- that's more than the Patriots would have had to pay him next season. Polian gave him about $2.5 million a year for three years. Polian gave a kicker some real money -- and this one deserved even more.
That grinding you hear is the teeth of owners around the league.
The Colts will be fine with Dominic Rhodes at running back. He ran for 1,100 yards and caught 34 passes when James was hurt in 2001. But having Vinatieri in the locker room and in the clutch will make the Colts truly believe they can win it all. Last year, they weren't quite sure. Now they have a weapon nobody else does.
They have the man who can have way too much impact on a football game.
Skip Bayless can be seen Monday through Friday on "Cold Pizza," ESPN2's morning show, and at 4 p.m. ET on ESPN's "1st & 10." His column appears twice a week on Page 2. You can e-mail Skip here.