By Skip Bayless
Page 2
This isn't a draft. It's a tfard. People have it all backward when it comes to evaluating quarterbacks.
Either I'm crazy, or some typical monumental mistakes are about to be made.
I know: I'm crazy.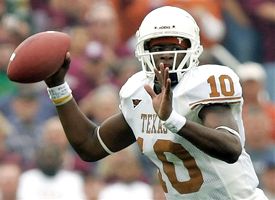 David J. Phillip/AP Photo
Some people think Vince Young will revolutionize the quarterback position.
Many NFL insiders (GMs, coaches, scouts) see "Wince" Young, biggest potential bust in the 2006 draft. I see Vince Young, best player on the board.
Freakish talent and feel for the game. Rare leader. Lightning release. Even more consistently on target than the other two high-pick quarterbacks. Will reinvent the quarterback position.
Dear Texans: Reggie Bush will make lots of Pro Bowls and help you win lots of games. Vince Young eventually will win you a championship.
Many NFL insiders see Jay "Cut-able," overrated product of mock drafters and draftniks reaching for the Vanderbilt diamond in the SEC rough. I see Jay Cutler, the next Brett Favre -- and unlike most mock drafters, I've seen him play 16 games over the last two seasons.
Dear Titans: Your in-house debate shouldn't have been Young vs. Leinart. It should have been Young vs. Cutler, with the edge to Young.
Many NFL insiders see Matt Leinart as this draft's best QB bet and most ready to play. In New York, they're comparing "Broadway Matt" to Broadway Joe Namath. In Oakland, he's the next Kenny Stabler. But in my book, he's just an overrated, over-glamorized product of a Hollywood offense featuring five other first-round picks.
Dear Jets: If the reports are true that you're quietly lying in wait for Broadway Matt, God bless. He'll never be as good as a healthy Chad Pennington has been or will be. If Leinart had played at Vanderbilt, he'd be just another second-day pick with the usual fifth-round knocks -- subpar arm, inconsistent accuracy, limited mobility, flimsy self-confidence, and questionable toughness and passion for football.
This is the next Namath? Sure, Leinart could fit the part off the field, where he obviously wants to be a movie star and where he reportedly has been spotted canoodling with Paris Hilton at the Beverly Hills Hotel. But on the field?
You've got to be kidding.
No doubt new Jets coach Eric Mangini -- a Belichick protégé -- knows this much: Leinart has Tom Brady's football IQ, knack for managing a game and pleasant personality. But surely Mangini has noticed that Leinart does not have Brady's uncanny accuracy or Brady's underrated velocity or Brady's guts or Brady's leadership gift.
Yes, Leinart "just wins." At least, he won at USC when he could throw it to Reggie and Duane Jarrett and Dominique Byrd and Steve Smith. He won when he could hand it to Reggie or LenDale White (a speedy beast who should be a top-10 pick despite his hamstring injury and weight gain). He won while he was being protected by one of college football's best offensive lines, ramrodded by Winston Justice (who's actually a little bigger and more athletic than D'Brickashaw Ferguson) and Fred Matua, who could be a second-round pick.
It's inconceivable how any GM -- or Jets fan -- could get dreamy-eyed over dreamboat Matt if the GM or fan merely had watched two games last season. Just cue up Leinart at Notre Dame and Leinart vs. crosstown rival UCLA in his final USC home game and tell me you see fourth-pick greatness.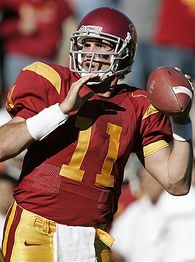 Kim D. Johnson/AP Photo
Is Matt Leinart more interested in being a star quarterback, or a celebrity?
At Notre Dame, against an inspired but under-talented defense, Leinart threw a flock of off-target wobblers -- two of which were intercepted. Yes, on the do-or-die fourth-and-9 from his 26, Leinart called a heady audible and lofted a beautiful throw to Jarrett for the game saver. Yes, Leinart went for broke and scored the game-winning touchdown on a spinning sneak.
But he received an illegal push from Bush. In fact, Reggie bailed out Matt throughout the game, making play after oh-my-goodness play to stave off what kept looking like the upset of the century.
Against UCLA, Broadway Matt looked like somebody named Art Leinmatt. He psychologically lost it and couldn't get it back. After a while, he looked like Steve Sax or Chuck Knoblauch trying to remember how to throw it to first. Leinart's a nice kid -- thoughtful, soulful, highly self-critical. But in this case, his coordinator was able to take the pressure and attention off Leinart by merely calling Reggie's and LenDale's numbers. USC won by a landslide, 66-19.
In pro football, the focus will remain on Leinart. Relatively, his team won't be nearly as good as USC's, and the opposition will be much better. If Leinart gets down on himself, who will pick him up?
This is the Jets' savior?
If Jets fans want an on-the-field Namath, they'll have a much better shot with Broadway Jay. Like Namath, Cutler has a gun for an arm and a quick trigger. Like Namath, he plays with a cocky, captivating flair.
But the better comparison is to a young Favre. Here is a young gunslinger who will try just about any trick shot. At Vandy, he pulled off most of them because he (and in turn, his receivers) believed he could. Cutler is fearless to a fault. If necessary, he'll run over a linebacker for a first down. At 6-foot-3, 230 pounds, this kid is as bench-press strong and durable and as mentally and physically tough as any college quarterback I've seen.
But yes, I must disqualify myself. I'm a Vanderbilt graduate.
Then again, that should qualify me to assess Cutler. As I've written, I'm one of those weirdos who chose my college for the education, not the sports. I wouldn't care if Vandy didn't field a football team.
Yet three years ago, friends in Nashville began to tell me I had to check out this kid Cutler. I started watching him early in the 2004 season and couldn't stop. Last season he took a team that might not have one other player drafted and won at Arkansas and at Tennessee and took Florida to two overtimes in Gainesville.
I've been raving about him on television since last September. So I'm not some draftnik who decided he was the Next Great Quarterback because he benched 225 pounds 23 times at the combine. Trust me, Cutler can move and throw on the move. Cutler can make every pocket pass you'd ever want an NFL QB to make, with mustard or touch, and he often did so with unblocked defenders knocking the snot out of him.
In the SEC, Cutler was competing against consistently faster and tougher defenses than Leinart faced in the Pac-10. Cutler was named the SEC's player of the year.
Yet now ESPN draft analysts from Mel Kiper Jr. to Mark May are calling Cutler overhyped? Have mercy on any team that passes on (1) Young and (2) Cutler. Jay Cutler from Santa Claus, Ind., will give some team -- maybe Minnesota, all the way down at No. 17 -- a big present.
I had to stifle my amazement the other day when the coach of an NFL team with a lousy quarterback told me his staff's biggest concern about Cutler was: "How would he handle it if he had a pretty good team around him? Would he screw it up? Try to do too much?"
OK, Favre occasionally tried to do too much in his early years in Green Bay. Then what happened?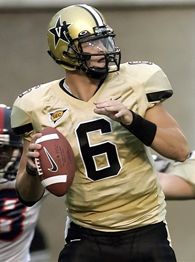 Mark Humphrey/AP Photo
If Jay Cutler ends up being nearly as good as Brett Favre, some team is going to be very happy.
It's no coincidence Favre's agent, Buss Cook, sought to sign Cutler, and did. Cutler is the flip side of Leinart. He's a small-town guy who'd just as soon hang out in the weight room with his linemen.
This is what an NFL team should wonder about Leinart: Does he want to be a celebrity or a pro quarterback? The obvious answer is both. Clearly, he has campaigned to play in New York, for the Jets, because he and his management team need the Broadway stage. Yet what will it matter that People magazine voted Leinart one of America's most beautiful people if he's just another struggling quarterback?
Clearly, Leinart signed with Creative Artists Agency because he wants to be more than a football star. He hangs out with Nick Lachey and Ashton Kutcher. On Thursday he met with Donald Trump. Is it possible he's getting more publicity for doing nothing more than hanging out with "friends" like Paris Hilton?
Matt Leinart is the biggest risk of the three quarterbacks. Maybe he'll soon have his own reality show -- "Behind the Bust." Maybe someday Leinart will play a fictional quarterback in a movie about winning the Super Bowl.
Enjoy it, Jets fans.
Skip Bayless can be seen Monday through Friday on "Cold Pizza," ESPN2's morning show, and at 4 p.m. ET on ESPN's "1st & 10." His column appears twice a week on Page 2. You can e-mail Skip here.