By Skip Bayless
Page 2
I had just finished watching Barry Bonds' final at-bat late Thursday afternoon -- a letdown pop out to medium left center -- when I flipped over to "SportsCenter" just in time to catch my friend and fellow Vanderbilt alum, Buster Olney, spouting some nonsense.
Poor Buster was critiquing Bonds' day -- 0-for-3, with two walks, one intentional -- and poor Buster was once again declaring that Bonds is on his last legs, that he's desperately flailing at pitches he used to splash into McCovey Cove with powerful ease and that Bonds "knows time is running out."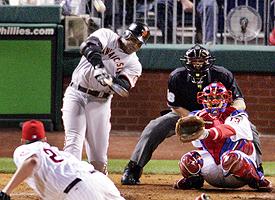 AP Photo/Miles Kennedy
You better believe that Barry is going to be hitting more HRs for the next few years.
Buster definitely knows baseball, which he covers with powerful ease for ESPN The Magazine. But right now Buster (and the scouts he interviews) do not know Bonds.
Yet Buster and his sources are not alone. You keep hearing this from other national writers and analysts: "Barry Bombs!" (as in failing for an entire game to do anything more than scorch a couple of liners that are snagged by outfielders or by infielders playing in shallow right). You hear that Barry can barely walk. You hear Barry's elbow is like shattered glass. You hear, as Buster says, "Bonds is showing real signs of physical regression."
Forgive me, but you won't hear this from me. I hate to be the bearer of sad tidings, but I'm as sure Bonds will play three or four more seasons as Buster is that Bonds is nearly history.
Bonds will soon pass Babe Ruth's 714 milestone, and he'll also wind up hitting around 30 homers this season, which will leave him around 17 short of Hank Aaron's all-time record of 755.
He'll break that by, say, July of next season -- that is, if it doesn't break him first. If Bonds is breaking down now, it's mostly psychologically.
No doubt he has been uncharacteristically overanxious at the plate, jumping at pitches, barely missing them, forgetting what his late father always told him: Imagine you're playing catch with the pitcher and let the ball hit your bat as if you're catching it with your glove. Don't try to hit home runs. Let them hit themselves.
Since this season started, Bonds has been trying to hit home runs. After all, he's about to equal what, to him, has always been a hallmark mark in sports: Ruth's 714. Yes, Bonds has occasionally indicated he's racially motivated to pass Ruth. But he also has spoken reverently of the figure who never quite seemed real to him, the mythical Babe. Paul Bunyan, Johnny Appleseed, Babe Ruth.
As a kid growing up in the Giants clubhouse, Bonds heard the expression, "Babe Ruth is dead." Meaning, pitch to the other team's slugger and make him put the ball in play. He ain't no Ruth.
Sure, Aaron passed Ruth. But the Babe remains the most famous figure in baseball -- if not sports -- history. That's not just a "white" thing. That's an American thing. And Barry knows it.
Barry knows Aaron was a right-handed hitter without tape-measure power who never hit 50 or more homers in a season. Barry is a left-handed hitter who could surpass Ruth as the most awesome lefty slugger ever.
And sometimes he crumbles under the pressure. After all, Roger Maris did as he approached the Babe's single-season record -- partly because of the Mickey Mantle-loving backlash. Aaron did as he approached 714 -- partly because of the racist backlash. But Maris and Aaron also kept waking up thinking: "This is Babe Ruth."
Yet Bonds is seen as such a steroid-fueled robo-slugger -- such an arrogant super-talent -- that people forget he feels pressure. Right now, he's flinching under Ruthian pressure. Babe Ruth!
That's why he has been slapping his bat after failing to nail pitches he used to launch. He just wants to get this over with so he can relax and get back to being Barry Bonds. As he said the other night on "Bonds on Bonds," he's mad at himself for letting all the criticism and pressure overwhelm him.
"I'm making mistakes I never make," he said. In Thursday's game, he missed a line drive down the left field line not because he couldn't get to it, but because he took his eye off it.
No, his body isn't breaking down at age 41. He said on "Bonds on Bonds" that his knees are feeling better by the day. Remember, he has never torn a ligament, he's just had cartilage procedures performed on both knees.
Watch him closely when he needs to run, in left or on the bases. He can still run.
All the limping is mostly for show. He hopes to inspire some sympathy among fans who have condemned him for all the steroid allegations. And he wants the scouts to tell their teams -- and tell the national analysts -- that Barry ain't what he used to be. Less pressure, more hittable pitches.
But most managers aren't buying all this "Barry is Fred Sanford" talk. In Thursday's first inning, with no outs and a man on second, Cubs manager Dusty Baker chose to walk Bonds intentionally. That left my friend Buster sputtering.
"What was Dusty thinking?" Buster said on ESPN News.
Baker was thinking that Bonds hit a sinking liner on Tuesday night that Cubs center fielder Juan Pierre caught an inch or so from the top of the center field wall. Thinking that Sunday night in Philadelphia, Bonds hit No. 713 off the McDonald's sign in the upper deck. And thinking that, with summer arriving, Bonds is about to get hot.
Funny, but "Broken-Down Barry" leads the NL in walks with 34 -- and he has played in just 29 of the Giants' 35 games. Thursday's was his 15th intentional walk.
And in his fourth at-bat, Bonds hit a ball about as hard as anyone alive could hit one. Alas, it was no more than a sizzling liner to right, detonating a groan in the House That Barry Built.
But that's a reason to retire?
No, that's partly wishful thinking on the part of people who want to see Bonds pass nothing but gas. No doubt many people inside and outside baseball just want Bonds to go away. Or so they say.
This always reminds me of what the late Tex Schramm, who created and presided over the Dallas Cowboys, America's most loved and hated team, once said: "The national media wants to see us lose, but they don't want to see us go away."
Baseball wouldn't be nearly as entertaining without its greatest villain ever. And Bonds knows it.
He has admitted he feeds off the hate. In fact, he sometimes delights in inspiring it by treating media members and autograph seekers like they're cockroaches.
In case you missed his stunning conclusion on Tuesday night's "Bonds on Bonds," read and remember it: "Ain't no doubt 755 is within reach if I just get back in character."
Meaning, if he just gets back to being "Barry the Big, Bad Bully," bothered by nothing and nobody. My goodness, Bonds' agent, Jeff Boris, said the other day that 1,000 homers are "within his grasp."
I seriously doubt he'll hit around 50 a year for five more years. But he clearly plans to play next year, in San Francisco or elsewhere.
The only way he won't is if he's in jail or suspended. He's being investigated for perjury. And he's obviously a prime suspect in baseball's internal probe.
But the feds weren't able to nail Bonds during the BALCO trial. And if Bonds skates on the perjury charge, do you really believe baseball's investigation will result in a suspension for the biggest draw in this or any sport?
Even though the Giants aren't quite selling out at home, Bonds remains a bargain at $18 million a year. How can Giants ownership, carrying the entire note for AT&T Park, afford not to pay him at least that much next season as he chases Aaron?
Yes, Bonds says he's a left fielder and refuses to move to first. Aaron and Ruth didn't move to first. And he doesn't want to move to the AL and DH unless the Giants refuse to re-sign him.
But he does have a home in Beverly Hills, so the Angels would be a natural fit. He could split time between left and DH. He could also do that for the New York Yankees.
You don't think Bonds would be worth at least $18 million to those teams? If he loses 10 or 15 pounds, he easily could play three or four more years -- not just games.
I don't love the guy. But Barry Bonds' at-bats are still the most riveting moments in sports. Tell me you don't watch them.
Tell me he's washed up.
Skip Bayless can be seen Monday through Friday on "Cold Pizza," ESPN2's morning show and at 4 p.m. ET on ESPN's "1st & 10." His column appears twice a week on Page 2. You can e-mail Skip here.