By Skip Bayless
Page 2
As I've mentioned, or confessed, I was raised an Oklahoma Sooners fan. I was taken to my first game at age 5, and eventually I had several close friends who played and coached at OU. I can't help it, it's in my blood.
I know former coach Barry Switzer pretty well, and I know all too well how Switzer ran the program before he was run out of college football. I was extremely proud and a little ashamed of his three national championships. Switzer was as great a motivator as ever slapped a butt, but he loved his warrior-stars to a fault.
He believed that if these exceptionally gifted kids risked their knees, shoulders and pro careers to put Oklahoma on the national map, they deserved a car and a little cash and to have a hell of a good time after blowing another rival off the map. After all, none of them could party any harder than Switzer. Hey, at least he wasn't another of those "do as I say, not as I do" phonies.
But of course, by the late '80s, his Red River Rome finally fell to what he described as the "rapin', dopin' and shootin'" that went on in and around his jock dorm.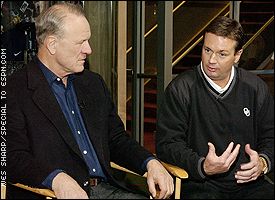 Looks like Bob Stoops might not be the anti-Switzer after all.
So when Bob Stoops won a national championship at OU, then made it to two more national title games, it did my heart good. Here, by all accounts, was the anti-Switzer. Stoops won the right way, the squeaky-clean way. Or so I kept hearing.
In fact, Stoops took this "student-athlete" stuff a little too far for my taste, punishing Adrian Peterson for missing a class by benching him for the first couple of series at UCLA. If Peterson wants to attend every class and make straight A's, that's great by me. But if he misses one here and there while playing the equivalent of pro football, give him a break, coach.
Maybe there was more to it than that, but that's what Stoops said. And Bob Stoops wouldn't lie.
Would he?
My first thought late Wednesday night after I heard all about Peterson and Rhett Bomar and the car dealer was: Meet the new coach, same as the old coach? Has Bob Stoops turned out to be a wolf in sheep's clothing -- Barry Switzer in disguise?
Or is he just so daggone squeaky-clean that he's almost fatally naive?
All I know for sure is that these are vintage Switzer-era violations, and I'll be very surprised if the NCAA looks into this and decides Stoops punished himself enough by permanently kicking his quarterback off a team ranked No. 1 by several preseason publications. This could -- or should -- cost OU a killer number of scholarships, maybe a bowl game and certainly the proceeds from last year's Holiday Bowl.
And I hold the head coach at least as responsible for this as I do the players involved.
Remember, three years ago Peterson and Bomar were rated the No. 1 recruits in the nation at the glamour positions, running back and quarterback, and both resided right under Mack Brown's nose in Texas. Stoops' Sooners had just bloodied that nose 65-13 in the annual border war in Dallas. Stoops all but owned Brown, and Stoops talked both Peterson and Bomar into defecting.
Boomer Sooner.
So how in the name of Bud Wilkinson could Bob Stoops allow the two most highly publicized recruits in the country fall into such an obvious trap right under his nose?
Big Red Sports and Imports is a sprawling mega-dealership on both sides of Interstate Highway 35 not far from campus. Brad McRae, who ran Big Red until recently, logged more air time on Oklahoma City radio and TV the past couple of years than Peterson and Bomar combined. But McRae bought his exposure, as the fired-up, come-on-down pitch man for one of the hottest new-and-used car dealers in the state.
And naturally, McRae was a big Boomer Sooner booster. As Big Red's general manager and part-owner, he especially loved rubbing elbows with the players and having them hang around the dealership. Good for the ego, great for business.
Big Red developed a cozy relationship with the OU football program, providing (along with other dealers) cars for the coaches and jobs for, reportedly, up to 24 of the players. Jobs for reasonable wages are within the NCAA rules.
But driving a free new Lexus from Big Red Sports and Imports is not. Peterson got away with driving one for, reportedly, a month before it was brought to the attention of OU's compliance staff this past March. Peterson and McRae were quoted as saying that Peterson was attempting to secure financing during this time, and McRae told The Daily Oklahoman that it wasn't that uncommon for Big Red to allow customers to drive off in a brand-new vehicle while financing was pending.
I guess I need to start shopping at Big Red. I've never heard of a dealer allowing a kid without a year-round job to drive an expensive new car for a month while seeking financing. But Stoops sounded perfectly satisfied with the explanation, and we all know Stoops will not stand for any funny business.
Then again, maybe McRae considered the Lexus part of Peterson's salary. Peterson definitely worked at Big Red during the summers. And according to several sources, Peterson was occasionally seen at the dealership during the season, hanging out with McRae in his office. Maybe they were haggling. Maybe they were just buddies.
But Bob Stoops should consider boosters like McRae the biggest threat to his program. I mean, the guy's right out of Central Casting for the typical out-of-control booster -- almost a caricature of the fast-talking used-car dealer. Just about everybody in and around Oklahoma City has heard of Brad McRae. Surely Stoops had glad-handed him at various functions.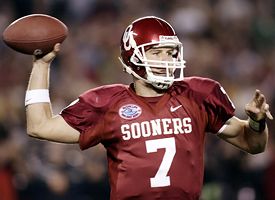 Donald Miralle/Getty Images
Without Bomar, Oklahoma's no longer a national championship favorite.
Or was Stoops just too tunnel-visioned -- too dedicated to being a great father and husband and to studying tape of last year's subpar 8-4 season -- to focus on the Big Red Flag? Was OU's compliance staff, whose job is to educate players about NCAA rules and to closely monitor any gray-area involvement, asleep at the wheel? After all, the basketball program is already on probation for two years, thanks to the ugly trail left by Kelvin Sampson, who always was portrayed as an upstanding good guy.
Shouldn't the coach of such a traditional power as Oklahoma -- especially one in a football-crazy state without a pro team -- develop some kind of network of eyes and ears to keep him informed of any dangerous associations by his players? It's Stoops' job to know about the Brad McRaes and head them off at the pass.
Did he know?
He said on Thursday he absolutely did not. He laid all the blame on Bomar for receiving an excessive amount for "working" only an hour a week during football season at Big Red. This came to light because Bomar reported $18,000 of income from the dealership on his tax return, according to ESPN.com. Bomar now says that figure is high. Yet you have to wonder how much he did not report.
So Stoops said: "In the end … if somebody understands the rules and knowingly breaks them, then everybody suffers the consequences. … Players need to be more accountable. We can't spend every minute with them, our compliance staff cannot spend every minute with them."
No doubt Peterson, Bomar and Bomar's roommate, J.D. Quinn -- a starter at offensive guard who also was booted off for "working" at Big Red -- deserve plenty of blame. But no matter how swiftly and upstandingly Stoops meted out Bomar's punishment, probably costing OU a shot at the national championship, you have to blame Stoops, too.
After all, he's also trying to save what's left of his program's face, not to mention soften the potential NCAA blow.
The main question the NCAA will now attempt to answer is this: Did anyone from or associated with OU promise Peterson and/or Bomar during recruiting that they would be hooked up with the right guy if they signed with Oklahoma?
This situation smells to high Sooner heaven.
McRae was fired last winter -- though he told The Daily Oklahoman that it had nothing to do with the OU scandal. The dealership recently was sold.
And now I'm told by several OU insiders that the after-hours behavior of Stoops' players isn't all that different than it was under Switzer's eat-drink-and-chase-Mary reign. Sure, this still goes on at all the football-factory schools. Lots of programs are still finding creative ways to pay players.
And, in the big picture, players deserve to be paid.
But bad rules are still rules, and I'm stunned that Bob Stoops' stars would so blatantly violate them.
Stunned and ashamed.
Skip Bayless can be seen Monday through Friday on "Cold Pizza," ESPN2's morning show, and at 4 p.m. ET on ESPN's "1st & 10." His column appears twice a week on Page 2. You can e-mail Skip here.