Editor's Note: ESPN.com contributor Graham Bensinger recently conducted a lively Q&A session with actor/comedian Dane Cook. The following is an edited transcript.
Graham Bensinger: I must admit … I'm a little disappointed. You were coming to my hometown, St. Louis. I'm good friends with your manager, Barry Katz, and he told me there was a possibility of doing the interview with you backstage before you go on. He said, "Just make sure you're there by the end of soundcheck at 5:15 p.m." So I rush downtown, and get a $100 speeding ticket on the way down. I make it there by 5:10 and I go up to get the backstage pass and my name isn't on the list.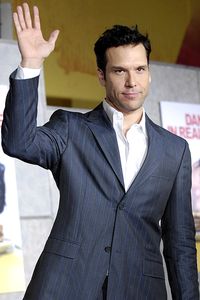 AP Photo/Chris Pizzello
Dane Cook is playing to big crowds on his latest comedy tour.
Dane Cook:
Ouch.
Bensinger: And of course I left my cell phone at my house, so I can't call anyone. Needless to say, I don't end up seeing you until 7 p.m. So I'm just surprised I'm actually talking to you.
Cook: Well, first of all, sorry about the $100 speeding ticket, man. How fast were you going? (laughs)
Bensinger: (laughs) I was going about 90 miles per hour, but the officer kindly issued me a ticket for only the 5-15 mph over range. I lucked out on that one.
Cook: You know, this is really the first time I've had an opportunity to talk about the first leg of the tour. I put this tour together with Barry and Brian Volk-Weiss -- two of my good friends and producing partners for years. You would call this almost a last-minute tour, despite the fact that it's an arena tour and one of the biggest comedic undertakings in many years. Who knows how many years? From what I'm understanding this is definitely a high watermark in the world of comedy. Those first few shows I don't think we realized the enormity of what we were doing, and the thousands of people that were showing up clamoring to get tickets, and the preparation we needed [in order] to put on the highest-quality show. I certainly wanted to speak to you around that time, but we were actually backstage that night or the night before talking about how we really had to buckle down and focus on every detail here, because this is the real deal. You certainly were probably caught up in a tidal wave of what we were dealing with, which was needing to deliver what will hopefully be one of the greatest comedy shows these people ever experience. There was a lot going on behind the scenes. Trust me … I wasn't sitting there drinking green tea.
Bensinger: Yeah, yeah, yeah. I actually heard you talk on your Web site about how this tour came together at the very last minute. Given how many people are coming out to it, and given what's involved in putting a tour of this magnitude together, how last-minute could it actually be?
Cook: More than you know. A tour like this should have been up four months ago. We should have been figuring out all the geography and giving ourselves enough time, but we pretty much slopped this tour together in a month and a half. Maybe even a little bit less. I knew that I had a rabid fan base that would jump on tickets when I put the word out on my Web site. I knew there were areas of the country that I hadn't been. Everywhere we've gone there have been anywhere from 10-20 thousand people. I had over 80,000 in attendance during my first seven shows. It did come together last-minute, but it was because of my fans coming out loud and proud that got other people buzzing and brought more people to it. I look forward to getting back out.
Bensinger: You sold out Chicago's United Center, where Michael Jordan won three of his six championships. What's cooler: that, selling out Madison Square Garden for back-to-back shows, or drawing 36,000 strong for one night in Boston?
Cook: Woooooh! When you put it like that, it's tough to really pick. It's a tricky decision. When you look at a venue like Madison Square Garden, and the history in that building and knowing that my dad would sneak to New York and watch boxing matches there when he was a young guy, and then he got to come and experience his son in the middle doing these stories … that moment would probably have to be … oh, it's tough man. Boston is my hometown and you hit me with a trick question. Each of them certainly has a level of integrity that will always be close to my heart. Doing that Madison Square Garden show with my dad there was definitely something quite unique.
Bensinger: The best and worst part of being on the road would be what?
Cook: The best part is the fans. It actually balances out the worst part, which is it gets lonely. There's really no two ways about it. Yes, at this point I kind of travel with a posse of people around me, and I can bring my buddies out and we have a good time while we're working. But truly, at the end of the day, I'm back at my hotel room planning my next day's show and having to catch up on the day's work. Sometimes it gets a little lonely. I think, no matter what level you're at as an entertainer, there are those moments when you're in your trailer thinking, "If I was just doing the normal 9-5 job, I'd be home having a great dinner with the family right now." I balance it out because once I'm out there meeting the fans, you see the appreciation you bring to these people's lives. It reminds me of when I was in junior high school, and had tough times with my family that we didn't think we'd make it out of, and we would watch a special on HBO or listen to Steve Martin's albums and that was our escape. The fact that I'm that for so many people now, it makes the grind worth it. Once it's showtime, you aren't thinking about anything other than the many thousands of people that are going to experience something with you and hopefully take that with them for the rest of their lives.
Bensinger: You're able to travel a little more lavishly now. You're actually chartering planes.
Cook: This is the first time I've actually had a chance to do a chartered plane tour. People know that I did the Tourgasm bus for that tour. Then, if you know about the 15 years before that, it was basically anything that moved and would eventually break down. I think I have more cars-breaking-down-in-the-middle-of-nowhere stories than anyone. When I looked at it and worked out with the promoters a way to actually have private planes, it just makes it better for the shows. I'm not having to think about airports and luggage checks and all of that. I do the show and then they drive me right onto the tarmac. I feel like Bon Jovi. In fact, the pilots actually put a SU-FI on the side of the plane.
Bensinger: (laughs) Are you serious?
Cook: Yeah, I have a great pilot and co-pilot. These guys are traveling with me for the tour. When I came to the tarmac the other day, these guys said, "It's SU-FI Airlines!" I have a great picture of that which I'll probably put online in the next couple of days. I'm traveling a little more lavishly right now, but it makes up for all of the run-out-of-gas moments and cars breaking down in upstate New York in the middle of winter.
Bensinger: That's what people should realize. While it's great that you're taking charter planes now and it seems like you've just recently exploded, there was a lot involved with achieving your present level of success, which didn't happen overnight. I was very fortunate to get booked on "The Tonight Show" and Conan O'Brien so early in my career. As you know, those shows are like the Holy Grail for comedians. Obviously I'm not a comedian, though. How hard was it for you to get that first booking?
Cook: Any career -- it doesn't matter what age you're starting at -- people don't see those first few bricks that have to be laid down. It's tricky. My family looked at me hoping that I knew what was best for me and that this was going to be something that is lucrative and rewarding for me to do for a living. Laying those first few bricks down -- like I did, or you, or many people that we have commiserated with -- it is the scariest few steps. There's a quote from me that keeps getting misquoted. It's playing in movie theaters, when they air those quotes at the beginning from different celebrities. They have my quote up there which is, "I'd never want to start standup comedy again. I'd rather do brain surgery than do comedy again." They actually made the quote sound like I didn't want to do comedy again, but what I was speaking of was starting over -- laying those first few bricks, looking to the family and friends and girlfriend at the time and asking them to trust me that this is going to lead somewhere. For years, it basically led nowhere. I'd do a gig, and then it was like, "Nobody cares if I don't show up at this club again." Where do I take that? How do I build on it? You have to be tenacious. You have to believe in something. You have to know that, come hell or high water, and it's coming, you have to keep moving and keep pushing through. It's really a matter of discipline, and working on yourself so you can beat the elements of what's going to rain down on you.
Bensinger: What was it like when you got that first big booking?
Cook: Letterman. It was 1996. I remember getting that phone call, and it was a remarkable feeling. I not only remember the phone call and the days leading up to performing on the show, but I remember when I went out and I stood on the original Ed Sullivan [Theater] stage and thought about the Beatles and Elvis Presley being there. Granted, there was probably some crazy cooking lady there the night before, but you realize the history of that stage. When I walked off that stage, I certainly was not the person I was when I first stepped on it. It was a real sense of validation. You have to enjoy those little successes. You have to let those things sink in and realize it's very special and important. Who knows how many of those moments will happen?
Bensinger: In sports, you try to get pumped up before a game. I vividly recall the adrenaline rush before walking out onto "The Tonight Show" stage. What's it like for you?
Cook: Fortunately, I'm not a person that gets really nervous. I get a little nervous energy, like excitement, but I know people who get physically sick and have to sit somewhere, frozen, with their hands clenched. Everybody has the thing that they need to do to prepare for the performance. I kind of like the feeling of not thinking that much about it. I like to be around friends and hang out. I used to prefer walking into a club moments before I would have to go on. That way I could basically bring my attitude and mood to the stage. There really wasn't a put-on. There's no real character. Yes, its entertainment, and you have to be on and in the zone. But I always wanted it to be a pretty simple step-up from real life to the stage. When I'm backstage and hanging out with my fans or friends or whoever, I hear the crowd and I get pumped. I know the new jokes that I want to hit upon. I'm already a little bit anxious, just because I want to be out there. Being on stage is like going home for me. The process for me is very simple: I like to walk into the gig and look around to make sure everyone is comfortable and in their seats; then, I want to get the mic and go out there. When I step off stage it almost immediately turns off. There's no want or desire for me to have a high after the high of performing and sharing the moment with the fans. Almost the moment I step off stage, I feel like a very regular person. I'm a bit shy, but I think it balances me out. It actually used to annoy me that I was shy, but now I'm kind of glad that I can just come off stage and feel like a regular dude once again.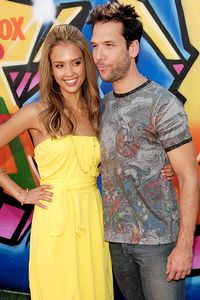 AP Photo/Chris Pizzello
One good reason to take up acting? You might get to work with Jessica Alba.
Bensinger:
You've parlayed your overwhelming success as a comedian into acting. Why acting?
Cook: Just a new way to tell stories. We talked about Steve Martin. That was a guy who I always wanted to emulate. I wanted to build a fan base and then one day, fingers crossed, take them into film. I'd like to build a film repertoire that is interesting, collaborative and creative. It's so different from standup. I don't think they're really in the same category at all, because it is such an ensemble and collaborative effort. I love doing films because it is a great way to express another side of my storytelling. I like the challenge of it. I certainly get a different kind of rush off of being on a movie set. It's nice to be able to have my cake and eat it, too. I do realize that there are good and bad gigs. There are movies that I'm in that I'm not sure if I'm playing it [the part] the right way. Like any kind of career, you want to get better, and I want to get better as a film actor. That's why I took on roles in "Mr. Brooks" and "Dan in Real Life" that weren't necessarily in my wheelhouse of comedy, but they challenged me in different ways and I'm going to continue to do that and hopefully direct something in the coming months that I've written. I'd like to move a little more into the role of directing and producing film and television.
Bensinger: Since this is ESPN … obviously you filmed all the baseball postseason commercials. How was that?
Cook: I thought what MLB came to me with was really tremendous. Right from the beginning, it was like, let's just do something that shows the moments in baseball. Not just the moments from the past, but let's be innovative and shoot commercials that evolve as the season evolves. We're showing highlights from what happened in the game three nights ago with the Mets. We're showing highlights of [David] Ortiz's home run from last night. I had never really seen a commercial do that. For me, personally, I did the commercials as a tribute to my dad, who had passed away and was a big, big, big sports guy and huge into baseball. He was scouted by the Boston Braves in 1952 to play ball. He was a great all-around athlete. He went to BC and still has records in the record books from different sports that he played there. He excelled in basketball, football and baseball. Despite the fact that my dad went to serve our country in Korea and didn't go and play for the Braves, we just grew up in a real rich baseball bubble. I'm not a person who would normally look to be in commercials, but that was really for my dad. For my team [the Red Sox] to then go and win the whole thing, it was really a fairy tale.
Bensinger: How does this year's World Series run for the Red Sox compare to when you were in the stands watching them win in 2004 with your dad?
Cook: It was different in the best possible way. It felt like I was getting the entire history of the Boston Red Sox in one moment in 2004. The curse being lifted. The years of the jeers. I can remember standing there with my dad and feeling like history just changed when that moment happened. This year was about a team of guys. There was no longer any pressure of a curse. These guys just played great ball. They were just a great team. It was the pitching and then the bullpen. How often do you see an entire team where everybody is just picking up the slack for each other? Everybody is just on: Ortiz, Manny [Ramirez], and then [Mike] Lowell. There was no one that you could get around. It was a different feeling for me, because I felt like I was watching one of the great teams in sports bring it home. It was a great thing to be a part of, and I look forward to seeing how they come out of the gate next year.
Graham Bensinger is a regular contributor to ESPN.com. Visit his Web site at http://www.grahambensinger.com. You can e-mail him at Graham@TheGBShow.com.