WHY DO WE LOVE THE NCAA TOURNEY? LET US COUNT THE WAYS

'Twas the night before the NCAAs, and all through the house, not a creature was stirring, except three bracketologists, a snoring dog and Mom, handing out the "UConn Husky" corn chips. A tale, full of sound and fury and Tar Heels, signifying everything that's truly beautiful about the NCAA tourney.
Everybody into the pool! | From Gerri Hirshey

Couldn't get into my own bed the other night. Too crowded. The Family Unit -- the two kids, my husband and the beagle -- were sprawled across the quilt scribbling, muttering and snoring, respectively. Lila, 11, looked up from the tangle.
"Brackets, Mom. Brackets!"
For the last four years in our house, spring is announced not by the first crocus or a hardy robin prospecting the septic field for worms. No, 'tis that hoop satyr's cry:
"Brackets!"
It's a fever that grips this nuclear clan until the last, court-jamming, net-snipping gasp of the Final Four. The day the brackets came out on the NCAA website, the kids rushed upstairs after school and printed out four sets. Once filled in, the Family Brackets will sit on the kitchen counter, where the ongoing results are dutifully - noisily -- entered as they occur. Cribbing, or the use of any online tip sheets ("Avoid the Heartbreak and Get Bracket Help") is verboten -- and disdained.
The three of them make their picks, then gleefully abuse one another. ("St. Joe's to the third round? You probably still believe in the Easter Bunny, too!") And -- because I never seem to have the time or the patience -- they thoughtfully compose a Mom bracket for me. Unconscious as a mama possum snoozing in her winter nest, I cruised to second place in the in-house competition two years ago. This year it appears they have me banking on UNC to overcome Pitt on April 5. Right. But just to keep me quiet, they gave me UConn in the Final Four. All season, every year, they like to trash me for my abiding "go-you-Huskies" enthusiasm -- a loyalty that extends to serving them official fund-raising "UConn Husky" corn chips while they're glued to the set. Diss this mama for her foolish heartaches, and she'll make you eat it.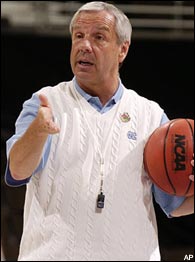 Will Roy Williams win the big one wearing Carolina Blue?
Our Ma and Pa version of the Madness started four years ago on a spring break road trip to visit friends in North Carolina. Our genial host Wayne, a native son and long-suffering Tar Heel devotee, sidled up to our son Sam, then 10, with the brackets printed in the Raleigh News and Observer and whispered, "Hey, man, let's fill 'em out." Over the weeklong visit, their joint venture deepened into mania; they'd emerge from the den glassy-eyed and smeared with newsprint. My kid was hooked; by week's end, his dad had been sucked in as well.
The rest of us were bent on wallowing in the glorious Southern spring that had yet to pop up north. Canoeing through an ancient cypress swamp, deaf to the majestic percussion of pileated woodpeckers, Sam and Wayne talked arena wildlife: Jayhawks and Badgers, Wildcats, Salukis and Bearcats. Back in the day, Wayne's dad had played for Wake Forest, some cousins for the 'Heels. Thus, in that forest primeval, he told Sam of his deep tribal aversion to ... Duke. "Thanks to K," he grumbled, "it will probably be lifelong."
Sam himself was born into the Mad season -- March 20 of 1990, just minutes from the actual equinox. And he bears the hardy DNA of three generations of Midwestern hoops compulsives. His Kansan great-grandma rooted -- hard and loud -- for the Lady Jayhawks until she died. His grandpa rode herd over the thundering budgets of the University of Missouri athletic department -- in the stormin' Norman Stewart era. Sam's own pop wrote local sports in Mizzou journalism school. He graduated and came East with the resigned, Eeyore-like disposition that loving those Tigers can confer.
Alas, he brought his Tiger jones with him. I'll spare you the courtship except to say that, on an early date, I found myself rebuffing the advances of the reeking Terp mascot at a Mizzou/Maryland game; those critter suits filled with overripe undergrads smell like high August in an Omaha feed lot. Some of my earliest in-law visits were spent in the Hearnes Center in Columbia, Mo., hollering -- usually in vain -- for the likes of Anthony Peeler. Sam was with me -- in utero -- when I had my most memorable NCAA moment. One of our gang that caravanned across the state line to the annual Mizzou/Illinois grudge match accidentally spilled a beer into the parka hood of then-Governor John Ashcroft's son. Seated in front of us, that pious Show Me State pol had been a real annoyance during the game, glad-handing during the hottest action, shooing the Missouri Golden Girls for some half-time Bible-thumping and grandstanding. We still cherish the memory of sending his kid home reeking like a Skid Row rummy.
The giddy future of our Family Brackets was assured by those Big 8 excursions. My husband had never wavered from his preference for NCAA hoops over the pros. I -- having thrilled, courtside, to some Knicks championship seasons -- had a reawakening. As the Hearnes floor shook and the wild young men strained toward the Dance, I remembered why college ball is so much more satisfying. I'd never honk about the NCAA game's "purity" -- we all know better than that. What I rediscovered was its unformed, immature, wild and crazy promise. It is still a game of Cinder-fella moments and spectacular bursts. It's often green and muddy and unpredictable -- like spring itself.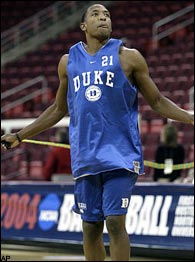 It'll take more than a jump rope to trip up Chris Duhon and Duke.
So, in this house, the Madness is a healthy thing. All the long winter's cabin fever begins to break up, like ice on the Hudson, when second- and third-round debates flare around the glowing Sony. After all this time, they've dragged me into it; I care, damnit, I care. As a family, we are united in our Duke-weary wish for a rockem sockem shakeup -- though two sets of our Brackets have the Blue Devils taking it all. Even Lila, who is still tender enough to pick with her heart, caved and scrawled in Duke in the San Antonio sweet spot -- but she claims it'll be a squeaker against Kentucky. Down in Tar Heel country, Wayne will be gamely fielding Sam's taunts and commiserations via e-mail. Already, the big galoot is wailing: "Sam--WHAT is Carolina doing with a 6 seed?"
I will cook and haul platters of fuel downstairs to the Bracket Matrix. And as I stack the tacos, I will count my blessings. Here are the Family Values upsides to March Madness as I see them:
At 10 p.m., we all know where our children are.
Nobody argues "Seventh Heaven" (blech) versus "SportsCenter."
Even bickering reaches a higher plane; instead of "poopyhead" and "stupid ugly creepface poopyhead" I hear their sweet voices chime, "Box out, Taliek!" and "Oh bite me, Krzyzewski!
Half-times during afternoon games bring one additional balm: the thunk-swish of a basketball against the hoop next to my garden where it's been so silent and white. There's straw spread on the ground beneath -- it's high mud season. But the Madness leaves Sam and his pals full of the fever. They sniff their own promise: summer leagues, hoops under the lights. Sometimes the season's generous spirit finds them lowering the rim two notches so little sis can have a go. Long about Final Four weekend, the Dad steps out into the sun, too, slow as a March-wakened bear, and pops in a few lazy layups. The winter's discontent -- the recruiting scandals, the sexcapades, the tasteless escalating bling -- recedes like so much dirty snow.
"BRACKETS!"
'Tis still a joyful sound.