THE WOMEN'S NCAA TOURNEY VS. THE MEN'S NCAA TOURNEY: WHO'S NO. 1?

The Men's NCAA Tournament resumes tonight, with 16 teams battling for those coveted Final Four berths.
Yawn,
says the WB's Eric Adelson.
Wake me up when the women's games are on again, 'cause the men can't carry the women's ... uh ... sports bras.
Ten reasons the Women's Tourney is better | By Eric Adelson
OK, I'll say it:
The women's college basketball tourney now rivals the men's version in excitement.
Here's why:
1) Don't even try to tell me the men still shoot far better in the postseason. Pitt's shooting percentage is 33 percent. Meaning the team's bricking percentage is 67 percent. And the Panthers are in the Sweet 16. (How is this possible?)
2) And don't go to the more-dunks argument. How many nasty throwdowns does the men's tourney offer? Few.
3) It's fine watching clearouts when LeBron or KG have the rock, but not when NBA benchwarmers-to-be end up taking bad shots. How many pretty passes did we see over the weekend on the men's side? For that matter, how many passes did we see? You'll never see a single possession in the women's tourney without at least one pass. That allows for actual playmaking and strategy. That's why John Wooden himself said he thought the women play a better brand of ball.
4) Now take out the main reason we even watch the men's show -- brackets. How many of you would follow as religiously if there were no office pools? How many would hang on every ETSU possession if you didn't have dough and ego riding on the game?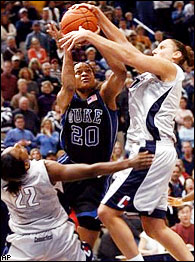 AP Photo
The Duke-UConn rivalry, starring Alana Beard and Diana Taurasi, is among the best in sports.
5) All sports fans love storylines and characters. In that department, the men have lost a step. Hard to develop a plotline when we're still learning names in mid-March. Diana Taurasi and Alana Beard have been going at it for four years now. Geno Auriemma and Pat Summitt have been trading barbs for much longer than that. We're talking about rivalries here. And how can the men's game cultivate rivalries when players and coaches take off after one or two years? The ACC has some exceptions, but what are the chances Coach K and Roy Williams will meet in the Final Four? Zero. Meanwhile, on the women's side, the Final Four might bring Taurasi vs. Beard as well as Geno vs. Pat.
6) Name a scandal in women's college basketball.
7) Can we honestly say the best team will win the men's tourney? Every March feels more and more like a six-game crapshoot. On the women's side, rarely does a true dark horse make the Final Four. Everyone loves upsets, but not so often that the outcome of the season seems random. When will we ever again see a repeat champ in the men's tourney?
8) Two words: student athletes. Two more words: box outs.
9) Granted, the first two rounds of the women's tourney have traditionally been pretty poor. But they are getting better every year. Can we say that about the men's side? Look at the ratings: rising every year for the women, sinking for the men.
10) No Billy Packer.
* * * * *

Robert Lipsyste:
I'm no hoops junkie, so I depend for insight on my father, who turns 100 on April 4. He came to televised sports very late (at 92, when he stopped driving at night) and has been playing catch-up. Six years ago, he called to demand I write a piece about the wondrous new infusion of African-American talent in pro basketball. Four years ago, he decided the men's college game was more exciting than the pros, and last year he declared the women's game, college and pro, the one true sport. He tells me that passing and patterns are the key. I tell him he's the father from another planet.
But he's getting here. The pattern he reveals to me is the inexorable absorption of the women's game into Hoopla, that glitzy, commercialized, crooked, in-your face, entertainment niche. The Genos smelled it early. Before there was an NCAA women's tournament, the coaches were overwhelmingly female. Then they became mostly men, hired by male ADs putting their buddies in place for the paydays to come. Title IX helped tilt the gender see-saw back. Now about 33 percent of Division I women's team coaches are male.
So if you enjoy women's hoops for the right reasons, enjoy while you can because it's going to change. Vive la egalite'. I'm waiting for that eventual call from Dad about all the dunking, ball-hogging and bad team chemistry in the women's game. Before the sex scandals (that should be interesting,) resume frauds and girls who don't read good, he'll probably have discovered football.
Patrick Hruby:
OK, since I'm feeling especially cantankerous and unenlightened today, I'll take exception to Mr. Adelson's feel-good pabulum regarding women's college hoops. Taking Eric's points one-by-one (in what he seems to think is the ballhogging fashion of the men's game), here's why:
1) Pitt's a boring, grind-it-out bunch that couldn't stick a jumper if you used a crane to drop Julius Page through the hoop headfirst. So what? There's plenty of sweet stroking in the men's bracket, from clubs like Alabama to players like FAMU's Terrence "the Jack" Woods. Of course, the women have really nice form. Elbow in and all.
2) More dunks are better than no dunks, just as a half-eaten steak is better than an empty plate. And given the ground-bound state of the women's game, it's more like an empty plate in a world without cows. No offense, Eric, but you can keep your Phi Laya Uppas.
Chris Paul, shown in action for Wake, had eight points, eight assists, two steals and two rebounds Sunday.
3) I watch a lot of NBA. A whole lot. There aren't as many clearouts as you think, and far fewer in the college game. College kids aren't as good; they have to share in order to get good shots. Last weekend, I saw plenty of nice ball skips, curls, pick n' rolls, inside-out action and perimeter swings. And that's without mentioning Wake Forest's Chris Paul.
Speaking of passing -- it's only entertaining when it has a purpose. Passing for the sake of passing is flat-out dull. Ever watch Wisconsin? And granted, it's cool that the Wiz of Westwood likes the women's game. Steven Spielberg probably thinks "Hook" is an unappreciated classic.
4) Brackets and gambling make a good thing better, like toppings on a pizza (can you tell I'm thinking about lunch?)
5) Pick up a newspaper. Are you saying that Nevada isn't a good story? That John Lucas III doesn't pique your interest? Personally, I think learning new names is part of what makes the men's tourney so enjoyable. I mean, how many more LeBron, A-Rod and Andre Agassi stories can we read? (Next in ESPN the Mag: Exclusive first-person accounts from the Cleveland Cav ballboys!) It's cool that there's a dollop of frostiness between Geno/Pat and Taurasi/Beard. There's also little love lost between India and Pakistan -- but you don't see me tuning into their cricket matches (though maybe I should, given that both countries have nukes).
6) No scandal in women's hoops? Just another reason why I won't be watching. Corruption means you've made it, as in, someone cares enough to cheat.
7) Sometimes the best team wins, sometimes it doesn't. That's the nature of a single-elimination tournament. But it isn't as though the Ivy League has been racking up titles lately. Name one recent men's champ that wasn't a very good team. I'm waiting. Then again, maybe men's hoops should apologize for putting out an unpredictable and competitive product. I mean, it doesn't work for the NFL or anything.
8) Eight words: Not interested in watching kids take chem exams. Twelve more: Vertical jumps that can clear the bottom row of a ball rack.
9) Ratings, schm-atings. In the immortal words of Derrick Coleman, "whoop-dee-damn-doo." I saw some great games last weekend; if the rest of the country was tuning into "Survivor: Tom Arnold's Bathroom," well, that's their prerogative. Besides, women's ratings have no where to go but up. Sorta like the NHL.
10) No Billy Packer? Hmmm ... you got me there.
Kevin Jackson:
Here's the one thing I don't understand about this whole debate (and even Eric's argument): Why do we always measure the women by comparing them to the men?
Is "CSI" less of a good (or watchable) show because it's not as good as "The Sopranos"? Is Bristol East vs. Bristol Central a waste of time just because Fairfield vs. Central Connecticut State would be a higher level of basketball? I love college football, even though I know the NFL is a more polished game.
Sure, I'd probably rather watch Duke and UConn play on the men's side, than in the women's tourney. But I'd be very interested in watching both, and I'd enjoy that women's game immensely. Who cares if Shelden Williams can dunk and Alana Beard cannot? That's completely immaterial.
I left the "boys vs. girls" mentality behind in the fifth grade. Too bad some many neanderthals in the sports world can't do the same.
Melanie Jackson:
You know, as the person who coordinates women's college basketball coverage for ESPN.com, I'm a little tied up right now. Which is why I was going to avoid this whole topic. Well, one of the reasons. The other is that I always end up having to defend "my sport" and supply the facts when the subject is brought up.
First off, in response to Mr. Lipsyte, one of the biggest gripes in women's basketball is that male coaches can't find a job. ADs -- whether they're trying to fill quotas or simply because they've seen what coaches such as Pat Summitt and Kim Mulkey-Roberston (yes, both could be men with those first names, but trust me, they're women) can do -- are looking for women. Nearly every major coaching hire the past two years has gone to women, with Jim Foster at Ohio State and Kurt Budke at Louisiana Tech being the major exceptions.
But the thing that bugs me most, honestly, is that women's basketball is put on some sort of a pedestal. Mr. Hruby, you need scandal to keep you interested? Trust me, we already got 'em. Oh, they're not the coaches-at-the-frat-house variety or six-guys-on-one-prostitute magnitude. But this season alone we had an All-American leave one of the country's top 10 programs for unspecified medical reasons, and though no one will confirm, most believe -- if you read the message boards, at least -- that she's pregnant. At Louisville, there was a player who was mature enough to have sex but not mature enough to deal with the consequences. She was, in fact, eight months pregnant before she fessed up, sought prenatal care for her unborn child and told her coach and teammates. And then, of course, TCU coach Jeff Mittie was just charged for drunk driving for an incident that occurred three days before the NCAA Tournament tipped off.
So minus the dunks, don't think our sport is that much different. Yes, women's players seem to be a lot better about sitting through all the interviews and autograph sessions, and lord knows I haven't heard any female hoops player bitch about scholarships not covering their costs. Or being involved in any major NCAA infractions.
The men's tournament is fantastic to watch, no doubt about it. But so is the women's. Matter of fact, the only real difference between men's and women's hoops? National media attention, which is probably why you haven't heard about those aforementioned "scandals."
The only way women's basketball gets national attention is when dopes like us feel like we should compare the two. That might be the biggest scandal of all.
Gerri Hirshey:
Thank you, Ms. Mel, for cutting to the chase. Comparing men's and women's games in any sport has a history of ending in folly -- I give you Billie Jean King, swanning into an arena on that Cleopatra-like palanquin to match forehands with Bobby Riggs. The most intelligent analysis -- in terms of coaching, talent, resource allocation -- has to start with an ancient but fundamental assumption: Vive la difference!
Chris McKendry:
Eric's leaping ability impresses me. But I'm not convinced ... and I'm a woman.
The hint of parity in this year's women's tournament is just a start. Five of the women's Sweet 16 teams are seeded fifth or lower, including UC Santa Barbara, which is seeded 11th and faces UConn on Saturday. The mix of upstarts and traditional powers is the foundation for the very best storyline in any tournament ... the big upset.
Eric, your fifth point is right on -- fans love storylines and characters. But the best stories are unpredictable, and that's why the characters of David and Goliath have endured.
Ratings are up for the women ... great. How high would they be if a No. 1 seed (a la Kentucky or Stanford on the men's side) was knocked out the first weekend? The women have lost just one No. 2 seed so far. Every No. 1 seed is alive.
As for point seven, why does the best team need to win a tournament? Was the 1980 U.S. Olympic Hockey team better than the Soviets? Only when it mattered most. That's the beauty of it all.
Bottom line: I'll follow the women's games this weekend, but the men's Sweet 16 remains "get-the-baby-in-bed-early" appointment viewing for me.