By Geoffrey C. Ward
Special to ESPN Book Club
The following is excerpted from "Unforgivable Blackness" by Geoffrey C. Ward. Copyright (c) 2004 by The American Lives II Project, LLC. Excerpted by permission of Knopf, a division of Random House, Inc. All rights reserved. No part of this excerpt may be reproduced or reprinted without permission in writing from the publisher.
Note: To faithfully document Jack Johnson's story, the author made a few editorial decisions worth noting. Because newspaper stories from Johnson's day were littered with racist references, Ward took precautions to preserve the fighter's true voice. He did not change words or edit the grammar, but he did reinstate proper English spelling whenever quoting Johnson. And, in an effort to capture the spirit of the times, Ward chose not to use the term "African American" in favor of the one preferred by blacks of Johnson's day: "Negro."
It took the canadian-australian liner Makura three weeks to steam from Brisbane to Vancouver, British Columbia, time enough for Johnson and Hattie McClay to entertain their fellow passengers several times with after-dinner music; time enough, Johnson hoped, for the world to become accustomed to the idea of a Negro champion.
He had sought attention all his life. From earliest boyhood he had seen himself as unlike anyone else, and this should have been the moment the world saw it, too. Fourteen years of fighting in front of mostly hostile crowds had left him with few illusions about the likelihood of fair treatment, and countless encounters with newspapermen who deliberately distorted his words and cartoonists who portrayed him as less than human had only reinforced those feelings. But nothing he'd experienced had prepared him for what happened to him once he stepped onto the dock at Vancouver on March 9, 1909.
As he made his way down the gangplank, wearing a full-length fur coat, smiling and waving at the hundreds of Canadians who had come down to the waterfront to see him, a knot of derbied reporters was waiting for him on the dock. Some were sportswriters, but most had simply been assigned to cover the arrival of a Negro celebrity, a phenomenon they had never encountered before.
The questions they shouted were predictable.
How had the Australians treated him?
"I've got no kick coming," Johnson said, though "they seemed to think more of Tommy Burns after I had licked him than they did of me, and me the champion."
Would he fight Jeffries?
"I am willing to meet any man in the world," he said, "and I don't think anyone can get a decision over me, much less put me out. It amuses me to hear this talk of Jeffries claiming the championship. Why, when a mayor leaves office he's an ex-mayor, isn't he? When a champion leaves the ring, he's an ex-champion. Well, that is Jeffries: he wants to try to get the championship back and I'm willing to take him on."
If Jeffries couldn't get in shape, would Johnson consider other white challengers like Al Kaufmann or the hard-hitting middleweight champion, Stanley Ketchel?
He would, if they were willing and the money was right.
See Jack Johnson's story on PBS
"Unforgivable Blackness: The Rise and Fall of Jack Johnson" is the latest film from Ken Burns. It premieres Jan. 17 and 18 on PBS (check local listings for times).

Burns, who previously directed the documentaries "Baseball" and "The Civil War" was interviewed by Page 3's Miki Turner about Johnson and the movie.
When someone mentioned that Galveston was planning a big welcome, the New York Times reported, Johnson's "eyes sparkled and he showed his gold-tipped teeth. . . . 'Tell them I'll be there.' "
The exchange was innocuous, though some found Johnson's blithe self-assurance unseemly in a black man. But two things piqued the reporters' interest: manager Sam Fitzpatrick was not at his fighter's side, and a white woman was. As the champion pushed his way toward the customs shed to collect his luggage, he introduced the woman to one or two reporters as his wife, calling her "the former Nellie O'Brien of Philadelphia," and she volunteered how proud she was of her husband. Her only regret about her visit to Australia, she said, was that she had not been permitted to watch him fight, but since Mrs. Burns (and all other women) had also been barred from the stadium, she supposed she really couldn't complain.
While Johnson and his companion saw their trunks loaded into a taxicab and started downtown in search of a hotel that would accept them, the reporters gathered around Fitzpatrick, who had come ashore separately and was more than happy to offer his explanation of why he and Johnson were no longer together. The championship had gone to Johnson's head, he said; he was "a different man before the fight. He would feed out of my hand then, but he is a hard man to handle now. Anyhow, he don't want a manager now. He has got Mrs. Johnson as his manager."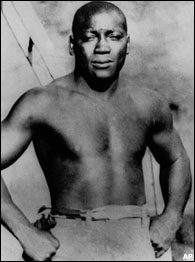 The reporters knew that the mere existence of this woman in Johnson's company was enough to make headlines. Interracial marriage was officially outlawed in thirty of the forty-six states and discouraged by custom and the threat of violence in many of the rest. Nearly seven hundred Negroes had been lynched in the United States since 1900, some simply because someone had whispered that they had been "too familiar" with white women. The very first sentence of the Associated Press story that appeared in newspapers all over America the next morning referred to the champion's "white wife, a former Philadelphia woman who threw in her lot with him."
Over the years, Johnson's sometimes tumultuous domestic life had been a subject of interest in boxing circles, and now and again it had even sparked brief news stories, but neither the nonsporting press nor the general public had paid much attention. The private lives of heavyweight champions had never invited close scrutiny. John L. Sullivan and Jim Corbett routinely traveled with sporting women whom they pretended were their wives, just as Johnson did. Most of their bad behavior was kept out of the papers. None of it seemed to matter much to their fans. Johnson did all the things Sullivan and Corbett did -- and by doing so, outraged much of the country. The difference, of course, was that he was black and the women with whom he chose to live openly were white. And now his secret was out.
* * * * *

The next evening, the champion was to pick up a little easy money fighting a six-round exhibition at the Vancouver Athletic Club. Denver Ed Martin had been scheduled to go through the motions with him, but when Martin didn't turn up, a substitute was rushed in: Victor Everleigh McLaglen, a strapping British-born veteran of the Boer War, who had been fighting second-rate heavyweights up and down the Pacific coast for nearly two years. It was no contest. In the first round, Johnson knocked McLaglen down with a punch to the stomach, then gallantly backed away until the younger man got his wind back. "I found Johnson the most charming opponent I ever met," a grateful McLaglen remembered, "standing well back and waving me forward when I slipped into the ropes . . . chattering away blithely during the heat of a clinch."
Johnson's effortless win was duly reported in the sports pages. But there were other newspaper stories in the next few days as well, disturbing stories centered not on Johnson the boxer, but on Johnson the man and his supposed marriage. The Chicago Tribune was among the first to print them.
BEWARE MR. JACK JOHNSON
TEXAS AUTHORITIES WILL PROSECUTE THE
CHAMPION IF HE TAKES WHITE
WIFE TO THAT STATE
Papers all over the country picked up the story. A telegram arrived for Johnson from the Galveston welcoming committee: it would cancel the parade in his honor if he insisted on bringing Hattie McClay with him. "The negroes in charge of the affair declare they have too many friends among the white citizens to offend them," the Tribune reported the following day, and if Johnson "insisted on thrusting his wife upon the friends of his boyhood and his own relatives, the celebration would be declared off."
Previous ESPN Book Club
Book of the Month selections
Some Negroes, like D. A. Hart, editor of the Nashville Globe, were also made unhappy by Johnson's purported marriage to a white woman, their objections based on both racial pride and the impact they feared Johnson's actions might have on the safety and well-being of other black people.
The Galveston parade was canceled; the hurricane loosed by news of Johnson's purported marriage to a white woman prevented him from visiting his hometown and the now-widowed mother he hadn't seen since 1905. He had no home of his own. For fourteen years he had drifted from fight town to fight town. After the exhibition with Victor McLaglen, Johnson sent Hattie McClay home to Milwaukee to wait out the storm, and moved on to Chicago, where a sport named William "Toots" Marshall put him up in his Dearborn Street apartment.
Reporters haunted the sidewalk outside, hoping for more scandal. To get rid of them, and to do what he could to restore his reputation among whites and Negroes alike, Johnson eventually called them in and offered his own wholly invented version of the facts. His wife was actually black, not white, he now said. Her name was Hattie Smith, not Nellie O'Brien. She'd been born in Mississippi, not Philadelphia, and he had married her two and a half years earlier "in a small Nevada town."
He tried to focus the public's attention back where he thought it belonged, on boxing. "I can lick Jim Jeffries," he said. "Jeffries never licked a young man. I am the best boxer in the world. I am not only accepting challenges, I am making them. The man I want is Jim Jeffries. I will fight him winner take all or any way he wants to split the purse."
While he waited for Jeffries to make up his mind about his ability to get back into shape, he said, he would fight Stanley Ketchel in San Francisco, in October.
* * * * *

Two weeks after talking to the press, Johnson boarded a train for New York to begin a seven-thousand-dollar two-week engagement at Hammerstein's Victoria on Broadway.
Johnson got a warm welcome in Manhattan. A jubilant, mostly Negro crowd filled the cavernous waiting room of Grand Central and followed him to an open automobile, shaking his hand, patting his back, shouting his name. Barron Wilkins, one of black Manhattan's leading sports and an old friend of Johnson's, had organized a parade in his honor. A brass band playing ragtime from an open car led the way. Behind it came the champion, waving and bowing, escorted by a dozen touring cars "crowded with colored 'sports.' " The procession swept down Forty-second Street past cheering crowds into the heart of the wide-open Tenderloin District and pulled up in front of Barron's Café and the attached Little Savoy Hotel at 235 West Thirty-fifth Street. It was Jack Johnson's kind of place -- the basement was given over to gambling, and a horseshoe hung over the door with a sign that read
NO ONE ENTERS THESE PORTALS BUT THE TRUE IN HEART SPORTS
It became his headquarters whenever he was in town.
Black fans followed him everywhere, and blacks and curious whites alike packed Hammerstein's Victoria to see him perform five times a day. "There were no preliminaries about the act," wrote the reviewer for Variety.
An announcer proclaimed Johnson the undefeated champion of the world. The hisses which greeted this speech drowned the applause. The gallery held many colored people.

Johnson stepped on the stage, disregarding the disturbance, and went at the bag. On the third punch it flew into the balcony. The stage hands removed the apparatus without further ado, and Johnson proceeded to box his sparring partner, [Marty] Kid Cutler, a white man. . . . The white man, handicapped by height and reach, could not touch Johnson, who toyed with him.

The audience offered much advice. At the conclusion, [Johnson] stepped forward, and made the following speech, which turned the tide in his favor, winning him some genuine applause to close with: "Ladies and gentlemen, kindly give me three minutes of your valuable time. Today I have deposited with the New York American $5,000 as a deposit on a side bet for $10,000 to fight any man in the world. If there is a fight, I hope the best man will win."

Johnson is a drawing card and seems to attract even those hostile to him through his color. His bearing while making the speech and the language proved the black champion is no novice on the stage.
In mid-April, Johnson returned to Chicago, still without Hattie and looking for a good time. More than forty-five thousand Negroes now lived in the city on the lake, and three out of four of them made their homes in the black belt, a narrow strip that began just south of the Loop and in 1909 already ran southward along State Street for some thirty blocks. More refugees from the Jim Crow South were arriving every day, and leadership in the neighborhood was steadily shifting from the handful of shopkeepers and professionals who had once catered to the white community, to a new generation of black entrepreneurs, editors, clergymen, and politicians whose power and profits were drawn from a fast-growing but increasingly segregated black world, with its own institutions, athletic teams, and forms of entertainment.
But there was one section of the black belt -- the twenty square blocks from Eighteenth to Twenty-second streets between Federal and Halstead -- where blacks and whites continued to meet and mingle, at least from dusk till dawn. It was called the Levee District, and -- like Manhattan's Tenderloin and San Francisco's Barbary Coast and Beale Street in Memphis and the wide-open neighborhoods in all the other towns through which Johnson had traveled where vice was tolerated -- he already knew it intimately. By one count, the Levee was home to five hundred saloons and just as many whorehouses, fifty-six poolrooms, fifteen gambling halls, six variety theaters, countless nickelodeons and peep shows, opium dens, and cocaine parlors, as well as "buffet flats" -- apartments that provided food and drink, piano music and prostitutes -- and "winerooms," where women sold watered drinks along with their company. There was something or someone to suit everyone's wallet and everybody's taste.
For nine years, the showpiece of the district had been a pair of attached three-story mansions at 2131-33 South Dearborn. Known as the Everleigh Club, it was run by Ada and Minna Lester, Kentucky-born sisters who had married and divorced a brace of brothers back home, spent several years on the road as actresses, and then gone into the brothel business. In the judgment of the Chicago Vice Commission, which yearned to close it down, their fifty-room establishment was "probably the most famous and luxurious house of prostitution in the country." Certainly, it was the highest priced and most exclusive. It cost ten dollars just to get past the door. In an era when fifty cents bought a three-course meal, dinner at the Everleigh Club cost fifty dollars. Female companionship cost a great deal more. The club had a library, an art gallery, and a dozen parlors, each with its own distinctive décor; the Gold parlor featured gold spittoons, a gold-rimmed goldfish bowl, and a miniature piano covered with gold leaf, said to be worth fifteen thousand dollars. Specially designed fountains filled the air with the scent of flowers.
"Minna and Ada Everleigh are to pleasure," said the veteran Chicago newsman Jack Lait, "what Christ was to Christianity."
Jack Johnson wanted in. Black customers were barred: even the "professor" who played ragtime favorites on the Everleigh Club piano was white. Not even Johnson's newfound fame could get him past the front door. But his connections could.
He had a new manager now, a sad-eyed, pear-shaped man with a mustache named George Little. He and the champion had known each other for ten years, ever since Johnson's first visit to Chicago. He had run the stable at the Palmer House hotel then and allowed Johnson to come inside and sleep on its straw rather than on the lakefront. Since then, he had come up in the world and was doing so well that he could provide the champion with a fifteen-hundred-dollar diamond ring to seal their new relationship. He operated his own West Side saloon, the Here It Is; ran a combination bar and brothel called the Imperial on Armour Avenue; and helped oversee the Buxbaum Catering Company at State and Twenty-second, which billed itself as the "Acknowledged Bohemian Center of Chicago" but was actually the ground-floor restaurant of the Marlborough Hotel, which provided prostitutes and their customers with five-dollar rooms. But more important for Johnson's purposes, Little was also now the Levee "czar," the man who collected protection money from everyone in the district each week and passed it on to "Bathhouse John" Coughlin and "Hinky Dink" Mike Kenna, the famously corrupt aldermen who made it all possible.
To stay in business, the Everleigh sisters had to pay Little one thousand dollars a month, and when he turned up at their door one April evening with the heavyweight champion of the world looming next to him, they had no choice but to let them both in. All Johnson got that evening was a chance to look around; Little had not insisted that Johnson be allowed to sleep with anyone. But he and the Everleighs alike seem to have underestimated the power of the champion's charm, wealth, and celebrity over the women working at the club. When Johnson invited five of them to go for a ride in his big touring car, they all piled in.
One was a slender twenty-three-year-old who called herself Belle Schreiber. Johnson showed unusual interest in her after their drive together. He pursued her with telephone calls and gifts -- flowers, theater tickets, money, a framed photograph of himself signed "To my little sweetheart, Belle, from Papa Jack" -- and within a few days had persuaded her to spend the night with him in his room at Toots Marshall's. The Everleighs warned her not to do so; when she disobeyed them, they let her go. Johnson told her not to worry. He would help set her up in an apartment of her own. He also promised that when he went out on the road she could join him, with all her expenses paid plus what she remembered as "a little over to have in my pocketbook"; she could wear the jewels and finery Hattie McClay had worn, too, and be the new "Mrs. Jack Johnson," at least part of the time.
The arrangement seemed to suit her, at least at first. Johnson led what must have struck her as a glamorous life: constant travel, big money, big crowds. He could also be generous, and even an unsteady relationship with one generous man likely seemed better to her than congress with strangers, however well screened by her employers.
There was clearly more to their relationship than simple commerce or convenience. We can never know precisely how one person feels about another, but on the witness stand a few years later, Schreiber would be asked whether she had given herself over to Johnson "out of affection or [for] compensation." "Compensation, mostly," she answered. But when pressed as to whether she had ever been in love with Johnson, she would say only, "I don't know what love is." She did not say no.
* * * * *

On April 19, 1909, Jim Jeffries made it official. Standing on the stage of the American Theater on Broadway and speaking to a full house that included reporters from all the New York dailies and many out-of-town papers as well, he said he was now convinced that within eight to ten months he would be ready to wrest the title back from Jack Johnson. He planned a summer trip to Europe. The final fight details would be worked out when he got back. The crowd stood and cheered. The Broadway song-and-dance man George M. Cohan leaped onstage waving a thousand-dollar bill and shouting that he was ready to bet it on the white man's hope.
When Jeffries held a final press conference before setting sail on August 4, he seemed his old, confident self. "Someone asked Jeff if he were sore at Johnson," reported the Chicago American.
Jeff has an interesting way of looking at you, wide-eyed and silent, when he is studying out the answer to a question. Just looks at you, you know. And the questioner shrivels and dries up under the long contemplation. "Well," he finally decided. "I'm not going to say, 'I'm pleased to meet you' when we get in the ring."

Everyone has read of Jeff's magnificent condition but it still comes as rather a surprise to see what a big whale of a man he has become, now that he has rid himself of that pantry. Lots of other people weigh 280 pounds -- mostly cutlets. But Jeff weighs that mostly in bone and muscle right now. His wrists are as thick and hairy as a government mule's leg. His eyes are clear and bright, and his skin smooth as he moves around like a dancing master. And in the best possible humor. He laughs and talks like a big, good-natured boy until he gets down to a discussion of Jacques Johnson, Esq., the large colored gent. . . . He doesn't laugh then. He doesn't grit his teeth or roll his eyes, or do any terrifying stunts. . . . His face just hardens slowly.

"That n----- can never lick me," he said as dispassionately as though he were discussing the chances of fussing between two strangers.

"Did you ever see him fight? Well, I have -- two or three times. He stands flat-footed as a washerwoman. Let me tell you no man on earth who stands flat-footed can ever lick me. They've got to get up on their toes to do that. The man who stands flat-footed in the ring is licked before he ties on a glove, if the other man is anything near his equal."

Now, that may sound like boasting. As a matter of fact, it wasn't. It was given as the calm and well-considered statement of a man who has made pugilism a business, and in that business has made a success. Jeffries seemed to weigh himself and Johnson in his mental balance and to find Johnson very much wanting. He paused and thought for a moment before he continued.

"Then, Johnson has only one punch," said he. "That is it." He illustrated by a slight movement of his hand. His big hand didn't travel half a dozen inches, but it made the idea clear. "I have 400 punches and every one of them better than his best. I can hit anywhere from anywhere. Short or long range, from the hip or the shoulder or anywhere else. I have two hands. He has one. I can send 'em in from away off, or pound 'em in with two inches play. Johnson can't."
A week later, with Jeffries and his wife at sea, Johnson and George Little met with Sam Berger in the offices of the New York American to sign articles for the fight. Reporters were invited in to watch. Everyone expected Little to do most of the talking: boxers, especially black boxers, were not expected to do their own negotiating. But Little confined his remarks to an occasional whispered aside. Johnson was clearly in charge. When Berger told him he should leave business matters to the white man, Johnson shot back that since he was going do the fighting, he would attend to business matters as well. He wouldn't be dictated to by anyone; after all, he was the heavyweight champion of the world.
Click here for the second part of the excerpt from "Unforgivable Blackness"