I've always thought college football to be a particularly cruel sport. In order to win a national championship, a team made up of 18- to 22-year-old young men needs to be damn near perfect from September to January. Sure, there are one-loss teams that have won championships. But in reality, one slipup -- one bad Saturday -- and you are stuck between a rock and a real hard place. And if you lose again after that, forget it. You'll be watching someone else hoist that crystal football in the air come January.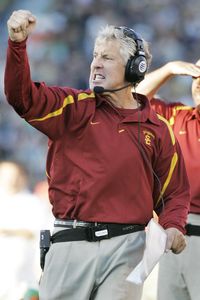 AP Photo/Michael Conroy
USC has come a long way since Pete Carroll took the helm.
What makes this scenario so cruel is the fact that we are placing these enormous expectations on kids. Young men still maturing into adults have the unrealistic expectations of a large fan base imposed on them. And the weight of these expectations was felt throughout Southern California recently when USC lost to lowly Stanford. In spite of the immense success the Trojans have enjoyed during the Pete Carroll era, many fans have come to expect national championships and Heisman trophies every year.
Winning is a gift, and a curse, in that consistent winning prompts people to feel entitled. The problem is, there are no entitlements between the hashmarks. Yet, in the nation's second-largest city -- a place that no NFL team has called home in more than 10 years -- the entitlement of Trojans football fans takes on an added dimension due to the absence of a pro franchise. Though USC is a college team, people around these parts have pro football-sized expectations.
As the clock struck midnight on Jan. 1, 2000, USC football was suffering through an especially depressing period. Paul Hackett -- a coach who seemed more interested in padding his retirement package than winning football games -- was busy putting nails in the coffin of a legendary program. At the same time L.A.'s No. 1 team, the Lakers, was on the way to winning three straight NBA titles and owning the city in the process. The Lakers -- with Shaq, Kobe and the Zen Master, Phil Jackson -- were christening the new Staples Center with an exciting brand of basketball not seen since the days of Showtime in the 1980s. But as anyone who watches sports can readily attest to, all good things come to an end. The architect of all those Lakers championships, Jerry West, was soon gone. Shaq and Kobe were answering the provocative Biggie Smalls question, "What's beef?" on a daily basis. And before you knew it, the team, in the words of the Zen Master himself, "imploded."
The No. 1 spot amongst L.A.'s sports teams was once again vacant. And right about the time when the Lakers started spiraling downward, the Trojans' starting QB, Carson Palmer, was campaigning for the Heisman -- and Pete Carroll was in the early stages of resurrecting a legendary program. Two national titles, three Heisman Trophy winners and seven first-round draft picks later, among countless other accomplishments, the Trojans are sitting alone in that No. 1 spot.
The stars started moving a few short miles down Figueroa, from the Staples Center to the Coliseum. To stand on the sideline of a USC home game was akin to being courtside at Staples. Will Ferrell, Kirsten Dunst and The Fonz, among other Hollywood celebrities, dotted the crowd, while other cultural icons of L.A. like Snoop -- who memorably struck the Heisman pose after catching the football from LenDale White following one of White's school-record 52 touchdowns -- helped underscore that USC football was once again a big deal in the city. Not only were the Trojans winning, but the team, the campus and the entire Trojans family were riding a buzz so intoxicating that you couldn't match it, even if you merged the blood-alcohol levels of Britney Spears and pre-rehab Lindsay Lohan after a night out clubbin'. USC football had become L.A. football. An NFL team was an afterthought. None need apply. That spot has already been filled.
What was so compelling about all of this was that it took place in a metropolitan area like the City of Angels. College football has historically been a sport most associated with smaller Southern and Midwestern college towns. USC enjoys a unique relationship with its larger urban and suburban surrounding communities. Other than a few powder blue and gold-clad haters over in Westwood, USC football touches all parts of Southern California. And as with hip-hop, the love for USC football stretches from the suburbs to the streets, from the OC to the city of Compton, from little old ladies in Pasadena to boys in the hood.
The football program took on the identity of its head coach, the man who is paid to absorb all the pressure that his maturing players cannot yet handle. College football's great coaches have often tended to be good ol' boys like Bear Bryant and Bobby Bowden, or lifers like Joe Paterno, whose middle-of-the-road images are closely tied to those of their universities. Pete Carroll fits none of those stereotypes, though. Carroll is a modern coach for a modern age. He recognizes that kids of this generation are not going to respond well to the military coaching model that so many before him have used. Carroll recognizes the value of playing hip-hop music during his crowded open practices. He knows that you can get more flies with honey than you can with vinegar. Carroll is in many ways the contemporary example of the ubercoach: part recruiter, part motivator, part psychologist and all-around football guru. The man has not only resurrected the Trojans' brand name, he has redefined the game of college football in the process.
When I was an undergraduate at Florida back in the '80s, Bear Bryant was the coach everyone wanted to imitate. Bryant watched practice while perched high above the field, looking down from his legendary tower. This "eye of god" approach toward coaching tended to work well in the Cold War era of American history, when it was much tougher to question authority. When the Cold War ended, though, and a new generation of players came of age who had never lived under the threat of potentially having to serve time in the military, the idea of the dictatorial general commanding the troops went out right along with it. A guy like legendary college basketball coach Bobby Knight -- who actually earned the moniker "The General" for his strict discipline in the past -- had run afoul of these new social dictates by the time he was booted from Indiana in 2000. As sports became more visible in an increasingly mediated age, players began to gain more latitude themselves. Coaches could no longer assume a "my way or the highway" attitude and expect to be successful for long. There had to be some give and take now.
While a lot of people still believe that the old-school attitude is the way things should be, a forward-thinking coach like Carroll recognizes the reality of the way things are. Unlike The Bear, Carroll is down on the field with his players. He is in the mix, calling out plays, teaching, working the crowd, even throwing passes if need be. His unparalleled optimism is contagious, his energy level always on blast. His love of competition serves as a constant source of motivation, for himself and all those around him.
Of the many examples that one could point to in defining Carroll's attitude about success, to me one stands out: his penchant for going for it on fourth downs. I remember all the Monday morning quarterbacks from around the country who second-guessed his decision to go for it on fourth-and-2 late in the BCS Championship Game against Texas in January 2006. But anyone who has consistently watched USC football in the Carroll era knew he was going for it, in no uncertain terms. Conventional football wisdom says play it safe, play not to lose. Carroll's football wisdom says, straight up, play to win!
There's no place for humility on a football field. Players of the hip-hop generation respect swagger, and Carroll's swagger has come to define the program that he picked up off the ground and remodeled when he took the gig late in 2000. It is one thing to run a successful college football program. But it is something else entirely to revive a legendary college football program that has fallen on hard times. Pete Carroll awoke a sleeping giant, and the rest of the college football world has been worse off for it.
Which brings me to the present state of affairs this season. Yes, the Stanford loss hurt. No doubt. But when the injury bug hits you so severely that you lose two offensive linemen on the same play -- which happened in the Washington game -- then you are bound to have problems, even against a football-challenged school like Stanford. As players start to come back from their injuries, watch out. Especially now that this year's squad has gotten its feet wet and tasted defeat.
It's times like these when the cream rises to the top, and it's times like these that Pete Carroll lives for. Considering his remarkable track record up to this point, I like the Trojans' chances with Carroll calling the shots.
Of course, some might say that I'm a little bit biased.
Dr. Todd Boyd, a columnist for Page 2, is an author, media commentator and professor of critical studies at the USC School of Cinematic Arts. His next book, "The Notorious Ph.D.'s Guide to the Super Fly '70s," is now available.