Editor's Note: Click here to view Mary's best photos from the Bay to Breakers race.
SAN FRANCISCO -- I touched down at SFO on Friday morning and was greeted with the standard message: "Welcome to San Francisco, where the current local time is 11 a.m. You are now free to use your cellular devices while we taxi to the gate, but please refrain from smoking until you are in a designated area. … Which, incidentally, is nowhere in the state of California."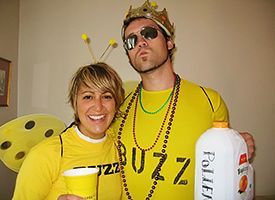 Here's Mary and one of her Buzzed Bees teammates. For more photos, click the link at the top of this page.
But no sooner than I started worrying my hedonistic little head over lost liberties, I was standing at the starting line of Sunday's 96th annual
Bay to Breakers
event -- where a chick in nothing but a bikini bottom and flip flops stood to my left and a guy dressed as Winnie The Pooh was sitting on the curb beside me smoking a bowl in the clear blue.
I'd call that the pursuit of happiness.
This weekend's epicenter of reckless indulgence was the annual spring fling of Shaky Town. And while some will try to tell you that Bay to Breakers is a 7.46-mile footrace, most will lead with the real meat of the story.
"I was born and raised in San Francisco and I'm a taxi driver so I've seen everything," Richard of the Cab Coop told me on the way to the pre-race party, 7 a.m. Sunday morning. "But what you'll see today is a lot of individuals without any clothes on. Anything goes for Bay to Breakers, the cops don't bother with you as long as nobody is getting sick."
He was right. In the seven hours I spent trucking through the hills of The City -- from the Embarcadero to Haight Ashbury, through Golden Gate Park, all the way to the finish-line party at the polo field of Ocean Beach -- I saw everything but a cop hassling a participant. That's not to say I didn't see any cops, though -- they were patrolling the streets. But, strangely enough, many of them were making the hike in cheek-less leather chaps, and a few lady officers were wearing nothing but aviator shades, tall boots and two star-shaped "badges" meticulously positioned (painted) on their chests.
But I can't be positive they were SFPD-sanctioned.
I was told by everyone who had ever so much as heard of B2B that it would be a complete dreamscape, but I never imagined anything of such proportions. I was told that close to 40,000 people officially registered for the race, while an additional 20,000 of us piled on to compose the colorful caboose.
While in the throes of the traveling herd I saw public intoxication, plenty of public urination, and darn-near public fornication. I saw keg stands in transit, and a full-blown game of beer pong taking place while the wheeled table cruised along the street. I saw squads of sailors and school girls, soccer moms and swimmers. I saw teams dedicated to "Dodgeball" and "Double Dare." I saw full movie casts of "Dazed and Confused," "Caddyshack," "Major League" and "Ferris Bueller's Day Off" and every character Tom Cruise ever played.
There was a keg ship of pirates … a NASCAR keg and full pit crew … a "Gilligan's Island" hammock keg complete with Ginger and Co. … a keg crib on wheels manned by adults in diapers … a keg on a moving lifeguard tower complete with "lifeguards" sporting red bathing suits … and a bunch of inmates in orange jumpsuits keeping their keg safe in a holding cell. One of the most curious sightings of the day was a blob made up of four attractive young women wearing nothing but yellow body paint and shoes. I still can't quite figure out what they were, besides naked and yellow -- unless they were supposed to be a Coldplay song or something.
I myself swarmed the course with my team of Buzzed Bees. We met bright and early to get in costume before marching to the starting line -- still recovering from Saturday's Oyster and Beer Festival at Fort Mason. (If it's not one thing, it's another in San Francisco.)
As soon as I walked into the crack-of-dawn B2B pre-party, I was presented with a yellow plastic Solo cup filled with an orange concoction that came out of a Costco-sized Tropicana jug. On the side of the jug was scribbled a suspect description of the contents -- "Pollen" -- written with a Sharpie.
That's OJ, vodka and Bud Light. And if that doesn't get your juices flowing, nothing will.
From pollen on out, it was a slippery slope. We filled our shopping cart with a very intricate PBR hydration system (about four 30-racks), and took to the streets. Needless to say, I managed to lose the entire pack of Buzzed Bees by Mile 2. I had a Jello-shot mustache by Mile 3, and would misplace and recover my left sneaker by the time I reunited with the hive hours later.
I'd never run a 12K, but I'm willing to bet this particular modus operandi is more physically demanding.
As hazy as this account might be, it's about as much as I can tell you. The photos tell the real story. We can only show so much "skin" -- but enjoy what you do see, and remember that objects in your rearview mirror are significantly tamer than the truth.
The scene that ensued at Bay to Breakers 2007 was, in a word, unreal.
But as they say, San Francisco is 49 square miles surrounded by reality.
Mary Buckheit is a Page 2 columnist. She can be reached at marybuckheit@hotmail.com.