SAN DIEGO -- Like a smoldering ember, the anomaly that disrupted life in San Diego last week will linger long after the flames have been extinguished.
Secondary to the lives lost, injuries suffered and homes destroyed by the blitz of blazes that swept the landscape, the region runs into more rippling consequences. Air quality, power lines, water mains, traffic patterns, produce fields, livestock quarters and nature reserves have all been taxed -- though none quite as significantly as human emotion.
Standing in the ashy rubble of the remains of his family's home, Ryan Deehan, a senior standout tight end at Poway High in San Diego County, emits a deep, deflating breath.
"This is something else," he says. "You never think it'd look like this."
Ryan's parents, Tim and Susan Deehan, are faced with building a new house and making it a home to their three children Jacqueline, Ryan and Kayla.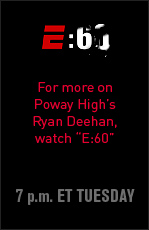 The Deehans' home was one of an estimated 1,600 destroyed. Fire damages in San Diego County alone surpass $1 billion. So then, while the effect of the fires on this city's sports scene is no doubt inferior to human tragedies, athletic happenings do not go without record.
The list of professional athletes and local superstars ordered to evacuate was extensive; several lost homes. The Chargers' migration to Arizona last week was well-documented, as was the necessary deferment of the San Diego State vs. BYU football game. The Chargers made a celebratory return to Qualcomm Stadium for Sunday's game, handing the Texans a rout right on schedule, and the SDSU Aztecs are set to make up their encounter with BYU in December.
But one sporting sector -- the high school -- is stuck with an unshakable side effect this season.
The San Diego County superintendent closed all schools in the district last week. As a rule, teams are not permitted to practice when school has been canceled, so following suit, the commissioner of the San Diego Section of the California Interscholastic Federation, the state's governing body for high school sports, called off all events and said none of the competitions would be made up.
An interesting decision when every game counts, but an understandable one in a world that must fit school calendar and community confines. So although everyone agrees that priority and perspective give way to what's really important right now, some people still can't help but feel frustrated.
"From a football coach's perspective, I obviously don't like the idea of losing these games altogether," said Oceanside coach John Carroll, who is in his 19th season. "This late in the season, these are certainly games that will impact league championships and playoff seedings. If there was any possible way to make these games up, of course we would want to do that, but as of right now, the CIF office in conjunction with the superintendent has made their decision and that is not going to happen."
To get a sense of the magnitude of teams affected, consider the North County Conference in the San Diego Section, which is one of 10 in California. It consists of three leagues -- Palomar, Avocado and Valley -- that encompass 19 schools. Say each school fields eight fall sports teams, that's 152 teams affected by the blackout.
"It's significant to a season, but it's not the end of the world," said Tom Luginbill, the national recruiting director for ESPN's Scouts Inc. "I grew up in San Diego and I played at Torrey Pines, so I know how seriously they take their athletics over there. I can understand the frustration of a team like Oceanside. That's a program that produced Junior Seau and dozens upon dozens of Division I athletes. But I'm not sure what really could have been done to get that week back."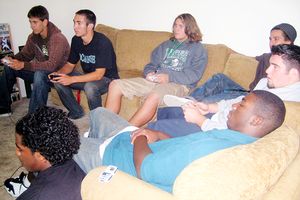 Mary Buckheit/ESPN.com
With no school or football practice for more than a week, the Oceanside Pirates have resorted to days of Xbox and game films indoors.
Although Carroll's heart applauds what obviously was a tough decision under hurried circumstances, his clipboard reminds him that he's aiming for his fourth straight CIF San Diego Section Division II title.
In Oceanside on Saturday morning, at the home of Carroll's highly touted junior quarterback Jordan Wynn, several fathers stand outside smoking cigars and talking football. Inside, seven team members play video games and watch film. They haven't practiced together since an indoor walk-through five days earlier.
Carroll wishes that weren't the case.
"It's obviously easier for me to say than it is for someone to come up with a solution, and I realize that we were lucky in Oceanside," he says. "My kids didn't have their lives turned completely upside down. But to different extents, we are all just looking to get back to normal. There is something to be said for structure. To me, and to all the kids who have been without structure all week, that means getting back on the field."
Or getting back on the court.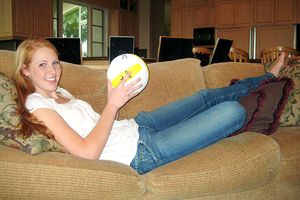 Mary Buckheit/ESPN.com
Harvard-bound senior Anne Carroll Ingersoll of Torrey Pines High School is eager to get back to volleyball after being out more than a week because of the fires.
Anne Carroll Ingersoll, a Harvard-bound senior volleyball star at Torrey Pines, evacuated with her family from their home in Rancho Santa Fe during last Monday's wild windstorm. They took shelter in a friend's trailer and didn't return home until Thursday. Their house was unharmed, surrounded only by heavy brush, fallen trees and splintered limbs lining the hilltop neighborhood.
"It was scary," she says. "The winds were blowing and we're watching the news and I'm calling my friends in different places like, 'Are you OK? OK. Are you OK? OK.' We called my grandpa in Fairbanks (Ranch), and the home across the street from him burned down. It's all unbelievable, really."
Saturday afternoon, Ingersoll and her Torrey Pines teammates should have been away at the enormous Tournament of Champions in Santa Barbara with the best teams in the Southwest. Instead, she was home, a little out of sorts. She hasn't touched a volleyball in five days.
"When you're in season at a place like Torrey Pines, you can hardly think about anything else. It's just been really strange; especially since there's nothing to do but sit at home and take it all in."
School was called off for the week without much warning, so teachers didn't have a chance to hand out assignments. For a diligent student and premier athlete like Ingersoll, this is a jarring interruption of a midseason schedule.
"I'm nervous to get back on the court," she says. "I don't know how teams will handle the time away. We'll see, I guess. For now, I'm just very thankful to be home safe."
Ingersoll understands that too many families in this city cannot say the same.
Picking Up
More photos of Poway High's Ryan Deehan as he returns to his home that burned in the California wildfires.
On Sunday, Ryan Deehan normally would have been going over the highlights of Friday night's showdown. Poway's game against La Costa Canyon probably would have determined the Palomar League champion. Instead, he wore work boots and waded through ash where his family's home once stood.
Ryan's dad, Tim Deehan, stood on a charred front lawn above a mountainside of incinerated ice plant where flames ascended and engulfed his home from the canyon below. He walks around the rubble and points out identifiable remains -- his tool cabinet, Ryan's bed frame, a bathtub, a chess piece, the handle of a Starbucks coffee mug, a statue of saint.
"It's still a little unreal," Tim Deehan says. "We've been back to the site a few times now, so I know what's here and what's not, but I'll be driving up the street and I get in that habit, you know? You're on autopilot, going home. And then it's like, wait a minute, home's not here anymore."
As he finishes this sentence, Tim Deehan shakes his head wearily and releases the handle of the mug in an arcing toss onto the rubble.
"You never know. Look. That house is gone. That house is gone," his gloved hands point around the neighborhood, which lost 22 homes in all, "but that one is still standing, and they saved that one right there. There's no rhyme or reason to it. That one is made of wood, the one right next to it burned to the ground was cement. Everybody did everything they could. These things just don't make sense. … They've yet to make a house worth a firefighter's life."
Ryan Deehan rummages through ash in a pair of what look like red and black receiver gloves. Today, they grasp a weightier task. He wanders, picking up mangled objects and pausing as if entranced by what he is looking at.
After an hour or so, Ryan Deehan leans against the hood of the family's minivan a few yards from the destruction. He stares ahead at the jumble. He has been playing football since his freshman year, he says, and the sturdy standout already has received scholarship offers from Oregon, Arizona State and Colorado.
In a quiet and sincere tenor, he explains, still staring at the heap of cinder: "I want to get back to football because I just want to feel something normal. … I want to do something fun."
He hears about the Oceanside football team -- the one tied with his Poway Titans for the top spot in San Diego County, according to the latest Sportswriters/Sportscasters poll. The Pirates have sent their regards -- and suggested that had Poway played Friday night, the Titans would have lost to La Costa.
This turns Ryan Deehan's attention from the wreckage. His brows raise, his eyes get that look and he flashes an unbendable grin.
"We wouldn't have lost that game," he says. "No way would we have lost that game."
Mary Buckheit is a Page 2 columnist. She can be reached at marybuckheit@hotmail.com.