I grew up running around the University of Connecticut campus, chasing after my big brother, a 1993 UConn grad. I was a 10-year-old chicken wing the first time I was wowed by the big, white marshmallow dome of Gampel Pavilion.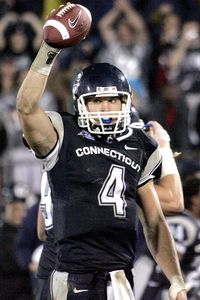 AP Photo/Bob Child
Don't look now, but Tyler Lorenzen and UConn are No. 13 in the BCS standings.
I'm not sure I knew UConn even had a football team back then, but I did know it had a field, the grass slab in the cold shadows between the upper parking lot and the basketball arena where my brother and his roommates would kick field goals and throw the Nerf football (at me) on my visits to campus. We couldn't run around like that in the soccer stadium, but on the football team's old Memorial Field, Nerf patterns with a kid sister were perfectly acceptable.
I don't think that would fly these days at Rentschler Field -- UConn's $91.2 million stadium in East Hartford that opened in 2003, about 25 miles west of the Storrs campus. The project was not an easy sell at its inception, but the investment is paying dividends.
National championship chatter surrounds UConn … for football!
Two years after I moved to California, the University of Connecticut Huskies are a topic of BCS bowl banter. I can't believe it.
A friend of mine, who's a USC Trojans fan, once informed me that "Pac-10 football teams eat basketball schools for breakfast." Well, we may have been defenseless toast back then, but this season we've got a defense. Who you calling a basketball school?
Jim Calhoun's hard-court Huskies failed to crack the preseason top 25.
Randy Edsall's helmet-headed Huskies achieved a top 25 ranking for the first time in school history, and in this week's BCS standings, Connecticut assumed the No. 13 spot in the nation.
Laugh all you want at Connecticut's bowl aspirations, and maybe No. 13 doesn't sound like big potatoes to you folks from those big rectangular states in middle America, but consider that it makes little Connecticut a higher-ranked football program than Texas, USC, Florida, Auburn, Alabama and Tennessee.
UConn statistician Andrew Prince broke down the vibe around campus. "Things are crazy at UConn these days," he said. "[Wednesday] night, we played our first men's hoop game -- as you know, a depressingly close win over Morgan State -- and the loudest cheer of the night was when the PA announcer mentioned the football team and said tickets were available for the final home game."
The times are a changin'.
In its sixth season in Division I, Connecticut is 8-1 for the first time in its 109-year football history and has a shot (albeit a long one) at playing for a national title.
Maybe you could appreciate this feat if you knew what once was UConn football. Or should I say, what wasn't.
Lew Perkins, UConn's athletic director from 1990 to 2003, had an uphill battle getting the Huskies on solid ground in the Big East Conference while concurrently lobbying the state to lay out cash for a stadium. The idea was laughed at and the football program seemed destined to struggle (the Huskies won only nine games from 2001 through 2003). Plus, just when people started thinking about getting behind the venture, news broke that Big East stalwarts Miami and Virginia Tech were bolting for the ACC, a scandalous relocation that was called an unfair trade practice, a civil conspiracy and a breach of contract, triggering a rash of lawsuits and conference conspiracy theories.
"And in the middle of all that, we were building a football stadium," Perkins told me over the phone with a laugh. "It all could have flopped very easily."
But it didn't.
Because back in December 1998, Perkins hired Edsall to build the program. Now in his ninth season with the Huskies, Edsall is a finalist for the Paul "Bear" Bryant coach of the year award.
"I personally owe Randy so much. He came in and really built that program from scratch. He recruited good kids and made something of nothing," Perkins said. "We had a vision, and we stuck to it. We had a lot of people to convince. It's funny, recently I have gotten some e-mails and phone calls from people who thought I was nuts. I probably was nuts at the time. But it's something I felt very strongly about, so it's been very gratifying for me to see the success they're having at Connecticut this year."
UConn is 4-0 in Big East play, but has a difficult game at 7-2 Cincinnati on Saturday (3:30 p.m. ET, ESPNU). If the Huskies beat the Bearcats, the Nov. 24 clash with No. 7 West Virginia will probably determine the conference champ and could push Connecticut into a once-unimaginable BCS bowl game.
Perkins may be watching Connecticut's success from afar, but he's enjoying strikingly similar success at his current university. Hired as the AD at Kansas in June 2003, Perkins assumed a spot at another perennial basketball power.
"The parallel similarities are coincidentally very ironic. Several people have brought it up to me. It's funny it's all happening in the same season," Perkins said.
The Jayhawks' basketball team is ranked No. 4 in the ESPN/USA Today preseason poll; more remarkably, the football team is No. 4 in the BCS standings, topping Big 12 football tyrants Texas and Oklahoma.
"Coming here to Kansas [from Connecticut], the challenge again was very similar," Perkins said. "People said this is a basketball school, but at big universities like Kansas and Connecticut, there is no reason why you can't compete at the highest level in every athletic event you offer. I really believe that. You just have to have people in place who believe that, too. And we'll always be a basketball school, you know? That's not a tradition we're trying to shake, but I think we can compete in anything."
It's quite an ambitious philosophy, but clearly one that has worked.
"I don't know why, but I never had a doubt -- not at Connecticut and not here at Kansas," Perkins said. "I knew we could be very successful. I envisioned bowl games and playing for a national championship someday but it had never crossed anybody's mind at that point. You have to start somewhere. When I got to Kansas, Mark [Mangino] had a vision, and he's been systematic about achieving it. This university has such great tradition and an incredibly supportive community and we've got a very good team -- and here we are. One more win and it will be the first time in almost 100 years that we've won 10 games."
After hanging 76 points on Nebraska last week, Kansas takes its unbeaten season on the road to Oklahoma State. The Jayhawks haven't opened a season 10-0 since 1899.
Not bad for a basketball school, huh?
Mary Buckheit is a Page 2 columnist. She can be reached at marybuckheit@hotmail.com.