The MLB free-agent signing period has begun. And after opting out of the remainder of his contract with the Yankees, Alex Rodriguez is unbound and available for courting on the open market.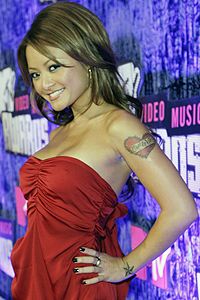 AP Photo/Kevork Djansezian
Don't you see the similarities?
Kinda reminds me of how Maxim model turned MySpace starlet Tila Tequila is presently up for grabs on MTV's latest reality show, "A Shot At Love With Tila Tequila." The twist on this "Bachelor"-style spin-off is that "A Shot At Love" features 16 straight men and 16 lesbian women competing for Tila's affection.
At first glance, A-Rod and T-Teq seem to have nothing in common with anyone, let alone each other. He's an 11-time All-Star whom people loathe in spite of a laundry list of amazing accomplishments. She's a rapper/stripper/dancer/model/jack-of-all-trades/master-of-none who makes Paris Hilton look like the hardest-working woman in showbiz -- but, nonetheless, the ratings suggest the public's pretty darn sweet on her.
A closer look, though, reveals uncanny connections. So, in the spirit of free agency and free love, consider:
• The auction of Alex Rodriguez is a grandiose and overblown occurrence in the free-agent marketplace. Likewise, "A Shot At Love" is a flamboyant and overstated depiction of a bisexual dating scenario. Neither is normal.
• A-Rod voided the last three years of his contract with the Yankees, to explore other options. Tila is willing to void other sexual options for the time being for a shot at love.
• A-Rod opted out of his contract on Fox during Game 4 of the World Series. Tila came out of the closet on television on a Tuesday night in October on MTV.
• MTV thought it'd be a good idea to give both guys and girls a crack in the sack with Tila. Scott Boras may have been smoking crack when he set the starting point for the A-Rod negotiations at $350 million.
• Tila patented "the MySpace bisexual" phrase by first declaring her preferences in the lifestyle section of her personal profile. Many T-shirts in Boston assert A-Rod and Derek Jeter have similar preferences. However, a diva does not a bisexual make.
• A-Rod made the jump to superstardom in 2000, when he signed his $252 million contract with the Texas Rangers -- the biggest contract in sports history. Tila earned her pseudo-celebrity status with a similarly gaudy number, tallying 2,241,874 friends on MySpace -- the most ever, to date.
• The men and women in contention for Tila were caught on night-vision cameras secretly colluding for each others' goods and services. It's been suggested the teams in contention for A-Rod are illegally colluding, but that would just be to keep each other from getting screwed.
• If A-Rod got out of New York City, he might be able to get away with taking his shirt off when sunbathing in the park. If "A Shot At Love" ever got on HBO or Showtime, Tila and her suitors could get away with more than the already near-full monty omnisexual skits currently on display on MTV.
• Tila's suitors don't know what they're getting in the long run -- a woman who'll always freak for show, or one who's really willing to grow? A-Rod's new team will be wondering if his postseason paralysis is worth the dough.
• In the end, A-Rod will get whatever the market puts out. Tila will get whichever Patron-fueled person is willing to put out.
Here's looking at you, T-Teq and A-Rod. It's time to lock into a loving relationship.
Mary Buckheit is a Page 2 columnist. She can be reached at marybuckheit@hotmail.com.