Just last month, Brett Favre led his Green Bay Packers to the NFC Championship Game at age 38. Just last week, NBA analysts were abuzz over the blockbuster trade of Shaquille O'Neal, who many believe, at 35, is too old and slow to play a significant role anymore. The question then is: how old is too old in sports? When does youthful exuberance trump veteran experience?
This week, there's a golfer, two years Shaq's senior, who's looking to answer that question. She has worked through injuries and is challenged by younger competitors, but she's not ready to be tossed into "adult swim" quite yet.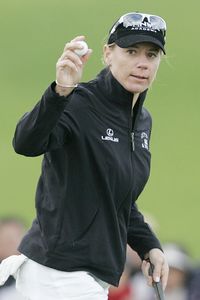 AP Photo/Lee Jin-man
Annika Sorenstam is finally healthy and psyched to put a winless 2007 behind her.
Not even after a winless 2007 season should Annika Sorenstam be downcast. On the contrary, it seems that although the 37-year-old starts 2008 without the designation of world No. 1 (for only the first time since 2001), she's as motivated and viable as ever.
"I feel great," she says from her home in Orlando, Fla. "I feel like the injury is behind me and my motivation is back -- I would say that's thanks to not playing so much, or so well last year. Now I'm really looking forward for the season to start. I am as excited as I have been since I can remember. The energy is there."
After suffering the first significant injury of her 14-year career, Sorenstam missed two months of 2007 with a ruptured disc. Today, she says the pain is in the past, and she is primed for a riposte. If her win in December at the Dubai Ladies Masters was any indication of what's to come for the wise veteran, we all have reason to believe again. At this point, she says she is just eager to set 2008 into motion. Even if it means working on Valentine's Day.
"You're right, it is Valentine's Day. I hadn't even thought of that," she replies with a laugh at the thought of working through the first Valentine's Day with her new fiance. "Well, my honey is going to be with me, and I guess, being in Hawaii, he doesn't have it too bad, right? I hope that will make up for it."
Her honey is Mike McGee -- Sorenstam's long-time boyfriend and incidentally, the manager of her business brand, ANNIKA, which includes a clothing line, golf academy and course design.
Sorenstam announced her engagement to McGee in August, but she says they will hold off on tying the knot for a bit so as not to distract from her main focus.
"I want to win again," she says succinctly. "I miss winning. I miss being at the top. It was so hard when I was competing last year with the injury, and not only was I not winning, but when you're not 100 percent you really don't even feel like you're competing. I know what it takes to be at the top, and I've been working on my game and working out so hard. I can't wait for this first tournament."
While she usually starts up the season in March, Sorenstam is so anxious to get back to competition that she has uncharacteristically entered in the first event of the 2008 LPGA season -- the SBS Open at Turtle Bay in Hawaii (Feb. 14-16).
"We are really looking forward to a great year. Life is good. I do believe everything happens for a reason, and maybe this injury gave me the little boost that I needed," affirmed a confident Sorenstam. "An injury has a way of putting things in perspective when you're used to go-go-go, and then all of a sudden you are completely limited, you have a different view. I do, and I feel like my life is on track."
Only tournament results will prove how the sage champion stacks up to the youthful field, specifically 26-year-old Lorena Ochoa, who supplanted Sorenstam as world No. 1 last year.
Said Sorenstam of her LPGA opponents, "They're a lot younger, of course. I look around now, and I notice they're not going to college anymore. It's just high school, and 18, and then they turn pro. Women are a little different than the guys, because we develop a little faster, and our playing careers aren't as long. So you see why they are starting their careers sooner. But, just from experience -- college is fun."
Especially when you're a two-time All-American at the University of Arizona.
"That's when people grow up," Sorenstam said. "You learn a lot being away from your parents. I think it's important, and if you miss out on that, you can never do it over. Now kids travel with their parents, and it's different. The ones who travel without their parents, it teaches them a lot, it shows they've come a long way."
Sorenstam, too, has come a long way. She has enjoyed a tremendous career since winning the LPGA Rookie of the Year award in 1994. With 69 career LPGA victories to her credit, she's now determined to prove that she isn't about to let up or let an injury forever bring her down.
Heading into the 2008 season, here are some other thoughts from the LPGA's career earnings leader.
---
Page 2: You're an old pro, but this season is full of new expectations. Will you still get nervous on that first tee box in Hawaii when they announce your name?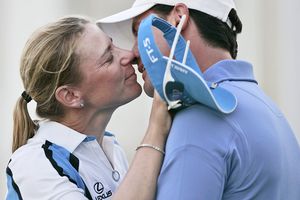 AP Photo/Kamran Jebreili
Life is good for Sorenstam and fiance Mike McGee.
Sorenstam: I will. It's always exciting on that first tee. You always wonder how it's going to go, and how you're going to perform. I still get butterflies in the belly on the first hole. They go away for a little bit. Then they'll come back later in the round at about 17 or 18.
Recently on his Web site, Tiger stated that he feels a grand slam is possible for him this season. What do you think going in to '08?
I always think a grand slam is possible. Tiger has done it -- four in a row, not four in one year -- but he had the last four majors and that to me, that is a grand slam. I would love to see him do it, and I would love to do it. I think it's great for the game.
Are the pressures and conflicts of being a woman and a professional athlete still there even after you prove yourself as one of the great talents of all time?
Oh, yes. In a perfect world, I think they want to see women with red nails and perfect hair and skinny and hit it 300 yards. I think it's starting to change a little bit, and you can be athletic and still be seen as feminine or graceful. But still, the expectations are so high and difficult for female athletes. It's tough because you have to work so hard and you're not able to be dolled up all the time. You know what I mean? Expectations are quite high.
You stress the importance of kids going to college and being on their own. Were you able to cut loose at Arizona, or was golf already at the reigns?
When I was a freshman, I was two years older than most kids [in my class], so for me, I was maybe past some of the partying stage. I had traveled quite a bit with the national team and I had been away from my parents a lot. But even then it is still a lot of fun. When I think about the other kids, they were just thrilled to be away and living life on their own. Those are the times you remember. And also, with college, when I think about my experience, I know that being a part of a team and supporting each other and wearing that team uniform meant so much to me. I'm very thankful for those years.
Athletes are always telling me that they love to golf in their spare time. You've probably played with so many of them. Who's the best?
I've had the opportunity to play with Michael Jordan, and while I think I'm about as competitive as it gets, he is a guy that definitely tops me there. He's so athletic and so focused, and he is just so strong. It's fun to see athletes on the golf course because they can pick it up. I've played with baseball players like John Smoltz and Chipper Jones, and I've played with tennis players, and it's interesting how they grab a golf club and they take a few shots and soon, boom, they have it. It's pretty cool to see how so many athletes gravitate to golf. I love that about the game.
You recently played in Derek Jeter's Celebrity Golf Classic at the Avila in Tampa, Fla. How is DJ off the tee?
I didn't get to see him off the tee because he was stationed on a par 3 and putting with every group, but he's a very good golfer. He loves to play, and he lives right on a golf course. It's just nice that somebody at his level -- he is such a great athlete -- it's amazing how golf is just sort of a common thing for so many people. It was great to support him with his foundation.
You play the finest golf courses in the world, and now in the last year, you have been working overtime to design them. Are you still able to realize the beauty of a golf course?
Oh, yes. There is nothing better than a nice day and being on a beautiful golf course. It never gets old. That's explains the beauty of it. It really never ever gets old.
What makes a well-designed golf course?
A truly well-designed golf course, in my opinion, is one that uses nature. A course looks natural because you incorporate the trees and the lakes and the undulation and whatever is out there.
Do you ever go hack around a public municipal course just for fun?
I have been to public courses. There are several courses that I'll just go and hit some balls because they are closest to where I am, and I really don't mind. It makes you appreciate the good places. That's the rule of golf. Not everybody gets to see the beautiful courses, I know that. There are world-class courses, and there are simple, everyday courses. I know that there is a lot out there, and we need all different kinds of courses. It's nice to see it from another perspective, for me [being] a player and a course designer. There is so much about golf courses that I love and appreciate.
Is that to say that sometimes you just go out and play for fun?
Not many times, but yes, sometimes. I love what I do, but it is work and so I try to focus at all times. It's not that I don't want to be out there having fun, but I don't want to waste a swing. I need to make sure to repeat only the good moves, so if I go out and sort of goof a little bit, I might start picking up on bad habits. So yes, there are still rounds for fun, but I always have to focus.
How about when you're out there with Mike. Do you go easy on him?
We really don't play too much, but we do go out there sometimes with my coach for fun. I focus, and he plays because he enjoys playing. But I give him some strokes, I do.
Which offers a bigger advantage to golfers -- technology or performance-enhancing drugs?
That's a tough one because I'm not really sure what the drugs can really do for your game. I was on a committee for LPGA drug testing -- and I support that -- and I have learned a little bit about them, but I am still not very into what could help you. I am more familiar with technology, and there is no doubt that technology has helped the game. Graphite goes farther than steel shafts. Balls are better. Clubs are more forgiving, and it is just easier to make contact because of technology. So the results there are very clear. But the rules are in place, and there is only so much you can do. There are limitations about the size of clubs and other equipment details, so technology helps, but it must conform to regulations. So ultimately, the best way to get an advantage is with lots of practice and the right combination of technology. There are no shortcuts to success.
I have friends on the Futures Tour who pray for sponsorships, but you have your pick of the litter. What's it like to have access to all of the latest technology, and how do you choose your equipment sponsors?
As a golfer, it's obviously important to have the right equipment. I've been with Callaway for 14 or 15 years. I've been with them for so long that I just trust what they have. I obviously use the product, endorse it, carry the club and play the ball. In return for that, I try all products and give them my feedback on what I like or what they need to improve. It is very important what you play because if you're not happy with equipment, it's tough to perform. So when you have options to choose from, you find a company with the same values and a great product. I personally found that in Callaway. Partnerships are very important. I value them tremendously, and it goes both ways -- they have to be happy with me, and I have to be happy with them. That's how you choose.
Tell your friends, in regards to sponsors, that so often it just happens. I know how important it is, but usually you meet somebody and you make a connection, and then you form a partnership. That's how it happened for me with Rolex. I've been with Rolex for as long as I've been with Callaway. I think that all started because I was Rolex Player of the Year, and then I met somebody, and we talked and became partners. That was it.
So there you have it, my friends. Annika says all you have to do is nab a quick LPGA Player of the Year title, and you've got yourself a sponsor and some immediate bling. Nothing to it.
Mary Buckheit is a Page 2 columnist. She can be reached at marybuckheit@hotmail.com.