My mom called from back home for a weekly catch-up.
"Are you doing anything on Michael Phelps, Mary?" she asked before racing into her unabashed endorsement of Captain America. "Oh, he just seems like such a good guy. It's so nice to see him doing so well. I hope he wins them all."
"Yeah, he deserves it," I said, "but I actually like the other guy."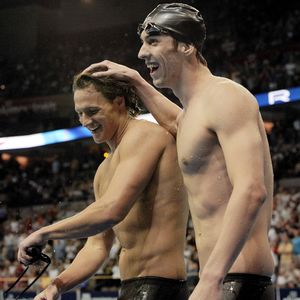 AP Photo/Mark J. Terrill
Ryan Lochte, left, and Michael Phelps are the best IM swimmers in the world, but Lochte's fan base will be small when Phelps goes for gold medal No. 6.
What followed confirmed two things -- (1) you're never too old to be scolded by your mother, and (2) I might be the only person in America rooting for Ryan Lochte in Thursday night's 200 individual medley.
Notice that I didn't say rooting against Michael Phelps. The guy certainly is praiseworthy, his focus is extraordinary, his success in the pool is incomparable. But he's not unrivaled. And his rival -- Pat Forde called the 200 IM Phelps' second-toughest of his eight races -- just happens to be more my speed.
I met Lochte last month in Palo Alto, Calif., where the fine facilities of Stanford University served as the training camp compound for the USA's Beijing-bound swimmers.
After a morning pool practice open to throngs of fans who showed up for an in-person peek at their future Wheaties box heroes, the team made its way to a media-day bonanza. There were a bunch of us and a bunch of them, and everybody was punctually and politely shuffled from one table to the next, sort of like in those six-minute speed-dating cycles.
Phelps was there, polite as ever, a real gentleman on our special speed date. I picked him up, and he told me about flip turns and underwater kick improvements. He told me how strange it is to be sitting at your computer and hearing your own voice coming from the TV. He talked about working hard and swimming fast and setting personal goals and eating power bars. Basically, the interview was a lot like those divers who hit the water from really high up yet don't even make a splash.
But hey, he's not an entertainer, he's an athlete. Most Olympic athletes are dry and directed, and Phelps is the gold standard of such discipline. Again, there's nothing not to like about the world's greatest swimmer.
It's just that there's something I loved Ryan Lochte.
The 24-year-old University of Florida grad was pulled into another obligation during the swim team's media car wash that day, but we were told he'd be back to speak to reporters as soon as he was free. After some time, Lochte shuffled in. Only four of us were still standing. Stealthy, right? The guy many consider the second-best in the biz, the Michael Phelps friend, foe and potential foiler had to talk to only four reporters.
"I like staying under the radar and just being myself," Lochte said.
And that's just what he did. Relaxed in a folding chair, from beneath a drape of wet curls, he talked softly and unhurriedly. He told us about himself, "a clown who surfs Daytona Beach." He fielded questions about his imaginative drawings and skateboard injuries.
I told him I liked his brown Wallabees that he somehow pulls off with red mesh Speedo shorts and a T-shirt. "Yeah, old-school Clarks, they're sweet, right?" he concurred.
In talking about swimming, Lochte made one thing very clear.
"I hate to lose," he said, his eyes taking a timeout from roaming around the room to lock in on the reporters. "I just hate to lose."
He might see the Olympic Games as what he called "just another swim meet." But he is there, as always, to win. That's what drives the easygoing guy to success. And that's what's so cool about him. His days are punctuated by pickup basketball games and ridiculous injuries sustained from hide-and-seek mishaps or scuffles out on the town with his boys.
When asked what he would be sure to pack in his China carry-on bag, he said "Fun Dip."
So, essentially, all that separates this shaggy kid from Michael Freaking Phelps is one-hundredth of a second and a Lik-a-Stix. How cool is that?
Every team has a few athletes who do all the right things; those who are all business, early to bed, early to rise, first in the gym, last to leave. Those athletes are respected and rightfully rewarded for their meticulous efforts, but I'm always intrigued by the free-spirited mavericks. The athletes who somehow manage to maintain an artsy approach to a world that's pretty cut-and-dried. The ones who are just that good.
"Some coaches say I'm a different breed," Lochte said. "If I honestly just went to practice, went home, slept, ate, watched TV and then went to practice again, I'd shoot myself. I'd go insane. That's definitely not me."
He's definitely not the Olympic norm, not with his candid moxie and modest bluster. He's just Ryan Lochte. He's the kid in your class who dozes off during lectures, then aces the test.
By now, you've seen the Michael Phelps PowerBar commercial. The one in which he explains that fear is good. Well, that's the point I'm trying to make. The guy who reps petrified protein bars should fear the kid who can't live without Fun Dip.
Mary Buckheit writes for Page 2. She can be reached at marybuckheit@hotmail.com.