Commentary
Joe Cada raises the stakes with Page 2
Joe Cada's life has been a whirlwind since he became the youngest player ever to win the World Series of Poker's main event on Nov. 10.
For his triumph, Cada won $8.55 million, a sum to be shared with backers who paid for his entry into the WSOP. Meantime, the 22-year-old Michigan native is acclimating to his newfound celebrity, making the rounds on national talk shows ranging from CNN's "American Morning" to "The Late Show with David Letterman."
He's living his dream, and we're sorry we missed the victory celebration.
Cada's victory tour pulled into Bristol on Thursday, and the reigning king of Texas Hold 'em squeezed Page 2 into his schedule -- even as his mind was likely wandering to Michigan Stadium, where he has plans to watch his beloved Wolverines as they try to stun rival Ohio State on Saturday.
Page 2: How has your life changed since winning the World Series?
Cada: It's been pretty crazy. I don't get to sleep in anymore. A bunch of media, running around, media, media.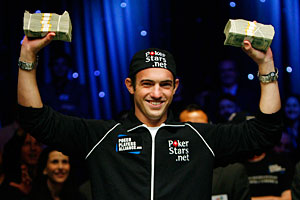 AP Photo/Isaac BrekkenWSOP champion Joe Cada might be the best thing going for Michigan in the sports world right now.
What has been the biggest "wow" factor so far?
Probably Letterman was the biggest "wow," and I'll also get to be on the sideline for the Michigan-Ohio State game, which is pretty sweet.
I read in your chat where you said you haven't had time to buy anything yet, but is there anything you have your eyes on?
I want to invest a lot of it and go from there. I'm going to wait for taxes and everything, see how much I should come out with. I'm not in any hurry to spend the money.
That sounds like a pretty grounded attitude for a 21-year-old.
Well, you have to be to make it in poker. You can't go out and blow money every time you win, because you know you're gonna lose a lot, too.
Obviously, Las Vegas is the center of the gambling world. Do you have any interest in buying a house there and relocating?
I was always interested in buying a house out there because I'll be out there 50 days every year for the World Series. Also, the market is good and it would be an investment, too."
Do guys talk a lot of trash at the table that we don't see on camera?
You get certain players out there who will talk the trash, but at the final table everyone was a good guy. No one talked crap. It was more like everyone had a good time.
Are there any players you just didn't get along with -- especially at the final table?
I'm pretty easy to get along with and liked to joke around at the final table, so I basically got along with everyone.
What's on your iPod?
I've got a mix of all different music. I've got everything on there, basically. Hip-hop. Country. Rap. I listen to it all. I'm all over the map.
Favorite movie?
Probably "Rounders."
When you're not playing poker, what are your hobbies?
I'm very competitive, so I love playing sports. Football. Hockey. Baseball is probably the only one I'm bad at now.
For a 21-year-old, you've gotten to travel and visit a lot of places many people never get to. Where's the coolest place you've been?
I've liked Aruba and the Bahamas the best. The weather is awesome. Atlantis is really nice, especially the water park. There's a lot to do, and it's really fun.
In addition to the Wolverines, what are your favorite teams?
Pistons and Red Wings. They're the major teams right now for Michigan. The Tigers had that unfortunate finish coming up to the playoffs, which was kind of terrible. I was at the World Series when they did make it [in 2006]. I'm a home team supporter.
Is there one game you enjoyed the most?
I think the best game I've been to was Michigan against Penn State, the year they scored with no time left on the clock to win the game. I forget who made the catch [Editor's note: It was Mario Manningham], but it was unbelievable. It was a huge, hyped-up game. To win with no time left on the clock, that was by far the best game I've ever been to.
Thomas Neumann is an editor for Page 2.
ESPN.com
ESPN.com employee since 2006
Former editor at The San Diego Union-Tribune
Former writer at The Bakersfield Californian
Graduate of San Diego State University
MOST SENT STORIES ON ESPN.COM