By Jim Caple
Page 2
SAN DIEGO -- The Top 10 Coolest Things About Having Willie Mays As Your Godfather:
10. He makes sure there's always a batting cage around when you have to go to the mattresses.
A family of baseball Giants.
9. Getting to go to the ballpark as a kid and playing catch with the Alou brothers -- Michael, Sonny and Fredo.
8. When you hit a home run, the radio broadcasters always yell, "Mr. Spalding sleeps with the fishes!''
7. Contract negotiations are settled quickly once general manager Brian Sabean gets an offer he can't refuse from your agent Luca Brasi.
6. Teammates always laugh no matter how many times you say, "Take the gun. Leave the cannoli,'' during the post-game spread.
5. Getting to watch those scummy collectors kiss his 1954 World Series ring while asking for an autograph.
4. Personal trainers think twice before incriminating you in front of the BALCO grand jury.
3. You get to order mob hits on the damned Dodgers family.
2. Be honest -- could any consigliere offer better advice than just "Say Hey"?
1. Opposing managers who have you intentionally walked three times in one game wake up with Mr. Met's head in their bed.
Actually, the coolest thing about having Willie as your godfather is that when you cross home plate after tying him for third place on the all-time home run list, the Say-Hey Kid will be there to greet you with an Olympic torch.
No kidding -- that's the actual plan. When Barry Bonds hits his next and 660th career home run, Mays will be there to both figuratively and literally pass him the torch he received when he ran a leg in the 2002 Olympics torch run.
"How will I feel? It won't change nothing," Mays said before Thursday's Giants-Padres game. "What would it change? It's just a number. It won't change the feeling I have about it and I don't think it will change anything about the way he feels about me. Can you pick anybody better to do it than Barry? I don't see anybody better. Maybe if somebody other than Barry did it, I might feel a little shaken by it, but he's fine. I like that.
"This is history for him. I had to convince him two or three years ago that he isn't going after me, he's going after history."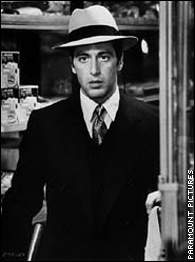 Michael Corleone made the "Derek Lowe Face" in the Louis' Restaurant scene.
It's not personal, Sonny. It's strictly business.
Mays is traveling with Bonds and the Giants until Barry passes him on the home run list. Mays said both he and Bonds want to have that happen as quickly as possible but the Padres didn't cooperate when they opened their new stadium. David Wells, who is old enough that he remembers watching Mays play at San Diego's old Jack Murphy Stadium -- "I did all my school reports on Babe Ruth but Willie Mays was my favorite player" -- kept Bonds off-balance in his first two at-bats and Jay Payton kept Willie in third place for at least another game with a leaping catch at the top of the fence in deep center in his third at-bat. "Tell Jay Payton not to get in the way of my line drives," Bonds said.
"I don't know if it would have gone out or not,'' Payton said. "It might have gone out. It might have bounced on top of the fence and gone out. He smoked it so hard it might have gone through the fence."
The BALCO investigation and the steroid controversy aside, this is still pretty cool. Really, what are the odds? A teammate asks the greatest player of his era to be his son's godfather and then the kid grows up to be the greatest player of HIS era and passes him for third place on the home run list. That's the greatest family tree in baseball with the possible exception of the one that produced Roy Hobbs' bat Wonderboy.
"I think Bobby was aware of what he had in his son and it was something special," Mays said. "Barry was five years old, around there, and his father said to me, 'If something happens to me, I want you to take care of my kid.' I tried to make sure that he got his education more than just baseball. I think that was the right choice. He went to Arizona State and then out of there he went to Pittsburgh. Education is something they can't take away from him."
No, they can't. And if this baseball thing doesn't work out, Bonds can always fall back on his college background in his career, just like Michael Corleone did.
Mays said Bonds, who turns 40 this summer, will probably pass Babe Ruth's mark of 714, but that Hank Aaron's career record of 755 is going to be a tall order. "But you never know what he can do. He might be able to play another couple years. I'll say this, he works out very, very hard. He might not have it, he might go to 45. If he chooses to do that, I think he'll have a shot at coming close to Hank."
This is the second time Mays will be passed on the home run list -- Aaron passed him in 1972 (the same year "The Godfather" was released). "I might have sat that one out in the army -- I don't recall it. Nah, I'm joking,'' Mays said. "When I played, it wasn't a big deal about home runs or who passed what. It was just something you had to do every year. We didn't make a big deal out of it."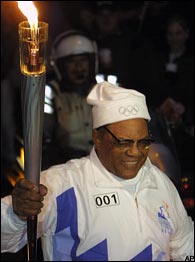 001: number of homers needed for the torch to be passed.
Well, that might not be exactly accurate. But they certainly didn't greet the player with Olympic torches, a gesture that was viewed as a little over the top by the Astros when Mays mentioned it earlier this week in Houston. Evidently, the Astros didn't get the memo about showing proper respect. Mays was asking only for a small favor and as everyone knows, the Godfather doesn't ask for a favor a second time after he's been turned down once.
"Some day, and that day may never come, I will call upon you to do a service for me."
"Anything you say, Godfather. Just name it."
"Could you let me high-five my godson Barry after his 660th home run?''
"No dice, my Kraut Mick friend."
"It's going to be quick," Mays insisted. "I would never try to embarrass a team. I love baseball. I'm not going to home plate. I think the Houston players thought I was going to go to home plate and wait there for him. That's wrong. I'm going to go to the on-deck circle, present it to him, the players will come out and it's over with. That's the way you should do it. You shouldn't stop the ballgame, you should just go on with the game as quick as you can. It's not going to be a big thing. We're going to do that when we get back home."
It will be a simple affair. Just a little celebration with the extended Mays/Bonds family followed by a wedding reception for Connie and Carlo.
No cameras, please.
Jim Caple is a senior writer for ESPN.com