By Jim Caple
Page 2
You might remember when hitting 500 home runs really meant something. When it was only done by guys immortalized on Hall of Fame plaques, not guys who appear in a never-ending commercial for the Tom Emansky baseball video. When cracking the 500 Club wasn't as easy as getting a Costco card.
Yeah, and you probably also remember when MTV showed music videos and when Seal had a career.
My advice is to get over it.
Now that Ken Griffey Jr. has hit his home run, the 500 Club expands to 20 players, six of whom have joined the Club since 1996, and five in the past six seasons. Fred McGriff is on the doorstep (though in Fred's case, I don't think the doorbell is working). Jim Thome, Jeff Bagwell, Frank Thomas and Juan Gonzalez are within range.
All these possible new members to the 500 Club, after just 14 reached that milestone in the first 95 years of the 20th century.
Is it steroids? Improved weight training? Diluted pitching? Shrinking strike zones? Smaller ballparks? Better bats? More complete video libraries of opposing pitchers? More likely, it's a combination of all those factors plus one more -- the hitters may just be better these days. What is certain is that the feat hasn't been cheapened.
It would be one thing if this was unprecedented, but it isn't. The 500 Club nearly tripled from four to 11 when it added seven players between 1965 and 1971. Was the club cheapened by the presence of Willie Mays, Hank Aaron, Ernie Banks, Mickey Mantle, Eddie Mathews, Frank Robinson and Harmon Killebrew? Of course not. For almost forty years, there was only one player in the 600-home run club, Babe Ruth. And then Mays and Aaron tripled the membership in just a couple of years. Did that cheapen 600 home runs? Not at all.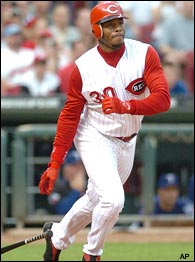 Ken Griffey Jr. is enjoying his resurgence in Cincinnati this season.
The beauty of baseball is that we cherish its past, its records and its milestones. The problem is we cherish those records and milestones so much that we think something must be wrong when someone new reaches them. We think the great marks can only be accomplished by a baseball immortal. We might be right about that, but we also may not realize a baseball immortal while he's still young enough to be playing in front of our faces.
Why must we fret over another player reaching a milestone when we should be celebrating his arrival? Griffey was considered the greatest player in his league just five summers ago. Then came the trade to Cincinnati and the sort of injuries rarely seen outside a Jerry Bruckheimer film. A torn hamstring. A dislocated kneecap. A ruptured tendon. A dislocated right shoulder. And soon The Kid who danced across major league outfields was the Aching Old Man hobbling around the trainer's room. Fred Sanford moved faster.
The Reds tried trading Junior. Souvenir vendors resorted to all but giving away his souvenirs and still nobody wanted them. Fans heckled him when he left the field last summer after tearing a tendon in his ankle (and then they went out and spray-painted the WKRP studios).
But now he's healthy. Now he's back. Now his swing is sweeter than summer strawberries again. And it's such a wonderful thing, I just may remove my 15-year-old Ken Griffey Jr. chocolate bars from their shrink wrap and see if they taste as sweet.
"What's so awesome about Griff doing what he's doing this year is that the last four years have been nothing but frustration for him," Cincinnati first baseman Sean Casey said. "You can just sense it for him that it's back to being fun, back to really enjoying the game, back to really enjoying being out here. People were saying that he's washed up but he had some major injuries. It wasn't like he just had tight hammies -- he blew out his hammy. He blew out his shoulder. He blew out a tendon on his foot. It was one thing after another."
Griffey isn't The Kid anymore. He's 34, and heavier than in his youth (not that there's anything suspicious about that -- alas, we all get heavier as we age). He insists that he won't change the way he plays in the outfield -- "If I run into a wall, I run into a wall -- if I can't play like that then I'm going home" -- but he's reached a stage of his career where the disabled list is always just a strained hamstring away. It would be wonderful if Junior could help the surprising Reds make the playoffs this year, but the best place for him in the long term is the American League, where he could DH occasionally to stay healthy.
Reaching 500 home runs is a great honor for Griffey, but I want him to eventually clear the velvet ropes to the even more impressive 600 Club. Baseball is a better place when he's healthy.
BOX SCORE LINE OF THE WEEK
Houston reliever Brad Lidge had quite the day Sunday against the Brewers. He loaded the bases and struck out four batters -- all in the same inning -- and wound up with six strikeouts in just two innings.
He hit Junior Spivey to lead off the inning. Then he balked him to second. Then he struck out Geoff Jenkins, who reached first base on the wild pitch third strike. Then he walked Lyle Overbay to load the bags before striking out the next three batters to end the inning.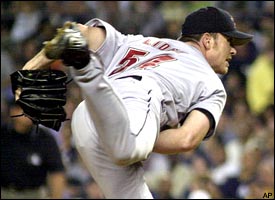 Brad Lidge had quite an outing for himself, with six strikeouts in two innings of work.
Lidge's line:
2 IP, 0 H, 0 R, 0 ER, 1 BB, 6 K
LIES, DAMN LIES AND STATISTICS
Call it the Ichiro Effect. With so many of its best players leaving for the United States, the Japanese leagues are on the verge of shrinking. The Orix Blue Wave (Ichiro's former team) and the Kinetsu Buffaloes (Hideo Nomo's old team) revealed this week that they have entered negotiations to merge the teams beginning next season. That would leave just five teams in Japan's Pacific League, which is obviously problematic for scheduling. There are rumors that the Chiba Mariners and Daiei Hawks also might merge and that Japan might combine the Pacific and Central Leagues into a single 10-team league ... Speaking of Ichiro, the Mariners moved him to third in the lineup Saturday night. Two reasons: First, Ichiro is hitting close to .400 with runners in scoring position. He's also hitting .330 overall and has reached base safely 111 times but has scored only 35 times. In other words, if no one is driving in Ichiro, he might as well move down in the order and possibly drive in someone else ... And speaking of 500 home runs, Barry Bonds hit his 500th as a member of the Giants over the weekend ... Oakland's loss to the Cardinals on Tuesday was its first to an NL Central team in 19 games.
FROM LEFT FIELD
Injuries were rarely a problem for Griffey in Seattle, but Junior missed 269 games in his first four seasons in Cincinnati, and missed more games than he played from 2001 through last year. A look at the specifics of his injuries (source: Cincinnati Enquirer):
The injuries of Ken Griffey Jr.
When
What
The Skinny
Sept. 2000
Partially torn hamstring
Missed 15 games
March 2001
Aggravated hamstring
Missed six weeks
April 2002
Dislocated kneecap
Missed seven weeks
June 2002
Strained/torn hamstring
Missed four weeks
April 2003
Dislocated shoulder
Missed four weeks
June 2003
Strained bicep
Missed three games
June 2003
Stiff groin
Missed four games
July 2003
Ruptured tendon in ankle
Missed rest of season
WIN BLAKE STEIN'S MONEY
This week's category: Nice, But What Did He Do With The Other 5,000 At-Bats?
Q: Who needed the fewest at-bats to reach 500 home runs?
A: Mark McGwire, just 5,487.
INFIELD CHATTER

"Ken Griffey Jr. Strains Last Remaining Unstrained Muscle"
-- headline on TheBrushback.com
Jim Caple is a senior writer for ESPN.com