By Jim Caple
Page 2
OMAHA -- Louisiana State is as welcome a presence in Omaha as the Atkins diet.
The Tigers have played in the College World Series so regularly (13 times) that Omaha fans have practically adopted them as their own (not that the Tigers faithful exactly need reinforcements). At Saturday's game against Miami, six fans from Omaha coated their entire bodies in LSU colors, including one hefty man who likely had to drain the state of Nebraska of purple body paint to cover his ample belly.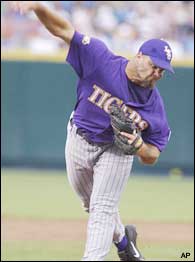 Bumstead broke the cardinal rule against Miami.
"I think he had to go all the way to Iowa to find enough,'' LSU assistant coach Jody Autery said.
LSU missed the CWS in 2001 and 2002 before returning last June, only to be eliminated in two games -- what is known around here as going "two and a barbecue.''
This year is supposed to be different. This year, the team was supposed to be accustomed to the World Series, and wouldn't be overwhelmed by the atmosphere. This year brought an approach so business-like that the Tigers should be listed on the Nasdaq instead of the CWS bracket. They should be wearing Brooks Brothers pinstripes instead of jerseys and stirrup socks. Even when they went to Friday night's Texas-Arkansas game, they watched the game on the video board outside the field with faces as stoic as Mount Rushmore.
"We were a little too happy to be here last year,'' LSU infielder Ivan Naccarata said. "This year, it's more like a business trip.''
LSU coach/CEO Smoke Laval addressed this approach during the team meeting on Saturday morning.
"Jeff Brantley is doing the broadcast for ESPN tonight, and he told me, 'Last year, you guys always wanted to be around Harold Reynolds and me. Not this year. It seems like it's all business to you,'" Laval said. "He didn't need to say that to me. It's very evident we're more ready to play this year.''
This year, there were to be no distractions. Not even from the promise of very imminent wealth.
"Right now, I'm just concentrating on playing baseball with the team I'm with,'' said outfielder J.C. Holt, picked by Atlanta in the third round of the draft two weeks ago. "Right now, I'm an LSU Tiger. I'm not a Brave yet.''
Saturday marked the first meeting between LSU and Miami since the Tigers beat the Hurricanes in the 1996 CWS title game on Warren Morris' two-run, two-out home run in the bottom of the ninth.
"I remember coming home and watching that game,'' redshirt freshman Clay Dirks said. "When Morris hit that home run, I decided then and there I wanted to go to LSU.''
The highlights of that game played on the Rosenblatt Stadium video board when the Tigers took the field for warm-ups on Saturday night, and the LSU faithful staggered into the bleachers.
"I looked up and saw the video and just shook my head,'' Miami coach Jim Morris said. "I finally got over that game when we won the ring twice. But people remember that game more than they remember our championships. Even Miami fans.''
So how much better could it go for LSU than to see the most famous highlight in College World Series history minutes before their game? This much better: The Tigers scored three runs in the top of the first inning.
Unfortunately, starter Nate Bumstead allowed three runs in the bottom of the first. And after LSU scored two more runs in the top of the second, Bumstead again gave up the lead by allowing two runs in the bottom of the inning.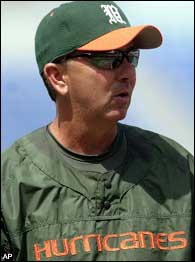 Win, lose or draw -- Miami coach Jim Morris has seen enough of the '96 title game.
"The cardinal rule is that you don't let them score right after you score,'' he said. "I screwed that up.''
Worse, the Tigers lost their focus briefly -- they lost track of how many outs there were in the second inning. After turning a double play, the team began racing off the field -- only to realize there still were only two out.
While Miami starter Cesar Carrillo found his groove and held LSU scoreless the rest of the way -- "I don't think he likes to lose much, and he proved his point,'' Laval said -- Tigers' reliever Jason Determan allowed the go-ahead run in the fifth and three more in the sixth in a 9-5 loss that sent LSU into the losers bracket.
So Saturday went about as badly as possible for Bumstead and Determan. Not only did they give up nine runs and have to explain what went wrong to a roomful of reporters, but both were randomly selected for drug testing.
At least they remembered to bring bottled water with them when they were led into the specimen area. That's where being a CWS veteran comes in handy.
"Last year helps (with this loss),'' Determan said. "And this year, too. We've come back all year. We had a habit of dropping the first game of three-game series.''
Perhaps. But it doesn't matter how focused or businesslike you are if the other team pitches better. Forget what approach it takes the rest of the week -- LSU simply has to perform better on the field to avoid finding itself outsourced.
Jim Caple is a senior writer for ESPN.com