By Jim Caple
Page 2
News item: In perhaps the most concise description of the modern athlete, Gary Sheffield told Sports Illustrated's Tom Verducci that Barry Bonds introduced him to BALCO. Worse, he said that Bonds complained that Sheffield's chauffeur drove too slow during a limo ride to a Sacramento Kings game and the Giants slugger also stole his personal chef by offering him a car, a place to live and a student loan payoff. "That's the kind of person I found out I was dealing with," Sheffield told SI. "To me, I don't want friends like that. I never will have friends like that.''
"How to Win Friends and Influence People'' by Gary Sheffield
Building friendships and relationships that last an entire lifetime isn't difficult -- it's just a matter of treating each other with mutual respect and kindness while following some simple, commonsense rules:
1. Don't complain about free limo rides.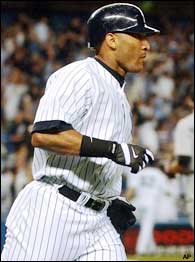 Never go into business or vitamins with people you consider family.
I once offered someone a ride and he bitched the whole way about the fact that I didn't rent the right kind of limo and that I didn't stock the bar properly and that my chauffeur drove too slowly. Well, I'm sorry. Not everything can be perfect in life. Sometimes things don't go exactly as we plan. But adults accept the facts and move on with their lives.
Besides, none of it was my fault. The limo company promised me an Escalade limousine and drove up with a Lincoln town car instead. My personal assistant also quite specifically ordered Cristal but they gave us a cheap domestic. And it certainly wasn't my fault they gave me crushed ice instead of cubed! As for the driver, well, yeah, he was a little slow and I don't think he really needed to stop at all those red lights. And I probably shouldn't have laughed when he took that one corner real quick and caused the stripper to lose her balance and fall into Barry's lap and make him spill a drink all over his Hugo Boss coat.
The point is, when life disappoints you, don't moan and whine and take it out on your friends. Be responsible and mature. Call up your agent and have him ream the guilty parties out.
(And I still insist that I was only responsible for paying for the dry-cleaning charges, not a replacement coat!)
2. Don't turn your friends onto illegal steroids.
I know, I know. It sounds like a good idea at the time. Your trainers come up with a new "vitamin'' that absolutely, positively cannot be detected in any blood or urine test and you want to rush right out and show off by sharing it with your cool "friends.'' Hey, we've all been there. But don't do it. Because the next thing you know, some jerk does come up with a test for the "vitamin'' and all of a sudden your "friends'' are ratting you out in front of a grand jury and then you have to explain how you thought the "cream'' was something sold over-the-counter to reduce cellulite.
Do yourself a favor. Keep the "vitamins'' to yourself.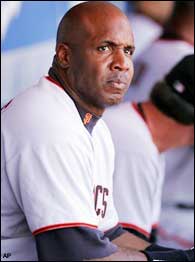 "So , Barry ... what do you think of this week's SI?"
3. Never hire a personal chef who has a large student loan.
Trust me. No matter what kind of magic the guy performs -- no matter what Pan-Asian delights and new exotic Morrocan dishes he whips up in the kitchen -- this is only going to end badly. If you ever want to invite your friends over for a meal, first tell your agent to do a thorough background check to see if your chef has any large outstanding debts.
4. Don't flash your 1997 World Series championship ring in your friend's face
But if you do, under no circumstances should you rub it in by asking him, "Where's yours?''
And finally ...
5. Don't say all sorts of nasty things about your friend and insinuate he's involved in illegal drug use and generally embarrass him in a national magazine.
Granted, this isn't an easy one to follow.
BOXSCORE LINE OF THE WEEK
Take your pick from whichever reliever meltdown against the Dodgers you want.
Do you go with Colorado's Shawn Chacon, who walked four consecutive batters last Tuesday when the Rockies blew a four-run lead in the ninth to Los Angeles? Or do you go with Dustin Hermanson's crushing performance Saturday when the Giants blew a three-run lead in the bottom of the ninth by somehow allowing seven runs? As mind-boggling as Chacon's line was -- 1/3 IP, 0 H, 4 R, 4 ER, 4 BB, 1 K -- we have to go with Hermanson for the timing.
The Giants were on the verge of closing the Dodgers' lead to one game and setting up a regular season finale that could have resulted in the third loser-goes-home playoff for a championship between the two old rivals. Brett Tomko gave them 7 1/3 scoreless innings, they took a 3-0 lead into the ninth and then Hermanson couldn't find home plate with a GPS device, walking three batters and letting the Dodgers tie the game before Steve Finley ended San Francisco's season with a walk-off grand slam.
Hermanson's line:
2/3 IP, 1 H, 4 R, 4 ER, 3 BB, 1 K
Hey, at least Ralph Branca threw Bobby Thomson a strike.
FROM LEFT FIELD
Despite getting constant ovations so loud that you might have thought Mount St. Helens had just erupted again, Edgar Martinez ended his long and superb career with a disappointing game Sunday, grounding into two double plays, including a 1-6-3 in his final at-bat. "I won't miss doing that anymore,'' he joked after the game.
Edgar played 18 seasons with the Mariners and should have played more if management had only recognized his ability earlier. Once it was clear Seattle was going nowhere this season, the Mariners asked Edgar in mid-season if he would liked to be traded to a contender so he might finish his career in the World Series that had always evade him. He declined, saying the World Series wouldn't mean much if it wasn't with Seattle.
You have to love that sort of loyalty. So while we say good-bye to Edgar, here are the remaining players who have been with one team -- and only one team -- the longest:
| | | | |
| --- | --- | --- | --- |
| Years | Player | Team | The skinny |
| 19 | Barry Larkin | Reds | Pete Rose was a teammate |
| 17 | Craig Biggio | Astros | Nolan Ryan was a teammate |
| 16 | John Smoltz | Braves | Dale Murphy was a teammate |
| 15 | Frank Thomas | White Sox | Carlton Fisk was a teammate |
| 14 | Jeff Bagwell | Astros | Mike Scott was a teammate |
| 14 | Bernie Williams | Yankees | Stump Merrill was his manager |
| 13 | Tim Salmon | Angels | Bert Blyleven was a teammate |
Jim Caple is a senior writer for ESPN.com