By Jim Caple
Page 2
Note: Through its many connections in the entertainment industry (it helps to have Mickey as your boss), Page 2 has slipped under the velvet rope to ask celebrities for their take on the World Series. Today, Jim Caple puts his microphone in front of noted baseball fan Jessica Simpson ...
"Nick tells me the Red Sox are playing in their first World Series since 1986. That's really something. Imagine waiting 18 years between World Series. Has any other team ever endured a wait even close to that long?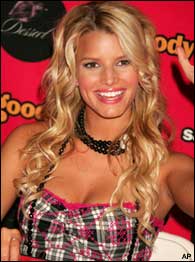 If she has time, Jessica plans on stopping by the Boston Tea Party for some refreshments.
"And now that we're talking about it, I'm not sure when Boston last won the World Series but I think it's been a pretty long time. Maybe they won it in 1975 or something because Nick and I will be making love and we'll look up to the TV every once in awhile and we'll see this same replay of some Red Sox player hitting a game-ending home run in that series and all the fans going crazy, so maybe that was the year. If it wasn't, someone like '60 Minutes' or Dr. Phil really ought to do some research and find the exact year because I can't find it mentioned anywhere.
"When they find out -- and Nick just asked, wouldn't it be something if it turned out the Red Sox haven't won a World Series since they traded Babe Ruth to the Yankees? -- I hope they write a story about it because I think that aspect of the Boston story isn't reported enough. I've never heard any reporters or veejays talk about it anywhere but when you think about it, what other city has ever suffered as much as Boston? Though, now that I think about it, didn't I just sing at the Super Bowl halftime show that the Patriots won last February? Or was that Britney Spears? Sometimes even I get us confused.
"Nick and I just tried finding out whether there had been any stories written from this 'Boston has suffered' angle by searching Google and while we didn't have any luck there, I did come across a reference to "Red Sox Nation." This puzzles me. I thought Boston and Massachusetts were in the United States but now I'm thinking they must be a completely separate country, just like George Bush and Fox News say. When did this happen? Were they always separate or did it happen during the breakup of the Soviet's Union? And if they were part of the Soviet's Union how come John Kerry can be elected President but Arnold Schwarzenegger can't? Nick thinks it's because the American League won the All-Star Game.
"Meanwhile, I'm just glad the Astros didn't beat the Cardinals because Nick says those expansion teams don't deserve to play in the World Series like the original teams do. Houston just hasn't been around long enough. I mean, only 42 years? That seems like a long time to me because I'm much younger than 42 (thank God!), but Nick insists that's not nearly enough time to really pay your dues as a team, even if, as he says, the Astros did blow a lead in Game 7 this year and lose that 16-inning game against the Mets in 1986 and lose that playoff series to the Dodgers in 1981 and lose in extra innings in the final playoff game in 1980 and never won a playoff series of any sort until last week. I'm sure that wasn't pleasant for fans but at least they could still be excited that they got to go to the Astrodome for so many years.
"I don't want the Cardinals to win the World Series, either, because their fans don't seem to care very much. I didn't hear one 'Astros suck' chant during the game last night. Yo, St. Louis -- Where's the passion?
"So anyway, I'm happy the Red Sox are in the World Series because I guess they've been through so much pain and haven't won a championship for so many years. It's almost like they're cursed or something."
Jim Caple is a senior writer for ESPN.com