I cannot tell you how weird all this was. I mean, I never, ever get recognized, but here I was such a celebrity I should have adopted a chimpanzee named Bubbles and slept in a hyperbaric chamber. It was all rather uncomfortable.
I have newfound sympathy for Eustachy.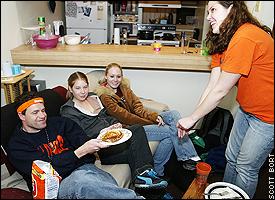 After a few shots, a grilled cheese sandwich hits the spot.
Liz watched people swarm around us and offer us free drinks at a bar called Station and astutely observed, "This is what it must be like for the basketball players."
Exactly. If this is the attention someone gets just for writing about the school for ESPN, I can't imagine what it's like for the guys whom we write about. It's a wonder they all don't wind up in rehab.
We went over to a party to watch Illinois play Fairleigh Dickinson in its first-round game and everyone there got pretty nervous when the Illini led by only a point at halftime. Illinois pulled away in the end, but not quickly or substantially enough to completely satisfy the fans. They all still loyally stand by their team to win the whole thing but a healthier margin of victory would have made them feel a little better. People kept asking what I thought of Illinois' performance, but what do I know? No. 1 seeds often look a little shaky in the opening round and then gain their form in the ensuing games. Illinois will be just fine.
(At least, it will be until it loses to Washington in the Final Four.)
By the time the bars closed, I was thoroughly exhausted, both from the day and from a week experiencing as much college life as possible without being placed on double-secret probation. I lived in a fraternity. I sat in on classes. I ate dorm food. I took a midterm (and I think I also passed). I wrote a column for the school paper. I debated politics and religion. I explored the musty stacks of one of the largest libraries in the world. I learned how to tap dance the time-step (well, sort of). I drank enough to pickle a rock band and all their groupies. I battled medieval re-enactors wielding Styrofoam swords on the south campus lawn (it's a long story). I stood in the Pentagon of Shame (it's a longer story). I sat up discussing school, careers and life until the sun rose (note to everyone: there's no need to rush – you've got plenty of life to live).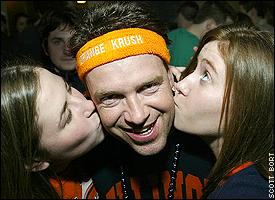 Jim's wife can keep this photo for later use in their divorce proceedings.
But most importantly, I made some new friends.
Liz, Danielle, Jen, Ashley and Lyndsay; Phil, John, Randy and all the members of the Sigma Phi Epsilon house; John, Julian and the guys on Blaisdell 2 – I'm not gonna lie to you. You provided the perfect Wayback Machine to let a 43-year-old man feel like a college student again.
Just do me one favor. Next time, could we mix in a couple more hours of sleep and a few less shots of tequila?
I fly home from Illinois this afternoon for a needed weekend of rest before heading back on the road to North Carolina for week two of my personal March Madness. After this week, the schools along Tobacco Road have clown-size shoes to fill. In fact, if they can match the hospitality shown by Illinois, I'm in serious trouble.
Jim Caple is a senior writer at ESPN.com. His first book, "The Devil Wears Pinstripes," is being published by Plume. It can be ordered through his Web site, Jimcaple.com.