By Jim Caple
Page 2
EAST LANSING, Mich. – So I was sliding around in the back of a truck with four sorority girls, trying to hold on to the side panel for dear life as we sped through the Michigan State campus at what seemed like 60 miles an hour, when it occurred to me that if we crashed – and this seemed not only a probable occurrence, but an outright certainty – I probably better die instantly in the rollover.
Because if I survived, I was going to owe my wife one heck of an explanation.
Yes, it's yet another day on my own personal March Madness tour of NCAA Tournament campuses, and I've achieved what must be considered a lifetime goal. At the age of 43, I am spending the night in a sorority house. Ginger Hubbell and the good women of MSU's Sigma Alpha sorority have graciously extended me an invitation that was never even close to offered during my days as a college student.
Although now that it's closing in on 5 a.m., I am beginning to wonder whether the nightly pillow fight in our underwear is really going to happen.
In truth, my wife, who has clearly proven to be the most understanding woman in the United States during these three weeks, has nothing to worry about from my stay here. For one thing, I love my wife and would never do anything to hurt her. More importantly, the women of Sigma Alpha made it very clear what might happen to me should I misbehave. Almost all of them, you see, are agricultural students, and some of their studies includes lab work that requires them to castrate pigs. After hearing them nonchalantly describe the "Slit first, grab hold and rip off" procedure for removing testicles, I can assure you that I've been on only my best behavior.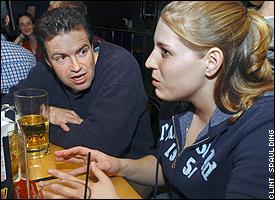 Jim and Sigma Alpha senior Crystal Huston go over the finer points of cow slaughterhouses at Paul Revere's.
It's fitting that I'm staying with these women because Michigan State, the country's first land grant school, originated as Michigan Agricultural College (one of the main drags off campus remains named M.A.C. Avenue). The agricultural department is merely a very small part of an enormous and multi-discipline university these days, but it's good every once in awhile to return to your roots. It's also informative to hang with students who are actually learning how to do things, rather than just sitting around classrooms tediously discussing abstract theories about philosophy, which is generally how I wasted my time in my classes at the University of Washington.
Farmers are the salt of the earth and we owe them all a great debt. What they do to provide us with the food we take for granted is nothing short of heroic. They also have the most entertaining stories.
The very cool Julie Raap and Crystal Huston regaled me with grotesque tales from their various jobs in a slaughterhouse and an animal pathology lab. We've all had our share of disagreeable college jobs, but I can assure you that nothing can quite compare to removing bear liver samples or collecting cow ovaries in a rendering plant.
"We had an elephant come in one time from the Detroit zoo," Julie said over beers. "They had to bring it in in two pieces in a semi."
And just how the heck do you go about slicing up an elephant?
"With a chainsaw."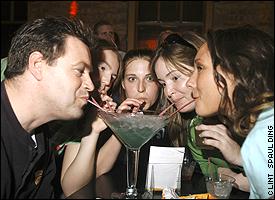 Jim shares a huge girly drink with Sigma Alpha ladies (left) senior Katie Yaroch, senior Crystal Huston, senior Ginger Hubbell and junior Diane DeBuck.
You see? These are conversations you almost never get in a political science class.
My stay at the Sigma Alpha house is also a most refreshing change from the slum where I spent my first night on campus. Moving from that house – which I affectionately refer to as "The Hole" – to this one is like upgrading from a Motel 6 to the presidential suite at the Ritz Carlton. My second-floor room is spacious, spotless and comes complete with a VCR and video library that includes "Saving Private Ryan" and two Austin Powers movies. The Sig Alphas not only provided clean bedding, they left candy on my pillow.
They've been so friendly and welcoming that I can't wait until we gather in a circle in the living room later and pass the candle.
The women are so attentive that they even supplied me with a pet hamster. Fortunately, he is enclosed in a glass case – which is in stark contrast to whatever small rodents lived in the other house.
This house is so clean that I could probably eat off the bathroom floor, which differs from the other house where I didn't even want to stand on the bathroom floor. (The tub was so disgusting that it was the first time I considered actually taking a shower with my clothes on.)
Hygiene is one of the many ways that living in a sorority differs from living in a fraternity, though.
You also eat much better in a sorority. I finally ate a meal on my tour that did not include pepperoni and Crazy Bread when the Sig Alphas grilled a delicious chicken dinner on the patio barbecue. (Men, however, eat much faster – when I stayed at the Chi Psi house in Chapel Hill last week, the good brothers devoured the two pizzas I ordered while I was still busy tipping the delivery guy.)
Guys watch ESPN 24 hours a day during the week, and even more often on weekends (and more power to them). The Sig Alphas told me we would have to be home from 10 to 11, so we could watch Jessica Simpson and Nick Lachey on "Newlyweds" on MTV. Fortunately for me, we were too busy drinking to remember.
Sorority girls respond to the slightest emotional stress – an unreturned phone call, a harmless remark about their shoes, missing the latest episode of "Newlyweds" – by crying. It's like living in a house where the final scene to "Brian's Song" is being played on a continuous loop. Guys respond to everything by farting. (I assume that women occasionally pass wind as well, but they have the decency to not do so while leaning their buttocks toward your face.)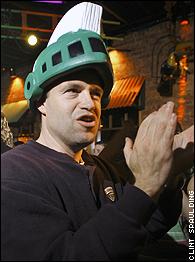 Jim dons a Spartan helemt and sings the MSU fight song at Rum Runners in Lansing.
Guys drink beer, the cheaper the better. Women prefer mixed drinks, the sweeter the better. I think some of the Sig Alphas ordered their rum mixed with Hi-C and marshmallows tonight.
And then, of course, there is the biggest difference to living in a sorority. You have to put the toilet seat down.
Despite our differences, I must say I had an excellent evening with the Sigma Alphas. They're a dry house but they took me to a couple great places, including a piano bar named Rum Runners, where management gave us the largest martini in history (complete with eight straws) and we were entertained all night by a steady selection of '80s music. I was so intoxicated by the atmosphere that at one point I was standing and pumping my fist while singing the Michigan State fight song – and I didn't even know the words.
And then when I looked around and saw all the smiling faces of my new friends – Ginger, Crystal, Julie, Katie and Diane – I felt so much a part of their sorority that I almost started crying.
Instead, however, I hurried to the bathroom and farted.
Jim Caple is a senior writer at ESPN.com. His first book, "The Devil Wears Pinstripes," was recently published by Plume. It can be ordered through his Web site, Jimcaple.com.