By Jim Caple
Page 2
I'm shocked -- shocked and appalled -- to learn that players on a recent Super Bowl team have been accused of using steroids. After all, I thought the media made it perfectly clear that the NFL has the toughest drug policy in pro sports and that only baseball has a steroid problem.
Good thing that story was swept under the carpet immediately. Because otherwise, fans might get the impression that football players don't naturally weigh 280 pounds with 31-inch waists and 4.4 times in the 40. Or that maybe, just maybe, the tough NFL drug policy isn't quite as effective as the league and the media claim. Because we all know it is only baseball that has an unreliable steroid testing program.
So, thank goodness no star football players have been subpoenaed to testify before Congress. Because it's baseball's steroid problem that's a national health issue. Calling up all the obese retired football players with heart and arthritis conditions would simply cloud the issue by giving fans the impression playing football is a health risk in and of itself. It would also make people wonder whether it might be a bad thing to have one-quarter of your league weighing more than 300 pounds, thereby diverting attention from the true No. 1 national health issue -- baseball's steroid problem.
(Making football players testify would also unfairly imply their guilt when there is no evidence of wrongdoing. And we just don't do that in this country. We simply don't willy-nilly call in citizens and make them testify before Congress under oath on national TV about crimes with which they've never been charged and probably never will be charged. Unless of course they're baseball players, in which case we have to suspend the doctrine of innocent until proven guilty in order to root out baseball's steroid problem.)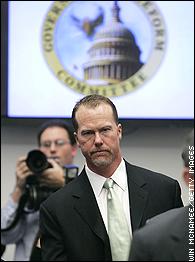 Steroids in the NFL? Come on people, let's keep our eyes on the ball.
It's also a relief that the national media haven't fallen into the trap by turning this one isolated accusation into a major scandal. Because that would divert the nation from focusing on baseball's steroid problem and if that happened, then who knows what evil would befall the nation's impressionable youth. Because that's what we're most concerned about -- the nation's impressionable youth being corrupted by baseball's steroid problem. We care about the nation's impressionable youth above all else, which is why we televise poker 24 hours a day, seven days a week.
And whew, I'm glad sports magazines haven't taken the bait and started printing cover headlines about shattered dreams and essays about how disillusioned we are by these allegations. Because those headlines and essays are reserved strictly for the fallout from baseball's steroid problem. And we need to keep repeatedly running such headlines about how disillusioned and disgusted fans are by baseball's steroid problem until spring training attendance is no longer at record highs -- as it was this year -- and Opening Day no longer brings sellout crowds and record ratings -- as it did this week.
And boy, I hope no one ever suggests placing asterisks next to any NFL records, even for those set before the league enacted its impervious testing policy. Because those asterisks are necessary only for records set during baseball's steroid problem, when players such as Mark McGwire and Barry Bonds had far more of an advantage than Babe Ruth ever did when the Bambino played in an era where there were no sliders, no split-fingers, and no blacks or Latinos.
But mostly we can all be thankful that this ridiculous football story has gotten so little attention because that would remove the spotlight from baseball's steroid problem.
After all, it is baseball -- and only baseball -- that has a steroid problem.
BOX SCORE LINE OF THE WEEK
After a miserable winter of grand jury leaks and congressional testimony, we can finally focus on what is truly important in this great land of ours the box scores. And just days into the season, we already have some doozies.
Atlanta's John Smoltz started a game for the first time in nearly four years and lasted less than he did in seven relief appearances last season. Washington native Richie Sexson played his first game for Seattle and became the first Mariner to homer in his first two at-bats. And the Red Sox rallied once again against Mariano Rivera only to see Derek Jeter rush back from a date with Lois Lane to hit a walk-off home run.
But the best early performance was by Detroit's Dmitri Young, who became the third player in major-league history to homer three times on Opening Day. His line:
4 AB, 4 R, 4 H, 5 RBI, 3 HR
The three home runs were as many as the entire Detroit team hit in its first 11 games in 2003, when the Tigers went on to lose an American League record 119 games.
LIES, DAMN LIES AND STATISTICS
With the passing of Pope John Paul II, we note that the pope appeared in at least seven ballparks -- Yankee Stadium, Dodger Stadium, Camden Yards, Olympic Stadium, Shea Stadium, Mile High Stadium and Candlestick Park. Meanwhile, Charley Walters, the St. Paul Pioneer Press' great notes columnist, reports that former Giants catcher Mike Sadek actually got a baseball autographed by the pope -- he signed it "JPII'' -- only to auction it off for $34,000. And you thought it was bad when those two guys in San Francisco fought over the ownership of the Barry Bonds ball. Sadek told Walters that he thinks the ball was purchased by "some rich Catholic guy.'' And lest we forget, the death of John Paul reminds us of one of Phil Rizzuto's most memorable lines, saying of the passing of Pope Paul VI in 1978, "Well, that kind of puts a damper on even a Yankees win.'' ...
WIN BLAKE STEIN'S MONEY
This week's category: He Had Smaller Shoes To Fill. And A Smaller Cap.
Question: Who played left field for the Giants the last time Barry Bonds wasn't in San Francisco's Opening Day lineup?
Answer: Mike Felder, who hit four home runs and drove in 23 runs for the Giants in 1992. San Francisco and fans can only hope Bonds winds up with more.
INFIELD CHATTER
"Any matter, at any time? Enron, Halliburton, WMDs, Abu Ghraib, and you went with ... baseball. Way to go.''
-- The Daily Show's Jon Stewart responding to Rep. Tom DeLay's contention that Rule 10, clause 4C gives Congress the right to hold a hearing on any matter at any time
Jim Caple is a senior writer at ESPN.com. His first book, "The Devil Wears Pinstripes," is being published by Plume. It can be ordered through his Web site, Jimcaple.com.