Single page view
By Jim Caple
Page 2
The news about Deep Throat's real identity might have caught most of the world off guard, but here at ESPN.com we weren't surprised – we already knew Mark Felt had the inside skinny on everyone.
Felt has been providing the 411 as our lead columnist on ESPN.com Insider for the past year – and, quite honestly, he puts Peter Gammons, Andy Katz and John Clayton to shame. Unfortunately, most readers aren't even aware of his amazing scoops because his monthly "Clearing My Deep Throat" column is considered Double-Secret Platinum Premium content, and to get it you have to subscribe to ESPN The Magazine and put a flag in a flower pot on your balcony in the morning. And even then, you can access it only inside underground parking garages.
But in honor of this week's big revelation, Page 2 has been given permission to print his most recent column at no extra charge. Enjoy...
*****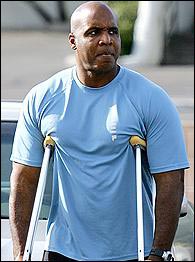 AP Photo/Ben Margot
C'mon Barry, you can put the crutches away. We know the real deal now.
It's amazing how baseball writers are still buying into the old "Knee Surgeries Are Keeping Me on the Disabled List" routine that Barry Bonds is spreading on his Internet site. Do they need a secret source in the attorney general's office to explain to them the orchestrated plan to bring Bonds down for getting too uppity? The IRS has the goods on Bonds for not reporting memorabilia income, but Bud Selig used his ties with President Bush to work out a deal. In exchange for the Commish's getting the IRS to ease up on Bonds, Barry has agreed to sit out until the steroids controversy cools down. That way, he won't have enough time left in his career to break Hank Aaron's record and baseball can avoid an ugly controversy. This is all very similar to when David Stern forced Michael Jordan to retire in 1993 to avoid a gambling scandal. But you didn't hear any of that from me ...
Unless Bonds comes back, don't expect the Giants to be a factor in the NL West this summer. Without Barry, they're dead in the water and might as well be buried with Jimmy Hoffa in the end zone of the Meadowlands. (By the way, Hoffa is buried standing up, with his arms raised as if to signal a touchdown. That's the sort of dedication to detail that you just don't see from the mob these days, what with everyone ratting out each other under the RICO act.) ...
Wait a second – did you hear a car squealing? No, I guess it was just a cat ...
By the way, Stern was way out of line for fining Jeff Van Gundy $100,000. Van Gundy was right. You don't need a source in the Chinese embassy to figure out that Mavericks owner Mark Cuban was influencing NBA referees to call more fouls against Yao Ming. It was the old 'scratch my back, scratch your back' thing – the Chinese don't want Yao to be too successful too quickly in the United States, and Cuban wants to get a chunk of the rapidly expanding technology market in China. All you have to do is follow the money. This is just like in 2003 when Stern boosted ratings by ordering referees to make sure the Lakers beat the Kings in the playoffs, and in 2001 when he ordered them to make sure that the Sixers beat the Bucks in the playoffs. Ralph Nader tried to blow the whistle, but Stern is way too powerful – or do I need to draw you a map to show why Nader couldn't get on the ballot in all the states in the 2004 election? Just keep my name out of the paper on this ...