The Robert Taylor Homes were the largest public housing project in U.S. history at the time, and they turned out to be a disaster. The original plan was not to build a crime-infested block of towers and concrete, of course, but that's how it turned out. The new plan is to build lower multi-family condos and townhomes surrounded by grass and inviting open areas "for picnics, jogging and more,'' according to the billboard at the site. The architect's drawing certainly looks attractive, and the hope is that this development will succeed where the original project failed.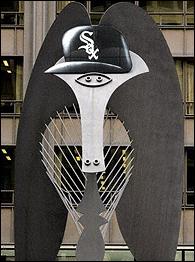 Is the Picasso statue the gateway to Comiskeyville?
"It can't be any worse,'' says 76-year-old Frank Anderson, a longtime resident of the area, proudly wearing his Sox cap.
Although signs offered World Series parking in various driveways and lots for up to $60 in Bridgeport over the weekend, that price was for spaces substantially on the west side of the Dan Ryan Expressway. They were asking $15 bucks to park in a church lot on the east side, and they weren't doing a lot of business. The streets were mostly empty in the neighborhood before Saturday's game, though a small corner grocery on Indiana was doing a brisk trade in lottery tickets and there was a Checks Cashed business open on the corner of 35th and Indiana. On the other hand, the McDonald's advertised live jazz. Wrigley Field is the heart of Wrigleyville, pumping blood into the ever-more-upscale neighborhood that doesn't so much surround the ballpark as feed off it. Down south, though, Sox fans for the most part spend their money inside Comiskey Park (the way Jerry Reinsdorf likes it) and then go home. People don't explore these neighborhoods unless they live here. Wrigleyville is a wonderful and intoxicating neighborhood, a party with a zip code. Comiskeyville is just real life.
Jim Caple is a senior writer at ESPN.com. His first book, "The Devil Wears Pinstripes," is on sale at bookstores nationwide. It can also be ordered through his Web site, Jimcaple.com.