PEORIA, Ariz. -- Cooper Brannan walked off a practice field Sunday morning and found himself facing a small group of fans seeking his autograph. This is more of reception than normal for an undrafted 22-year-old rookie minor leaguer, but then again, Brannan isn't your normal spring training hopeful.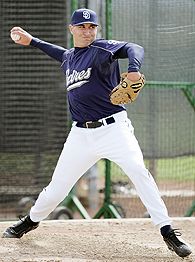 AP Photo/Elaine Thompson
Cooper Brannan is in Padres camp after serving two tours of duty in Iraq with the Marine Corps.
As teammates walked by on their way to lunch and coaches urged him to hurry lest he be fined for being late, Brannan patiently signed autograph after autograph and posed for photo after photo. He continued to pause for autographs during his walk to the clubhouse and at one point he stopped and raced back to sign for a couple of children. He signed two baseballs for a fan named Bill Sporre, inscribing each with the Marines' motto, "Semper Fi" (Always Faithful).
"I wanted his autograph because he's a Marine and that he was injured, that he was serving his country," said Sporre, a retired Navy commander whose service included the U.S. blockade during the 1962 Cuban missile crisis. "I have a daughter in Bend, Oregon, and after she read the story about him she called me and said, 'You've got to talk to this guy.'"
You may have heard Brannan's story, but this is a fitting day to repeat it. He pitched well enough in high school to interest a couple junior colleges. He enlisted in the Marines instead and served two tours of duty in Iraq. During his second tour, a grenade accidentally exploded and mangled his left (non-pitching) hand, costing him his pinky finger. After months of surgeries and rehab, he met San Diego Padres CEO Sandy Alderson this winter. A former Marine, Alderson offered Brannan a tryout and an invitation to minor league spring training. He is pitching in the Padres camp and will sign with the club when the Marines formally discharge him at the end of the month. He'll pitch somewhere in the low minors this season.
When Brannan walked though the major league clubhouse one day, Padres closer Trevor Hoffman said he rushed over to shake his hand "and thank him for his service and what he's done."
Of course, thanking Brannan and other soldiers is literally the least we can do. Sadly, it also is pretty much all we do.
Today marks the fourth anniversary of the war in Iraq. More than 3,200 American soldiers have died, and more than 23,000 have been wounded. Unknown thousands of Iraqi citizens have died. Countless lives have been ended or ruined.
Whatever your feelings on the war, whether you agree or disagree with it, this much is undeniable: The American cost of the war (which is completely separate from the incalculable Iraqi cost) is being borne almost entirely by the soldiers in Iraq and their families at home. This war, we are told, is of supreme importance to the nation's security and the future of the Middle East. Yet almost none of us are being asked to sacrifice a single thing for it. We're not asked to drive less to reduce our dependence on foreign oil, nor give up so much as a tax cut.
While we score our NCAA brackets and lather on the sunscreen at spring training, the only Americans sacrificing a damn thing are the soldiers such as Brannan and their families. And they are sacrificing far too much.
"I am really upset about it," Sporre said. "First, they were sent over there to Iraq without enough equipment, and then they didn't have the proper armor for protection. And then when they came back, we sent them right back over there again.
"Here we are enjoying ourselves in spring training and those kids -- and they're not all kids -- are over there waking up and wondering whether they're going to get a leg blown off or be killed. And when they get home, they aren't getting cared for in the right way. It's very upsetting. This is not the way it should be. It's not fair. It's not fair at all."
Reporters pressed Brannan for his story earlier this spring, and he understandably grew tired of repeatedly reliving his injury. He very politely and respectfully declined to comment for this column Sunday. He said he doesn't open up much to people he doesn't know, adding only that he enlisted out of a sense of duty following 9/11.
"I wanted to serve my country," he said.
I remember the day the war started. I was at spring training, where the Mariners were packing for a trip to Tokyo for a season-opening series against the Athletics. Baseball officials said the series would go on as scheduled despite the likelihood of war, but as the hours ticked away toward the deadline it became increasingly obvious that the trip would be postponed. The official decision to cancel the series was made in the afternoon, and it was the proper one. When our nation was launching a war, it felt wrong to fly to Japan to play a couple of baseball games.
That feeling, however, faded quickly and we all went about our lives as if nothing was different, as if nothing had changed. And indeed, for the vast majority of us nothing has changed during the war.
And so, this fourth anniversary of the war will be observed the same way most of the previous 1,460 days have been. I'll interview millionaire baseball players about their swings, you'll compare NCAA brackets at the office and we'll all laugh and drink and stuff ourselves with pizza and hamburgers and enjoy our friends and families and plan vacations and drive our SUVs with the U.S. flag decals and watch TV highlights and talk about the subjects that matter most to us: our fantasy league teams, "American Idol" and whether Britney Spears is wearing underwear.
And meanwhile in Iraq, two more American soldiers and a couple dozen Iraqi civilians will probably die.
Semper Fi, America.
Jim Caple is a senior writer for ESPN.com. He can be reached here. His Web site is at jimcaple.net, with more installments of "24 College Avenue." His new book with Steve Buckley, "The Best Boston Sports Arguments: The 100 Most Controversial, Debatable Questions for Die-Hard Boston Fans" is on sale now.