SCRANTON, Pa. -- And I thought I was beat.
Summer on the Susquehanna
I was in San Francisco for Barry Bonds' 754th home run Friday night, left the ballpark shortly after midnight and discovered that my rental car's battery was dead. After a couple of Giants fans jump-started my car, I drove to the airport, checked into a hotel, slept for two-and-a-half hours and caught a 6:15 a.m. flight to Albany (with a connection through Atlanta). I drove from Albany to Cooperstown after that and spent Saturday night on a couch. I covered the Hall of Fame induction ceremony on Sunday, then drove to Scranton, finished the first story in my Susquehanna River sports tour around 4:30 a.m. and went to bed at 5.
So yeah, I was feeling a little tired when I woke up on Monday. And then I met Steve Rockwell in the hallway outside my hotel room.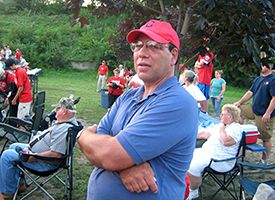 Jim Caple/ESPN.com
Here's Steve Rockwell, the head of the Canton Little League program.
Rockwell is the president of the Canton, Pa. Little League program. Their junior league all-star team (ages 13-14) had been playing in the loser bracket of the Pennsylvania state tournament over the weekend. They had two potential games on Monday. If they won the first one at 5:30 p.m., they would play again at 7:30. But if they lost, they were done. So the question of the moment was whether the parents should check out of the hotel or not -- something several of them had done the previous two days, only to check back in after the team won to advance to play another game.
"We think our $80 a night rate went away today so some guys are moving to a less expensive place," Rockwell said. "Some rooms have five or six people staying in them. I tell you, it's strained some marriages. I come walking down the hall and every couple was arguing. And it was all over silly little stuff."
How much had the weekend cost them? "Let's see," Rockwell said. "The rate was $80 a night and we were here Friday and Saturday and … what day is today? Monday? It seems like we've been here two weeks."
I would call this "tournament season" in America, but there are so many travel teams and youth leagues nowadays that every week of every month is tournament season. Williamsport plays host to the annual Little League World Series next month, just up the west branch of the Susquehanna River from here. The Cal Ripken World Series will be played down the Susquehanna in Aberdeen in a couple weeks. Plus there are all the other tournaments for Babe Ruth, Bambino, Connie Mack and for all I know, Carl Pavano league baseball.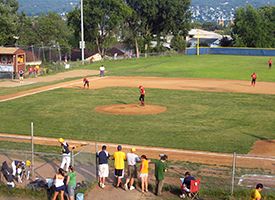 Jim Caple/ESPN.com
And there's the Canton team, in the field.
Thus, all over the country, families are breaking fire-safety codes as they pack themselves so tightly into motel rooms that they can't open the Gideon Bibles.
Covering the tournament here was quite a change from how I spent the previous three days -- covering Bonds in San Francisco, followed by Cal Ripken Jr. and Tony Gwynn at the Hall of Fame. But it was a nice change. Spend too much time around the majors and you forget that baseball is played and followed passionately at all levels. It was also a good reminder that anyone who ends his career in Cooperstown begins it playing in leagues where the players wear brightly colored T-shirts and the parents pass the hat to pay the team expenses.
"Have you ever met any major-league players?" 13-year-old infielder Ryan Ball asked me.
Sure, all the time. I just talked to Ripken at the Hall of Fame. And I talked to Bonds last week in San Francisco.
"How do I get your job?" Steve Rockwell's son, Marty, asked me.
Wish I could tell you. Hey, I don't know how I got it.
Ball says he's rooting for Bonds to break Hank Aaron's career home run record, and he isn't bothered that Bonds might have used steroids. "A-Rod is going to beat them all, anyway," he said.
How do you know A-Rod doesn't take steroids?
"Because I like him."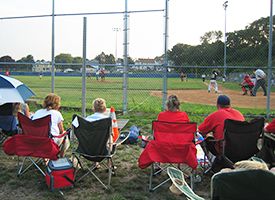 Jim Caple/ESPN.com
Can't beat the view you can get from behind the plate at a Little League game.
That was about as honest a response to the steroid question as I've heard. Everyone always says they're against steroid use on general principle, but they usually accept it or deny the possibility when it involves a favorite player or team. We usually give players a free pass on the steroid issue because we like them or they play for our team. As my editor asked me on Monday, "Which would a fan rather have, a player on his favorite team use steroids to get better or get fat and not be able to play?"
Canton is a town of approximately 2,000 inhabitants in the dairy-farming area of northern Pennsylvania. It has one traffic light, and no McDonald's (although there is a Wal-Mart 30 miles away). The community fielded one junior Little League team with a 14-player roster this year. From that, they picked an all-star team of 10 players (the tournament minimum). They didn't even have their own diamond to practice on because the town is replacing the old one.
"One guy with another team said they came from a small town," one of the Canton fathers said. "I asked him how small and he said, 'About 20,000 people.' I told him we had about 2,000 and he said, 'I guess we're not from a small town.'"
And yet this team of 10 reached the state tournament. Along with all the expenses and challenges that come with it. Just finding the tournament ballfields, scattered around Scranton, required sending a couple fathers out on scouting missions in the mornings.
"The last couple days, there has been a lot of, 'I don't know if I called up my boss to see if I can have an extra day off,'" Rockwell said. "It's not that we didn't think they could win, but we weren't really prepared for it. I hope no one loses their job over this."
Canton lost 5-4 on Friday night, thus entering the loser bracket. But they won on Saturday and again on Sunday to keep their tournament hopes alive. On Monday evening they played Old Forge, which had a player who was so tall and broad he could play linebacker for Joe Paterno. "Yeah, like he's really 14," a player on another team said. "He probably drove himself here."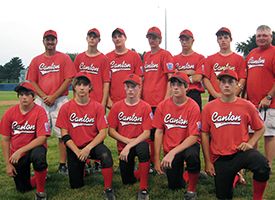 Jim Caple/ESPN.com
If the guys look a little glum, that's because this shot was snapped after they were eliminated. But they'll bounce back quickly.
Several rows of Canton parents, grandparents, siblings, aunts and uncles lined the backstop in their folding chairs. They ate sandwiches and watermelon from their well-stocked Tupperware containers and cheered on the team. "These kids are like sons to me," said Jim Ross, whose son Cody is on the team and who has coached many of the players since they were seven years old.
The game was close, with the lead changing hands four times. There were some nice plays, some diving attempts, and more than a few errors. When Old Forge attempted the hidden ball trick, the Canton fans hooted "nice try," with one father yelling, "we may be from the hills but we're not stupid."
Old Forge eventually rallied for three runs in the sixth inning and then held off Canton for a 6-5 victory. Canton's season ended when Kyle Thompson hit a sharp line drive right at the center fielder, with Ball in the on-deck circle. Canton finished fourth in the state, quite impressive for a team with 10 players.
And if there were any overbearing, over-the-top parents, I didn't hear them. If there were any tears after the loss, I didn't see them. There were some long faces, but they wouldn't last. I asked Thompson how long it would take to get over the loss. He answered, "As soon as I get home."
Hey, he had more important things to think about. Football practice begins next week.
Jim Caple is a senior writer for ESPN.com. He can be reached here. His Web site is at jimcaple.net, with more installments of "24 College Avenue." His new book with Steve Buckley, "The Best Boston Sports Arguments: The 100 Most Controversial, Debatable Questions for Die-Hard Boston Fans" is on sale now.