Major League Baseball officially downgraded Bud Selig's effort to watch Barry Bonds break Hank Aaron's career home run record from "Herculean" to "Kuhn-esque" after the commissioner decided to return to his Milwaukee home Sunday evening rather than follow the slugger to his next series in San Francisco.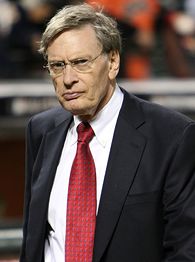 Jed Jacobsohn/Getty Images
Notably, Selig didn't applaud on Saturday night. But did anyone expect him to?
Selig described his own efforts last week as "Herculean," but after a preliminary investigation by the Mitchell commission, the league ruled his efforts actually were "fairly routine" and "not really worth mentioning."
"In his famous 12 labors, Hercules slew the Nemean Lion, cleaned the Augean Stables in a single day and killed the Lernaean Hydra -- all Bud did was go to some baseball games," said an MLB source who requested anonymity. "By our count, he went to 11 of 16 games -- and three of those games were in Milwaukee, where he always goes to the games anyway. Plus, he has a private jet to fly him around, so it's not like he has to deal with taking his shoes off at security or sitting in a middle seat having to watch 'You, Me and Dupree.'"
Further, the official noted, when Bonds tied Aaron's record, "Bud didn't even attempt an insincere smile or to clap unenthusiastically. He just stood up, stuffed his hands in his pockets and looked like he'd eaten a bad bratwurst. Quite frankly, Roger Goodell and David Stern looked more upbeat discussing Michael Vick's dogfighting charges and that referee who [allegedly] shaved points. Hell, for that matter, Bowie Kuhn looked more upbeat -- and he's been dead for five months."
When Kuhn was commissioner, he was present when Aaron tied Babe Ruth's record in 1974, but he failed to attend the record-breaking game, citing "previous engagements." The MLB official said equating Selig to the former commissioner with the "Kuhn-esque" classification was fair and appropriate.
"We considered a whole range of possibilities," he said. "Some suggested that the way Bud keeps flying home in between series is 'Clemens-ish.' Others said the way he is abruptly bailing on the home run chase is 'Hargrove-ian.' A couple guys in the Chicago office said his paltry contribution to the occasions and his weak-ass official statements were 'Prior-i-tizing.' And one guy even wanted to drop his efforts all the way down to 'Pavano-like.' But that seemed a little extreme."
Jim Caple is a senior writer for ESPN.com. He can be reached here. His Web site is at jimcaple.net, with more installments of "24 College Avenue." His new book with Steve Buckley, "The Best Boston Sports Arguments: The 100 Most Controversial, Debatable Questions for Die-Hard Boston Fans," is on sale now.