How much could Barry Bonds' 756th home run ball bring at auction? A couple hundred thousand dollars? Half a million dollars? A million? More? Whatever the amount, Brian Herman won't receive it.

But boy, he came close. So close the IRS may audit him anyway.
Think about the lost opportunities you regret in your life. That massive crush you never acted on in high school, only to find out at your 20th reunion that the crushee had a serious thing for you as well. ("And the thing was, I was soooo ready to lose my virginity, too. But enough about high school and my days modeling for Victoria's Secret and my stock options with Google -- tell me about your spouse and six kids and what it's like to work at Wal-Mart.") That pitch down the middle of the plate you let go by for strike three to strand three runners and end the state tournament. That 1952 Mickey Mantle card you left with your mother for safekeeping. Whatever those regrets, Herman has them beat. He was one of the people who had a chance at the Bonds ball. He even had his hand on it.
"If I had a baseball glove, I would be rich," he said.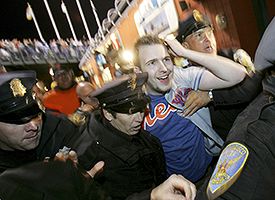 AP Photo/Brant Ward
Matt Murphy of New York wound up with the No. 756 ball -- after it deflected off the hand of another fan and into a scrum.
Herman and friends Scott Johnson, Fergal Flanagan and Tsan You went online and bought tickets in the center-field bleachers to Tuesday's historic game for $60, made a pact that if one of the four caught the historic baseball they would divvy up the profits equally, then piled into their car for the drive to San Francisco from their homes in Sacramento.
"We're leaving Sacramento and Tsan has three gloves and he asks if anyone wants one," Herman said. "And I'm thinking that if Bonds is going to hit it, I'll catch it with my bare hand."
Hey, it worked for Kevin Mitchell.
So anyway, there the four were in the fifth inning, watching Barry dig in for a 3-2 pitch from Nationals pitcher Mike Bacsik. Bonds swung and all of a sudden the baseball was rocketing directly toward them. All those possible places Bonds could have hit the ball -- the left-field bleachers, the standing-room sections, McCovey Cove, Oakland -- and it was coming their way! Herman is an athlete -- he was a center for Sacramento State's football team -- so he not only was ready to catch the ball, he was ready for any fans trying to steal it away in the post-catch scramble.
He reached out as the ball sailed so close he could practically read the commissioner's signature … only to have it glance off his left index finger amid the rush of fans and land a couple yards away. A Mets fan passing through San Francisco on his way to Australia wound up with the ball while Herman wound up with a possible broken finger.
And you think Steve Bartman feels bad about dropping a lousy foul ball?
Actually, Herman said he initially thought the ball broke his finger, but it was feeling better by the time I reached him the next inning. By then he and his friends were cursing their fates.
"I'm so @#$& upset," Johnson said, beating himself up for not catching the ball either. "God, I'm so mad. Catch the ball ... Dammit! I didn't even see it coming. Everyone started coming over the top of me in a big wave and I ended up inverted."
"How do you think I feel?" Herman said. "It hit my finger!"
How does Herman feel? I can only imagine. It's almost like leaving a winning lottery ticket in your pocket when you wash your clothes.
On the other hand, it was hardly a Buckner-like error. For one thing, it would have been a helluva catch under normal circumstances, let alone with a tsunami of fans crushing him and reaching out for the ball, too. For another thing, well, Buckner had a glove.
Still, Herman has a great story to tell. And at least he can say he had his finger on baseball history, which is more than the rest of us can say.
"That's life, I guess," he said. "I'm just happy I touched it."
Besides, look at it this way. The ball may not sell for that much money, and the government would have taken a good chunk of it anyway. And Herman had three others to share the rest with. And he's 25. He's young. He probably would have just blown the money on something stupid.
Plus, you never know. Opportunity may knock again. After all, Alex Rodriguez is only 256 home runs away from Bonds. When A-Rod becomes the new home run champ in eight or so years, Herman could always be in the bleachers for that game.
And if he is, you can be damn sure he'll have a baseball glove.
Box score line of the week

You may have read that the Cardinals tied a major league record Monday night with 10 consecutive hits. What you may not have read is that they didn't really do it. That's because they had a walk in the middle of those hits, which, the way Off-Base sees it, is simply not the same thing as getting 10 hits in a row. St. Louis did, however, have 12 consecutive batters go to the plate and not lower their batting average (the 10 hits, plus the walk, plus David Eckstein's sacrifice fly), which is pretty darn impressive. Even more impressive is that not only did starting pitcher Braden Looper have two of those 10 hits, he did so while batting eighth in the order.
Still, this week's award goes to Chipper Jones for a performance that actually happened two weeks ago while Off-Base was on hiatus during the Susquehanna River tour. It may be a little old, but it's too good not to recognize. Chipper's line:
1 AB, 0 R, 1 H, 5 RBI
Yes, five RBIs and only one official at-bat, which is not easy to do. For the record, Chipper had two sacrifice flies and a three-run double. Thanks to the readers who wrote in with this one.
Tell your statistics to shut up

For those scoring at home, since Rodriguez went deep for the first time in the majors (June 12, 1995), he has outhomered Bonds 500-488. …
Infield chatter

"Barry Bonds Not Certain He'll Be Present For his 756th Home Run"
-- headline on theonion.com
Jim Caple is a senior writer for ESPN.com. He can be reached here. His Web site is at jimcaple.net, with more installments of "24 College Avenue." His new book with Steve Buckley, "The Best Boston Sports Arguments: The 100 Most Controversial, Debatable Questions for Die-Hard Boston Fans," is on sale now.
756: BONDS PASSES AARON

Barry Bonds passed Hank Aaron to become Major League Baseball's new all-time home run leader when he belted No. 756 off Washington's Mike Bacsik.

NEWS
• Steroid talk kept Aaron away
• Bonds' No. 756 ball fetches over $750K in auction
• Mark Kreidler: No. 756 ball: Going, going... sold?
• Bids begin for Bonds' No. 755 and 756 HR balls
• Bonds handed key to city in San Francisco tribute
• Fan putting 756 ball up for auction
• Bonds hits No. 756
• Photo gallery of No. 756
• Diamond Daily: Ascending the throne
• New York man catches ball
• Bush called to congratulate Bonds
• Sadaharu Oh congratulates Bonds
• Selig meets with Mitchell instead
• Attorney keeping Bonds apprised of BALCO
• Action figures ready to hit shelves
• Aaron might "eventually" speak to Bonds
• Bonds gear goes on display at Hall
• Record-tying ball set for auction block


ANALYSIS
• Rob Neyer: Who's chasing Bonds?


• Keith Law: Up-and-coming sluggers


• Buster Olney: No comparing Bonds


• Rob Neyer: Don't forget Aaron's greatness


• Jim Caple's Off Base: Simply regret-a-ball
• Eric Karabell: Bonds' fantasy value


• Jim Caple: Aaron passes torch to Bonds
• Gene Wojciechowski: Barry has broken record
• Experts: Bonds as the new HR king
• Amy Nelson: How much will the record ball fetch?
• What they're saying about Bonds
• Tim Kurkjian: What if ...
• Jim Caple: Joining the masses in hopes of 756
• Eric Neel: Long-awaited No. 755 is one to savor
• Debate: Who's the greatest slugger of all time
• Imagine Sports: How would Aaron fare today?

SPORTSNATION
• Rank: Who could break Bonds' record?
• Poll: Do you consider Bonds the real HR champ?
• Rank: Is it the most respected sports record?
• Rank: Who are the greatest all-time HR hitters

VIDEO


• Watch Bonds hit No. 756
• Bonds on finally hitting No. 756
• Bonds still has more baseball in him
• Mike Bacsik on giving up No. 756
• Kirk Rueter on Bonds' achievement
• Hall of Fame case for Bonds
• Baseball Tonight breaks down No. 756
• Dusty Baker talks about Bonds
• Bonds speaks after breaking record
• Bonds: "The hardest part is over"
• Baseball Tonight: Is an asterisk needed?

AUDIO


• Baseball Today: Giants GM Brian Sabean
• Pedro Gomez: Bonds' record chase
• Mike Bascik Jr./Sr: Father, son on No. 756

• Buster Olney: Bonds is greatest of his time

• Bob Costas: Record handled with class

• Peter Gammons: Selig's eerie message

• Fay Vincent: Bonds' record was exciting

• Ernie Harwell: Accept Bonds as the new king


SPECIAL FEATURES
• Beyond 756 page: Everything on Bonds
• Milestone Meter: From 756 to 300 to 3,000
• ESPN.com: The Best On Bonds
• Slideshow: Reliving Hank Aaron's No. 715

PRE-755 CONTENT
• Jerry Crasnick: Ready to make the call
• Jayson Stark: Kuiper's the anti-Bonds
• Jim Caple: Bonds feeling no pressure
• Tim Kurkjian: Victims of landmark home runs
• Bonds' Town Hall: Did Bonds use steroids?


• Bonds' Town Hall: Did anyone know?


• Bonds' Town Hall: Media witch hunt


• Brokaw: The Long Winter of Henry Aaron

• Beyond 756: Chat with Amy Nelson
ESPN Top Headlines