Cheer up, Seattle fans. I know, the Mariners are so awful they used a third-string catcher as their pitcher in a key situation last week. And the Huskies haven't gone to a bowl game in years. And the Sonics were stolen by Oklahoma tycoons, who added insult to injury by blaming your supposed lack of support. Your past year has been pretty much the anti-Boston experience. Still, it could be worse.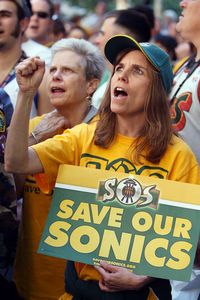 AP Photo/Kevin P. Casey
It's hard not to feel sorry for Seattle fans right now.
In fact, it was. Back in 1969-70 you also lost a major league team, and the Huskies stunk and you still were seven years away from getting an NFL team (details below). Besides, look at it this way. The Sonics' departure leaves you with one fewer last-place team to endure.
Last month we ran our list of the 10 best sports years cities have enjoyed. This time we're giving you the 10 worst years cities have suffered through. Again, some ground rules are in order:
• Tiger Slams Still Count: With overlapping seasons, a sports year is hard to determine. Does it begin the morning your team's pitcher shows up to spring training fat, out of shape and with his arm in a sling, or the day you soundly boo the team's first-round pick? Does it end the day your team was mathematically eliminated from contention, or the day you started wearing a paper bag over your head? This is our rule: Any 365-day span of sports misery counts.
• No Crying In Your Champagne: Yes, heartbreaking playoff losses count, but not nearly as much as last-place finishes. Face it, the end of the 1986 season might have been agonizing for Red Sox fans, but Mariners fans would gladly have changed places for just the chance to feel that awful.
• Losing A Team Is Worse Than A Losing Season: Is there anything worse than paying pain-inflicting money for tickets to watch a team lose game after agonizing game? Yes -- not having the opportunity to pay top money for tickets to watch a team lose game after agonizing game because the team moved.
Also, as before, the list is limited to the Super Bowl era.
OK. Enough prelims. Let's get on with the agony.
ALSO-RANS
Kansas City, 1985-86
So, how do you rank this one? In the span of 365 days, the city lost its NBA franchise (the Kings played their final game there) and the Chiefs finished in last place. But in between, the Royals won their one and only world championship behind George Brett and Bret Saberhagen. All KC fans can say is, thank god for Don Denkinger.
St. Louis, 1988
The baseball Cardinals went from losing in the World Series in '87 to just plain losing in '88, posting a 76-86 record. Meanwhile the football Cardinals moved to Phoenix. This year would have been worse if not for the fact that the football Cardinals have absolutely stunk for two decades while the Rams later moved to St. Louis and won a Super Bowl.
Detroit, 2001
The Tigers finished 30 games under .500 in a season that would be remembered as "the good old days" two years later when they lost 119 games. The Lions won only two games. The usually reliable Pistons were 32-50. And though the Red Wings made the playoffs, they were upset in the first round.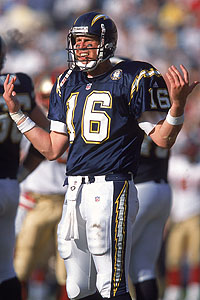 Stephen Dunn/Getty Images
San Diego fans surely still cringe at the sight of Ryan Leaf.
San Diego, 2000
Under normal circumstances, the Padres finishing 20 games under .500 and last in their division while the Chargers went 1-15 would be considered a bad season -- but not historically so. Bear in mind, however, that Ryan Leaf was the Chargers' quarterback, which lowers everything to a truly abysmal level.
THE BOTTOM 10
10. New York, 1987
One benefit of being a sports fan in New York is that there are so many teams, it's almost certain one will have a good season. The flipside is that with so many teams, some are guaranteed to lose. And in 1987, boy, did they lose. Following up a 1986-87 year in which the Mets won the World Series and the Giants won the Super Bowl, five of the local teams finished in last place (the Knicks, Nets, Jets, Giants and Devils). This is what the rest of the country refers to as "the good old days."
9. Buffalo, 1977-78
Yes, the Sabres made the playoffs, but they lost in the second round. The Bills, meanwhile, went 3-11 and finished in last place. And the (NBA) Braves went 27-55, won just one of their final 13 games and then moved to San Diego. Then again, who could blame them? They averaged just 6,157 fans that season.
8, San Diego, 1971-72
The Padres lost 100 games and finished in last place for the third of six consecutive seasons. The Chargers had a losing record (6-8). But the worst part was when the Rockets moved to Houston, which not only cost the city a franchise, it paved the way for the Clippers.
7. Cleveland, 2003
Since a Cleveland team hasn't won a major championship in more than four decades, there are plenty of years from which to choose. We picked 2003, when the Indians -- just two years removed from the playoffs -- lost 94 games and missed last place only because of the presence of the Royals in the AL Central. The Browns were 5-11, good for last place. And the Cavs went 17-65, finishing last in their division. On the other hand, some kid named LeBron had a decent season in high school.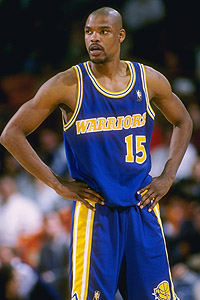 Todd Warshaw/Getty Images
Ah, Spree from many, many years ago -- pre-choke.
6. Oakland, 1997-98
The Athletics lost 97 games and finished in last place -- but much worse, they traded Mark McGwire for the immortal T.J. Mathews, Eric Ludwick and Blake Stein. The Raiders went 4-12 and finished tied for last as well. And the Warriors responded to a last-place season by winning just 19 games and enduring one of the most shameful moments in NBA history when Latrell Sprewell choked coach P.J. Carlesimo in a rage during practice.
5. Miami, 2007
The Marlins were 20 games under .500, which was fantastic compared to the rest of Miami's teams. The Hurricanes went 5-7, lost their final four games, got shut out 48-0 by Virginia and didn't make a bowl game. The Dolphins won only one game, while the Heat won only 17, giving those two teams as many victories combined as the New England Patriots (counting the playoffs).
4. Seattle, 2007-08
The Seahawks went 10-6 and won a playoff game before losing to the Packers in a blizzard. But other than that, the past year has been awful. The Huskies finished last in the Pac-10 in football and eighth in basketball. The Mariners, despite a $117 million payroll, opened this season and immediately sank into last place. The Sonics went 20-62 and finished in last place. And then those carpet-bagging, double-speaking businessmen moved the Sonics to Oklahoma after 41 years in Seattle. (Not that we're bitter or anything.)
3. Minneapolis, 1993
The Twins -- just two years removed from winning the World Series -- finished 20 games under .500, the first of an eight-year stretch in the wilderness of losing seasons. The Vikings went 7-9. And the Timberwolves were terrible again, going 19-63 for the third of five consecutive 60-loss seasons, prompting the firing of coach Jimmy Rodgers. But the worst season of all was submitted by the North Stars, who finished fifth in the Norris Division and then moved, choosing Dallas as a better city for a hockey team than Minneapolis.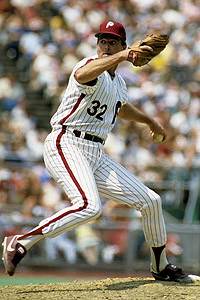 Edwin Mahan/Getty Images
Steve Carlton was the lone bright spot during a nightmarish sports year in Philadelphia.
2. Philadelphia, 1972-73
The Sixers lost an NBA-record 73 games -- losing their first 15, their final 13 and winning consecutive games only once. The Phillies lost 97 games and finished in last place as well, and it would have been much worse had Steve Carlton not won 27 games with a 1.97 ERA. The Eagles were 2-11-1 and failed to score a touchdown in five games. The Flyers were 26-38-14, fifth in their division. Add them all up and Philadelphia teams lost an astonishing 82 percent of their games. They won 94 games overall, or fewer than the Phillies did by themselves last season.
1. Seattle, 1969-70
What began with such promise ended disastrously. The Pilots became Seattle's second big league team. But in a harbinger of things to come, they traded away Lou Piniella in spring training (for John Gelnar, who lost both ends of a doubleheader the day Neil Armstrong walked on the moon) and wound up in last place. The Washington Huskies football team had perhaps their worst season ever, going 1-9 amid racial tension that saw black players boycott the UCLA game over charges of discrimination by coach Jim Owens. The Sonics, meanwhile, went 30-52 and finished next-to-last. And then to cap it all off, Bud Selig took the Pilots and moved them to Milwaukee at the end of spring training after season tickets had already been sold in Seattle. The hijacking occurred so late that the equipment vans leaving spring training didn't know which city was their destination.
Editor's note: Thanks to Jeff Merron for a previous Page 2 list on this subject.
Jim Caple is a senior writer for ESPN.com.