For years, George Hickman has worked what surely is one of the most thankless part-time jobs in sports: serving as a ticket taker/usher/guard in the student section at a college football stadium. His responsibilities at Seattle's Husky Stadium have included helping carry out out students who were too drunk or stoned to leave on their own -- which, given that they were in college, was not that rare an occasion.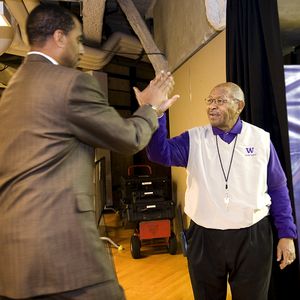 Rod Mar for ESPN.com
George Hickman, at right, might be telling Washington men's basketball coach Lorenzo Romar, "You never know what's coming."
Of course, Hickman is a good man for impossible jobs. He grew up in St. Louis during the Depression, where he watched planes cross the sky and dreamed that one day he would fly one. That was hardly a realistic dream for any child during the Depression, let alone a black child. Yet he did fly as one of the famed Tuskegee Airmen in World War II, earned a degree from Bradley University, worked in engineering training instruction at Boeing for 30 years -- he'll gladly explain the mechanics behind the fuel distribution system and the flexed-wing design of the B-52 bomber if you have a spare minute or an hour -- and eventually was awarded a Congressional Gold Medal for his military service.
On Tuesday, Hickman will be in Washington with his fellow surviving Tuskegee veterans to watch the inauguration of Barack Obama, by special invitation. He had the invitation in his pocket during a recent Huskies basketball game in Hec Edmundson Pavilion -- where, despite his 84 years, he continues to work each game, greeting coach Lorenzo Romar and the basketball players as they take the court.
"He is a guy that is selfless. He is always trying to lift someone else up," Romar said. "He's a great example of someone if you give of yourself, you get it all back."
When some University of Washington staffers learned that Hickman's invitation to the inauguration did not provide for transportation costs, they took up a collection. Then one day, they called him away from his desk at the Husky Legends Center and brought him upstairs, where several dozen employees crowded around to see Romar surprise him with the gift.
"You are always trying to help people in your own way. And that's why these people are all here," Romar told him. "We all appreciate it, and appreciate who you are and how you are. We know that you have accomplished a lot, and you never put [those accomplishments] out there -- that's just not your way. We understand what you've done and we also understand that you are taking a trip. Well, a collection was taken and we came up here with a little something to help you out."
Romar then handed Hickman an envelope containing $2,100. For once, Hickman was left nearly speechless. But he recovered quickly, thanking everyone and imparting some wisdom from a long and fulfilling life.
"I treat people the way I like to be treated," Hickman said. "I say, 'Hello, how do you do?' I want you to do that too. Say, 'Hello,' and, 'How do you do?' Treat people friendly because you never know what's coming. And I want each and every one of you to be the best you can be."
It's a simple enough creed, and it has served Hickman well.
Hickman graduated from high school in 1943 and, due to his lifelong love of airplanes, joined the Tuskegee Airmen, the African-American fighter group in the Army Air Corps that provided escort on bombing runs. My father, who served as a navigator on a B-24 in the 455th Bomb Group out of Italy, says that because of segregation, they never saw the Tuskegee Airmen until they were on a mission, at which point the crews always were delighted to see them. The Airmen risked their lives to protect the lives of others.
Yet when the Tuskegee Airmen returned to base, they returned to a segregated military. And when they returned home from the war, they returned to a segregated society.
When I asked Hickman how he squared the two -- fighting for a country that didn't provide him with equal rights -- he said that you can't dwell on what you can't change. "You feel hurt but you can't live in hurt," he said. "You can't live in fear. You can't live mad or angry. You can't live with a chip on your shoulder. You have to have some time that you can laugh and enjoy and feel good about who you are and what you are about. If you don't, you just drift away and drift away."
Hickman says that when he was in college a beautiful white sorority girl took a liking to him and sent a letter through a friend asking whether he would be inclined to ask her on a date. Being a couple of years older and many years wiser, and having seen racism firsthand, Hickman knew a biracial relationship would not be tolerated in early post-war America, so he turned her down.
A decade or so later, racial attitudes hadn't changed much in the U.S. But they had changed enough that a young Kenyan man and a white American girl met, dated and married. And because Barack Hussein Obama and Stanley Ann Dunham did so, Barack Obama entered the world and now is about to become our nation's first African-American president.
Hickman will be there to see it happen. His grandmother was born into slavery. His father fought in a segregated unit in World War I (and carried three bullets in his leg the rest of his life). George also served his country in a segregated military. But on Tuesday, he will see a black man become president.
You never know what's coming.
As a boy, Hickman was able to look up at the planes in the sky and somehow see himself flying far beyond his segregated neighborhood. But not even he could see how far he would truly fly, or how far America's horizons would eventually stretch.
Jim Caple is a senior writer for ESPN.com.