The World Baseball Classic starts this week. Have you filled out your office bracket yet?

The WBC has yet to generate the same buzz in America as it has abroad -- Japan published at least a dozen books about its 2006 championship -- but I like the tournament for a couple of reasons.
1. The WBC combines two passions: baseball and international competition.
2. Anything beats the monotony of watching another Cactus League game while pitchers run along the warning track in their underwear during the sixth inning, then tell reporters their arms feel good.
Other fans aren't as enthusiastic about the WBC, in part because they worry that it hampers their favorite major league team's preparation for the season and fear that one of its best players could get hurt. This is a reasonable concern, although the last time I checked, players get hurt all the time in spring training anyway. Just this weekend, Brewers pitcher Braden Looper missed his turn in the rotation because he sneezed too hard.
Although some pitchers, such as Jake Peavy and Dontrelle Willis, struggled after the 2006 WBC, others did not. Johan Santana pitched in the first WBC and went on to win the Cy Young Award that season. Daisuke Matsuzaka pitched brilliantly in the WBC, a performance that no doubt helped him get his staggering contract the next winter. He also went 17-5 with a 2.13 ERA later that summer with the Seibu Lions.
Sometimes, injuries just happen. As Adrian Beltre told reporters before the Seattle Mariners banned him from playing in the WBC because of health worries, "I still probably have the same chance to get hurt here as I do there. It [would be] just a matter of bad luck."
Another drawback for the WBC is the timing. No one is in midseason form this early, so the level of competition isn't as high as it could be. Colleague Jayson Stark makes a strong case for holding the preliminary rounds in March and the final rounds in July in place of the All-Star Game (which is steadily losing relevance). That sounds good, but why stop there? Here are other ways to improve the WBC: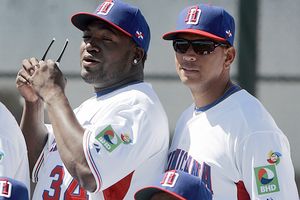 AP Photo/Jeff Roberson
Perhaps Alex Rodriguez should be playing for the USA … and perhaps David Ortiz should be playing for Red Sox Nation.
1. Check the passports and show us the 1040: I don't have a problem with Alex Rodriguez's playing for the Dominican Republic this year. What is more troublesome is how A-Rod played for the United States in the previous WBC but will play for the Dominican Republic in this WBC with no apparent change in his citizenship.
Rodriguez is eligible to play for the D.R. because of dual citizenship (his parents are Dominican, and he lived there for a few years as a child) and he's not the only American playing for other countries (without any criticism). The Hairston brothers, Scott and Jerry Jr., are playing for Mexico because their grandmother is Mexican. Frank Catalanotto of the Texas Rangers will play for Italy because his great-grandfather was born there. MLB.com's T.R. Sullivan quoted Catalanotto as saying, "It's a reach."
In international competition, athletes often qualify to compete in the Olympics for countries other than where they were born or live based on their ancestry. (Milorad Cavic, the Serbian swimmer who nearly beat Michael Phelps in the 100-meter butterfly at the 2008 Olympics in Beijing, was born and raised in Southern California.) I'm not opposed to this system, particularly in the Olympics. But if the main point of the WBC is growing the sport and showcasing baseball's popularity around the world, it would be nice to see, you know, actual citizens of the countries where the game supposedly is growing. Italy won't win anyway, but I would be more interested to see where a team of true Italians stacks up than to watch the likes of Catalanotto, Nick Punto and Dan Serafini on the field. I mean, Dan Serafini? It was bad enough watching him when he was with the Twins more than a decade ago. Do I really have to see him again?
How do you keep players from using the ancestral loophole? Easy. You can play only for a country to which you pay income taxes. That, I assure you, will solve the problem overnight.
2. Regional flavor: Why is "Slumdog Millionaire" so entertaining? Partly because it gives us a peek at a different world from ours. The WBC should follow that example, not by exploiting the unfortunate lives of India's destitute orphans, but by giving us a taste of each country in the tournament.
For instance, when Australia scores, it should send out an Australian Rules Football referee to dramatically signal the run.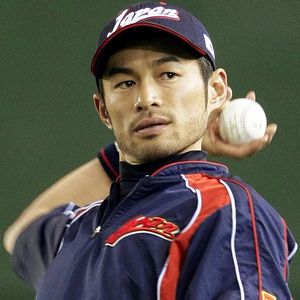 AP Photo/Shizuo Kambayashi
Heck yes, we want to see Ichiro pitch!
3. Let Ichiro pitch: Ichiro, who wants to pitch in a game sometime in his big league career, threw from the mound in early workouts with the Japanese team before the killjoy Mariners ordered him to stop. I can understand why Seattle doesn't want its best and highest-paid player risking injury on the mound -- Jose Canseco ruined it for every position player by hurting his arm during a 1993 relief outing -- but c'mon, make him and everyone else happy and let him pitch! Odds are he'll be fine.
Unless, of course, he sneezes too hard.
4. Bidding wars: Pedro Martinez and Ivan Rodriguez are using the WBC to audition for major league jobs, but why stop with them? Open the audition to Cubans! As soon as Cuba plays its last game, have Scott Boras swoop in and start the bidding process for the top players. Bids for Yunieski Maya would open at $25 million, and the Cuban pitcher would hold out until he gets it without deferred payments.
Note: The Cuban government and the U.S. State Department may have to be consulted on this first.
5. Fantasy leagues: What better way to get fans up to speed on baseball in other countries than by holding an official fantasy league? And to keep fans from cherry-picking major leaguers from the U.S., Canada, the Dominican Republic and Japan, require that they must have at least three players in the lineup from South Africa, China, Australia, Korea, Italy or the Netherlands at all times.
6. The winning team determines home-field advantage for the World Series: Admittedly, I have no idea how this would work. It just sounds good.
7. Expand the tiebreaker: Under the actual WBC tiebreaker rules, once games go beyond 12 innings, each subsequent inning starts with runners on first and second. That's interesting, but it would even more entertaining to combine it with the minor league promotion for which they randomly pick a player as the K-man of the game, and if he strikes out, the fans get a free drink. So if the K-man strikes out with runners on first and second in the 13th, fans get a free hot dog. That would give us a new stat to track: how a batter hits with FISP (Fans In Sausage Position).
Baseball's "Redeem Team"
After the summer of Kobe, Coach K and company, does USA Baseball have its own "redeem team?" Baseball Prospectus breaks down the WBC, via ESPN Insider. Will USA rebound?
8. World Idol: For some reason, Americans can't get enough of watching amateur singers belt out over-the-top renditions of smarmy songs in front of caustic judges. Europeans just love their Eurovision Song Contest. And Cubs fans cherish B-list celebrities' performing during the seventh-inning stretch. Why not combine all three concepts by having players compete prior to each game by singing their countries' respective national anthems? The winner gets to be the home team as well as the opportunity to sing "Take Me Out to the Ballgame" later.
Or, better yet -- make them sing the opponent's national anthem.
9. American incentives: The Japanese take the WBC so seriously, I think they've been working out 12 hours a day every day since November, probably devising a number of trick plays (such as having Ichiro pitch). As for the home of the national pastime? Our guys are ducking the WBC as if it were the Pro Bowl. Because other players dropped out, the U.S.' bullpen includes LaTroy Hawkins, Heath Bell, John Grabow, Joel Hanrahan and Matt Thornton. Nothing against those guys, but LaTroy Hawkins?
How do you get Americans besides Chipper Jones, Derek Jeter and Peavy involved? Borrow a page from the Koreans and bring back the draft. Not the June draft. The military draft. Make players wear the U.S. uniform in the WBC or wear it where they'll need more than a cup for protection.
10. Add Red Sox Nation to the bracket: Pro: Interest and level of competition will increase. Con: Ticket prices will soar.
BOX SCORE LINE OF THE WEEK

White Sox pitcher Adam Russell had a dazzling line this past weekend (0 IP, 5 H, 8 R, 6 ER, 1 BB, 0 K's), while Randy Johnson showed he has something left in that 45-year-old arm by striking out seven batters in three innings in his debut with the Giants (3 IP, 2 H, 0 R, 0 ER, 1 BB, 7 K's). But our favorite line of the week was Corey Koskie's in Tuesday's exhibition game between Toronto and Canada:
2 AB, 3 R, 1 H, 0 RBI, 1 HBP
Koskie is on Canada's WBC team, and Tuesday's game marked his first at-bats against live pitching since he suffered a concussion while diving for a ball three seasons ago. Post-concussion syndrome affected him so severely that he has struggled just to play with his sons or even walk through a doorway. But he's finally healthy enough to play and now just needs a big league job. When the WBC ends, Koskie will join the Cubs' minor league camp. Here's hoping he makes it all the way back.
TELL YOUR STATISTICS TO SHUT UP

When will Johnson win his 300th game? The Unit needs five wins to reach that milestone. During the past decade, he won his fifth game of the season twice in late April (2000 and 2002), once in early May (2006), once in mid-May (2001), three times in late May (1999, 2004 and 2005), twice after June (2003 and 2008) and once not at all (2007). That leaves the possibility he could win No. 300 during a three-game series from May 22-24 against his old team in Seattle. Junior back? The Unit's possibly winning No. 300 in Seattle? Now, if only Microsoft stock would rise again (or any stock, for that matter). As for you Diamondbacks fans (and we know you're out there), the Giants play two series in Arizona in the early part of the season, one in late April and another in early June. …
So after six years of investigation and spending probably enough public money to sign Manny Ramirez for two seasons, the Barry Bonds case is on appeal until at least July and possibly the summer of 2010, and the possibility exists that he will not be convicted of anything. All of which brings up this question: Could the outcome possibly be worth all this time, effort and money? …
In Tyler Kepner's nice story on former Giants first baseman Lance Niekro, who's trying to make a comeback as a knuckleballer, he mentions an Elias Sports Bureau finding that of 190 father-son combinations in big league history, 143 were in the same role, i.e., pitcher-pitcher or position player-position player. If Niekro makes it back as a knuckler, he would add another category to the stat -- sons who were both.
Jim Caple is a senior writer for ESPN.com.