This is the time of year when you hear last season's losing teams confidently predicting that the new players they brought in will dramatically improve clubhouse chemistry and inspire a winning atmosphere that will lead to more victories. But is there such a thing as team chemistry, or are they just full of it? Do clubhouse relations really have any effect on a team's performance once it takes the field?
"Winning creates chemistry more than the other way around," Los Angeles Dodgers manager Joe Torre says. "I've seen clubs that don't necessarily like each other, but they respected each other once they got on the field, and that's more important than being happy to go out to dinner with each other."
Well, that settles that. If Torre, who played 18 seasons and has managed for nearly twice as many years, says clubhouse chemistry is overrated, who would possibly disagree?
"Anyone who says [chemistry] is not important has never won anything team-oriented in their life," says Dodgers infielder Doug Mientkiewicz, who has played on World Series champion and Olympic champion teams as well as more losing teams than really seems fair. "I think it's important anywhere in life, but especially in baseball because you live with each other 300 days out of the year. And sure, you have moments when even best friends don't get along, but the important thing is the bond you have when you walk out that door and you know 'I've got your back and you've got my back.'"
Hmmm. That complicates things a little.
So which is it? Does clubhouse chemistry exist or not?
Players on World Series teams always talk about how their teammates are the greatest group of guys in the world and how they've never played on a team where so many people were so united toward a single goal, and that's why they're successful. And losing teams always seem to have people pointing fingers and complaining about how their teammates are selfish and not team guys and always cut ahead in line for the postgame spread. But does each team start out destined to win because of Zen-like group harmony or to lose because of Machiavellian clubhouse friction?
"You're always going to have great chemistry when you win," White Sox manager Ozzie Guillen says. "When you lose, I don't care how good of guys they are, they're going to hate each other and you're going to have a miserable summer. I believe chemistry comes from leadership and respect. I believe that anywhere in life, any job, you're not going to have chemistry if you don't have success."
Makes sense, doesn't it? And I am quite willing to agree that chemistry is mostly a function of winning percentage.
And yet ...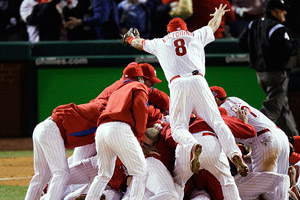 AP Photo/Charles Krupa
Maybe the Phillies won the World Series because they have an oval-shaped clubhouse that helps create team unity.
We've all dealt with miserable, selfish co-workers who brought down office morale by constantly griping about the company's overpaid executives, low employee wages, poor health coverage and lousy food in the cafeteria. I played on a softball team one season when one player sucked all the life out of the entire group such that the games weren't fun and we all played horribly. The next season, he didn't play. We were the same team as we had been the previous summer minus this one player, yet we finished first without him and were bad with him.
And no, I'm not talking about Alex Rodriguez.
All of us also are familiar with people who make everyone around them happier and perform their jobs better. I saw Kirby Puckett transform Shane Mack (among others) from a nervous player who worried about everything so much that he practiced his swing on the team bus into a relaxed player who became an All-Star-caliber outfielder.
When I think about those things, I know chemistry plays a part in performance even if Nate Silver and the Baseball Prospectus people can't document it with a mathematical formula.
And yet ...
Dodgers pitcher Jason Schmidt brings up a good point. He played for the 2002 San Francisco Giants, who came within seven outs of winning the World Series despite the presence of Barry Bonds and Jeff Kent in the same clubhouse. That tempestuous relationship didn't hurt the club any, or at least not in any way that wasn't adequately compensated by their combined 73 home runs and 437 runs produced. That was in large part because everyone else got along pretty well, and even Bonds and Kent didn't get in each other's way very often anyway.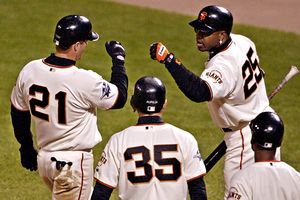 AP Photo/Mark J. Terrill
Even sworn enemies can get along when the team is winning.
As Schmidt points out, many guys play on a team.
"I would love to come into a clubhouse and want to have dinner with everyone on the team," Schmidt said. "But you can't do that because there are too many guys. You can't attract all the same personalities. There are just too many people for everyone to be great friends. And guys realize that.
"I've been on teams where there was one guy -- and it wasn't Barry -- who made everyone miserable. But you're not thinking about that when you're on the field. Not at all. It's a nonissue. I don't really see how it affects the team's play. Will you throw 95 instead of 90 because you're happier in the clubhouse? Will you throw strikes?"
When I hear that, I think Schmidt is right. Chemistry doesn't play much of a role. Put it this way: When the Rays went from 97 losses in 2007 to the World Series last year, was it the departure of Delmon Young's attitude or the arrival of Evan Longoria's bat, Jason Bartlett's glove and Matt Garza's arm that made manager Joe Maddon's quotations suddenly seem so wise? (And if you think it was Young's departure, why did the Twins do so well with him on their team?)
"I wasn't on the Braves the year they went worst to first," Schmidt said. "I would be curious to know what they thought of each other from one year to the next."
Maybe this is it, then. Maybe a few teams have a player who makes everyone else so miserable that he brings down the morale to a destructive level. And maybe a few teams have a player so inspiring that he elevates the play of everyone else. And maybe a couple of players can draw out the best in a teammate (and help him throw strikes, though not gain 5 mph on his fastball) -- or the worst. But more likely, with so many players on a roster, most teams will have the same distribution of great guys and bad attitudes. The teams with the most talent will bond through winning, while others will pull apart as they lose.
"You're always going to have one or two incidents a year between somebody, no matter what team you're on," Schmidt said. "You're with these guys every single day. I have incidents with my wife. Not fistfights, but ...
"The season is so long that someone is going to say the wrong thing, something is going to be interpreted the wrong way and things are going to happen. And it's just a matter of how quickly you get over it."
Does good chemistry matter? Yes, but only to a degree. It certainly can't hurt, and it probably makes the inevitable rough times easier to get through. And a supportive teammate probably helps players on an individual basis. But when you get right down to it, I probably would rather have on my team the jerk who hits 40 home runs and drives in 100 runs than the .260 singles hitter who is really active in the community.
After all, we have a tendency to attribute some sort of virtue to the winning team and some genetic failure to a losing team when it often really just comes down to whether a starting pitcher did his job or whether a ball stayed fair as it cleared the fence.
But you'll never convince me that that one guy wasn't responsible for destroying our softball team's chemistry and ending our dynasty.
BOX SCORE LINE OF THE WEEK

This week's award is a tie between Tampa Bay's James Shields, who put up this entry:
4 1/3 IP, 12 H, 11 R, 11 ER, 3 BB, 1 K, 3 HR
And Colorado's Jason Marquis, who gave us this line:
3 1/3 IP, 10 H, 12 R, 11 ER, 4 BB, 1 K
And Seattle's Carlos Silva for this one:
3 1/3 IP, 11 H, 9 R, 8 ER, 2 BB, 2 K
By the way, Silva also got in a shoving match with his catcher, Rob Johnson. Not the sort of thing you normally see in a spring game. Nor want to see.
One of the longest spring trainings finally ends this week, which doesn't mean we won't see any more ugly lines like that, just that we won't hear any managers or pitching coaches say afterward, "He got his work in."
TELL YOUR STATISTICS TO SHUT UP

How did the economy affect spring training? We'll get the final figures in a couple of days, but it's hard to determine. On the one hand, the Mariners say their attendance was down 10-12 percent, which seemed to be the case (or worse) for many teams. On the other hand, spring training started earlier and lasted longer than normal, Easter break is in April, the World Baseball Classic took some players away from their teams for several weeks and three additional teams were competing for attendance in the Phoenix area.
The Dodgers and Cubs traded single-game Cactus League attendance records, but many teams had such small midweek crowds that I could actually hear the infield being dragged between innings in Scottsdale this week. (Seriously. I could.) The Angels had numerous sellouts, scalpers lined the road leading into Tempe Diablo Stadium and the grass berm was filled the days I was there. This is strictly anecdotal, but Saturdays still seemed to be big days, whereas tickets were plentiful midweek in Arizona. It's worth monitoring as we head into the season.
Off Base's pick for the breakout player of the year: San Francisco third baseman Pablo Sandoval, who may look like Terry Pendleton (Sandoval could mix in a few salads) but can flat-out hit. He had too many at-bats last year to qualify as a rookie this season, but he'll be very fun to watch. He also will help supply the offense needed for the Giants to win the NL West. You heard it here first.
You think the auto industry has trouble? Detroit paid Gary Sheffield $38 million to hit 44 home runs and drive in 132 runs in two seasons before releasing him Tuesday. The Tigers, who had a $137 million payroll while finishing last in the AL Central in 2008, also owe Dontrelle Willis $22 million during the next two seasons. By the way, the last time Sheffield wasn't on an Opening Day roster, Steve Carlton was.
Longtime Off Base readers know that closers are vastly overrated, but the Mariners could use one. After Randy Messenger pretty much pitched his way out of contention Saturday by allowing six runs and retiring only one batter, new Seattle manager Don Wakamatsu was asked how he saw his closer situation and replied tersely, "I don't see one."
Ever wonder what players eat before a game? Here was the spread in the visitors clubhouse the other day in Tempe Diablo Stadium: chicken noodle soup, crackers, white bread, grape jelly, peanut butter, sunflower seeds, pumpkin seeds, bubblegum, a bowl of apples and oranges, a package of Ritz Crisps and a bowl of Snickers bars, Tootsie Rolls and Dots. Mmmmmm.
Jim Caple is a senior writer for ESPN.com.