Commentary
Indians to harness their animal instincts
Updated:
June 17, 2009, 12:46 PM ET
By
Jim Caple
| Page 2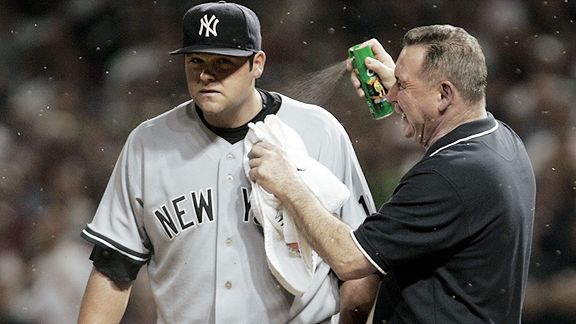 AP Photo/Amy SancettaJoba's midges weren't a freak nuisance, they were all part of the Indians grand wild kingdom scheme.
"Thirty years ago, we had no gulls nesting [in the city] and some along the lakefront all summer long, but not in huge numbers. There seems to have been an adaptive shift. Some are nesting in the city, some on slag piles, some on the banks of the Cuyahoga River. Now, we have literally thousands and thousands of breeding pairs of gulls, so the population has been growing rapidly."
-- Harvey Webster, director of the wildlife resource center at the Cleveland Museum of Natural History, explaining the seagull problem at Cleveland's Progressive Field on MLB.com
The great Cleveland seagull mystery has been solved, and it turns out there is an interesting explanation for the population boom. The lead biologist/equipment manager in the Indians' research and development department fesses up to Off Base. …
"I guess the secret is out. Yes, we're responsible for all the seagulls. They're just another stage in our biological farm system that began with the midges during the 2007 playoffs.

"Those midges were actually an accident in the laboratory. When Albert Belle got caught with his corked bat, we tried to develop a strain of termites who could quickly eat through any bats confiscated by the umpires to destroy the evidence. Never worked. Instead, we wound up producing a new species of midges called Cuyahogas Jobas, which have a sense of smell so acute that they swarm anyone with even the faintest aroma of roasting chestnuts, Mr. Softee, grilled hot dogs or any other food served by New York City street vendors.
"Those midges worked great against the Yankees, but unfortunately, we couldn't breed a new strain that would swarm the Red Sox in time. And that's where the seagulls came in. We needed to improve on the midges without arousing suspicions, so we figured, why not seagulls? After all, swarms of insects naturally attract birds, so who would suspect they were part of some plot? At first, we just wanted the gulls to poop on opposing fielders when they looked up to catch a fly ball, but we came up with something better. PETA would go nuts if it found out, but we were able to train gulls to walk and fly into bouncing baseballs. Believe me, it wasn't easy. You know how dumb seagulls are? And hiring Dave Winfield and Randy Johnson to throw baseballs at them during training sessions wasn't cheap, either.
"And here's the beauty of the thing. We can use the seagulls as an excuse for our next weapon: cats. Just as the midges supposedly attracted the birds, the birds will supposedly attract the cats, which will distract baserunners and set them up for pickoffs by rubbing against their legs and purring. The cats also will fall asleep on the laps of opposing relievers in the bullpen and refuse to get off, which will mean the relievers won't be able to properly warm up.
"The cats, naturally, will attract dogs.
"As Schottzie 02 used to do in Cincinnati, we've got some dogs who will interfere with opposing fielders by strategically laying 'mines' on the field. And I'm not talking the itty-bitty stuff poodles and wiener dogs leave that you can pick up in a plastic baggie. I'm talking big old Saint Bernards and Dobermans dropping cluster bombs not even Carl Crawford can run around.
"But that's not my favorite part. When we're on defense, we'll also send out golden retrievers, water spaniels and border collies who will chase down balls in the gap and promptly return them to our outfielders, cutting off doubles and triples. And when we're at bat, we'll send out a selection of mutts -- and I mean the really dumb ones who run into the ocean to retrieve a rock -- who will chase down the balls, then refuse to give them up. Instead, they'll just run around in the outfield with the ball in their mouths and the fielders chasing after them while our guys circle the bases for triples and inside-the-park home runs. And to help our pitchers, we've also got some bulldogs and bloodhounds who will slobber all over the baseball so they can throw spitballs.
"From there, we simply go up the evolutionary ladder, one predator at a time. Coyotes, wolves, mountain lions, bears -- you name it, we're breeding them in the batting cages right now.
"I mean, Kevin Youkilis may be a great hitter, but let's see him work the count when Cliff Lee is throwing seeds and there's a hungry Bengal tiger growling in the on-deck circle."
BOX SCORE LINE OF THE WEEK
In recent weeks, we've detailed how risky it is to choose a pitcher with the first pick in the MLB draft. Pitchers who have been high draft picks have failed at roughly twice the rate of position players. No pitcher who was drafted No. 1 since baseball's June amateur draft started in 1965 has been anything close to the success of Ken Griffey Jr., Alex Rodriguez, Chipper Jones or any other position player who went No. 1. The No. 1 pitcher to earn the most career wins was Mike Moore, who had a losing record (161-176).
That said, No. 1 picks have enjoyed occasional success. Which brings us to Kansas City's Luke Hochevar.
Three days after San Diego State pitcher Stephen Strasburg was the first pick of this year's draft, the top pick of the 2006 draft pitched an amazing complete game. Hochevar held the Reds to just three hits Friday night, but what was remarkable about that was he threw only 80 pitches! He threw eight fewer than Detroit's Dontrelle Willis threw in less than four innings Sunday (3 2/3 IP, 6 H, 6 R, 6 ER, 8 BB, 1 K, 88 pitches). Hochevar is the fifth pitcher this century to throw a complete game with 80 pitches or fewer. His line:
9 IP, 3 H, 1 R, 1 ER, 1 BB, 3 K, 80 pitches
The last pitcher to need 80 or fewer pitches for a complete game was Colorado's Aaron Cook, who threw a shutout with just 79 pitches. Red Barrett, meanwhile, is occasionally credited with throwing the fewest pitches in a complete game with 58 in 1944, but that's unofficial because no one kept close track of such things until recent decades.
TELL YOUR STATISTICS TO SHUT UP
• International Baseball Federation president Dr. Harvey Schiller says his pitch to the International Olympic Committee for returning baseball to the Olympics in 2016 went well this week. Schiller says he proposed a five-day, eight-team tournament that would allow for some major league participation, though the majority of players on the U.S. roster would come from 40-man rosters, as was the case in recent Olympics. He stresses that Major League Baseball would not shut down for the Olympics but that a sprinkling of players could be added for the medal round, depending on which countries advance. For instance, a starting pitcher from the Dominican Republic or the U.S. could come over for a medal-round game and miss only one start for his major league team.
"I'm just saying that would be a possibility," Schiller said. "The key is, we will do everything we can to have the selection of the best players available." What would make all that much easier is if Chicago wins the bid to be the host city in 2016. The IOC will vote in August on which two of seven sports under consideration will advance to a final vote in October. That final vote will take place days after the IOC chooses a host city from among four candidates: Chicago, Tokyo, Madrid and Rio de Janeiro, Brazil. What hurts baseball in addition to the difficulty of getting big leaguers available to play is the stadium cost, because no one wants to build a ballpark that likely will never be used again. Chicago and Tokyo obviously have facilities in place, and Schiller said Madrid and Rio de Janeiro both have suitable baseball stadiums, though not necessarily in those cities. He said if Rio de Janeiro is chosen, baseball could be played in Sao Paulo, and if Madrid is picked, the old Olympic facility in Barcelona might be used. Schiller also said the IOC is satisfied with the progress baseball has made in drug testing, which was another concern in addition to major leaguers and stadium costs.
Among the other sports competing with baseball for a slot is golf. Golf sounds appealing initially, but the more you think about it, how different would the Olympics be from, say, the Buick Open or any other event on the PGA Tour? The same golfers you see competing against one another for money every week would compete against one another for a medal.
• The main message underlying the overreaction to the blog about Raul Ibanez last week is that no player can have a great season these days without falling under suspicion for performance-enhancing drug use. But it doesn't have to be that way. Whether you suspect a player is your choice. Players had wild, almost inexplicable seasons long before PEDs -- Davey Johnson in 1973, just to name one of many -- and as Jayson Stark noted in his column Tuesday, they also had superb years in their late 30s.
So I choose to give a player the benefit of the doubt until shown otherwise. That sounds naive in this age of constant suspicion, but no matter. Isn't the very point of sports to thrill us, to inspire us? We lose that thrill and inspiration if every performance must be fingerprinted and authenticated before we feel safe to cheer.
Don't get me wrong, I'm all for testing. It's just that I'd rather applaud now and risk disappointment later if there is a positive test rather than automatically suspect every performance, always assume an athlete is getting away with something and never feel the thrill of sports. Just because you aren't digging through someone's garbage for syringes doesn't mean you are burying your head in the sand.
• Did the players drag their feet on drug testing? Yes. But I can understand why when supposedly confidential test results constantly pop up in the media. The players were wrong to delay testing, but whoever was supposed to protect their names in 2003 failed them miserably.
• The Yankees have received much grief and attention for their empty seats behind home plate, so it's worth noting that despite what are by far the highest ticket prices in baseball, New York leads the majors in attendance with an average of 45,065 fans per game. Yankees fans, many of whom saw their ticket prices double, if not triple, deserve some props for still showing up in force. In fact, despite the recession and forecasts of doom, MLB attendance is down only slightly from last year, and part of that decline is because the two New York teams are playing in stadiums with lower capacities.
• Ichiro is leading the league in batting, but the Mariners' biggest problem can be summed up by his more important run total. He has scored only 28 runs, a total less than what 123 other major leaguers have scored. He's on pace to score only 70. That's not his fault, and it's proof that far too few of his teammates are performing anywhere near as well as Ichiro is.
• Those wondering whether the Rangers' pitching will wilt under the summer heat should note that Texas threw shutouts on consecutive nights at home last week, the first time the staff has done so in 28 years, when the team played at the old stadium.
Jim Caple is a senior writer for ESPN.com.
MOST SENT STORIES ON ESPN.COM