Commentary
Why don't the Giants bring back Barry?
Originally Published:
September 16, 2009
By
Jim Caple
| Page 2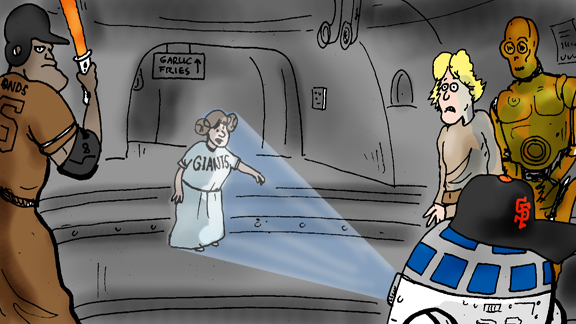 Kurt Snibbe
Help us, Barry-Wan Kenobi, you're our only hope.
The Cardinals lead the Cubs by 8.5 games, the Phillies lead the Marlins by 7 games, the Yankees lead the Red Sox by 6.5 games, the Angels lead the Rangers by 6 games, the Dodgers lead the Rockies by 5 games and the Tigers lead the Twins by 4.5 games. And the wild-card race is virtually over in the American League, with Boston holding a 5.5-game lead over Texas.
Barring a substantial winning streak by the Twins, that leaves the National League wild card as the one and only tight race, with the Giants closing the gap Tuesday night to 2.5 games behind the Rockies. So while the national media focus on yet another possible Yankees-Red Sox postseason series (a potential matchup so relentlessly overhyped I think E! and TMZ would cut down to triple coverage on Jon and Kate so they could put crews at Yankee Stadium and Fenway Park), the Giants offer our best chance for a nail-biting conclusion to what has been a humdrum season.

Which is why we all need to embrace the Giants as America's team. A desperate nation turns its weary eyes to them. Nothing against the Rockies, but the best way to jazz up October would be to get the Giants into the postseason.
Rather than endure another story on the Joba Rules, we could instead turn our focus to Tim Lincecum (14-5, 2.30 ERA, 244 strikeouts), who is the game's most entertaining pitcher since Mark Fidrych was talking to baseballs. He's a foot shorter than teammate Randy Johnson yet he throws harder, despite a delivery that he apparently learned from Bugs Bunny. If the Giants can just reach the postseason, Lincecum and Matt Cain (13-5, 2.61) could be every bit as dangerous as Curt Schilling and Johnson were in 2001. But there's no need for any "Lincecum and Cain and Pray for Rain" slogans. Because Barry Zito has been nearly effective as his old self, going 4-3 with a 2.34 ERA since the All-Star break, and Brad Penny is 3-0 with a 1.64 ERA since Boston gave up on him. And let's not forget the 46-year-old Big Unit, who was activated from the disabled list Tuesday and can be called upon from the bullpen at any time.
Instead of suffering through those endless Red Sox and Yankees at-bats while they foul off 2-2 pitch after 2-2 pitch, we could turn our attention to the generously proportioned Pablo Sandoval. He doesn't waste our time -- he just goes up there and hacks, with a .322 average, 21 home runs and the best nickname in baseball: Kung Fu Panda.
Rather than hearing how the Red Sox and Yankees rivalry is the best in baseball, we could have the Dodgers and Giants matched up in the National League Championship Series, to renew what has often been a better and more heated feud. I mean, Pedro Martinez only shoved Don Zimmer; it's not like he ever hit him over the head with a bat.
And instead of hearing how Red Sox fans have suffered almost 700 days since their last world championship (the agony!), we could give San Francisco fans some long-overdue props for supporting their team for 51 years without a World Series championship.
The only obstacle to seeing all this in October is that Sandoval is not only the heart and soul of San Francisco's offense, he's also the kidneys, liver, lungs, pancreas and spleen. Only four teams have scored fewer runs than San Francisco, and as good as their pitching is, the Giants won't reach the postseason without boosting their production.
That's why, if baseball is really going to spice up the next several weeks, the Giants need to make a bold, controversial, but necessary move. They need to bring back -- brace yourselves -- Barry Bonds.
[+] Enlarge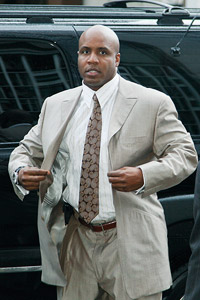 AP Photo/Eric RisbergBringing back Bonds might not be as crazy as you think.
As Randy Winn told Jayson Stark this week, "Hey, he's not 'officially retired,' right?" No, he's not. He wouldn't be eligible for the postseason, but he could get the Giants there. And they wouldn't even have to vote him a World Series share if they didn't want to.
Wait, I'm almost serious. This could work. Think of the media outrage. Think of how Bonds would single-handedly put the San Francisco kayak industry back in the black. Signing Barry would be so controversial, "SportsCenter" might even mention the San Francisco score before the latest update on Schilling's Senate campaign.
Granted, Bonds hasn't played in two years. But the last season he did play, he hit 28 home runs, with a .480 on-base percentage and a 1.045 OPS. Even after two years off, Bonds could leave the court room, arrive at the ballpark three hours before the game, fail to stretch, take a round of BP, ignore his teammates, stiff the clubhouse guy, blow off reporters and still get intentionally walked two times. Give him time to get back in form and he could hit two, maybe three home runs the final 10 or so games, which might make all the difference for this team.
Would the Giants compromise themselves by signing someone who brings such baggage with him? Who cares? They never let that bother them very much before. Besides, if the Dodgers can sign Manny Ramirez, the Yankees can have A-Rod and Andy Pettitte and the Red Sox use Big Papi, the Giants shouldn't feel bad about bringing back Barry.
Bonds should be available. His perjury case opens Thursday in San Francisco. Lester Munson reports it could quite possibly end in his favor. Even if it doesn't, the decision likely won't come down for several months, long after the city has swept up the confetti from the Giants' World Series parade.
With an otherwise dull final few weeks to the regular season ahead, Bonds' returning to the Giants would be the best thing that could happen to baseball right now. Of course, I might have trouble convincing Bud Selig of that.
Not to mention Pedro Gomez.
BOX SCORE LINE OF THE WEEK
You don't normally think of Spain as a baseball hotbed, but the country pulled off a major upset at the World Cup this week by beating Venezuela 8-1 in a second-round game. San Diego Padres prospect Eric Gonzalez -- who was born on the island of Tenerife, graduated from high school in Spain, then went to college at South Alabama -- got the victory.
But the most interesting line of the week was by Petr Minarik of the Czech Republic, who put up this winner against Chinese Taipei:
1 2/3 IP, 9 H, 10 R, 2 ER, 2 BB, 0 K
The World Cup continues this week with second-round games in the Netherlands and Italy, and the championship round is in Italy next week.
TELL YOUR STATISTICS TO SHUT UP
• Speaking of foreign prospects, the minor league batting champ this year was Italian third baseman Alex Liddi, who hit .345 with 23 home runs, 102 RBI and 97 runs scored for the Mariners' Class A High Desert Mavericks. Liddi, who grew up in San Remo, Italy, was named the California League MVP. Meanwhile, guess who led the minor leagues in RBIs? Koby Clemens with 123 runs driven in (and a .341 average) between the Astros' Class A and Double-A farm clubs in Lancaster (California League) and Corpus Christi (Texas League). He had a great season at Lancaster, and if his dad was in charge, I'm sure he would have been named MVK.
• Seattle Mariners pitcher Randy Messenger's nickname is Big Mess. Is this a good nickname for a reliever or a bad one? Discuss amongst yourselves.
Jim Caple is a senior writer for ESPN.com.
SPONSORED HEADLINES
ESPN TOP HEADLINES
MOST SENT STORIES ON ESPN.COM