Commentary
New Year's resolutions, baseball-style
Originally Published:
December 30, 2009
By
Jim Caple
| Page 2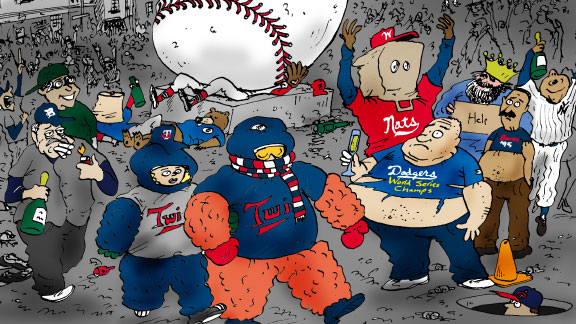 Kurt Snibbe
As we prepare to usher out 2009 by watching Matt Holliday drop the ball in Times Square (haha), it's time to make all those New Year's resolutions we'll never keep. But maybe it will be easier by putting the proper baseball twists on the old standbys.
1. Lose enough weight so you can fit back into your most recently purchased division title commemorative T-shirt for the Pirates, Royals, Blue Jays, Orioles, Reds or Brewers. Or into your most recent World Series championship T-shirt for the Mets, Dodgers, Twins, Athletics, Giants, Indians or Braves. Or your Cubs commemorative world champion Buster Brown suit.
2. Quit smoking. Or at the very least, quit smoking as much as Jim Leyland.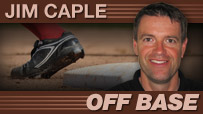 3. Learn to speak a foreign language by listening to Ralph Kiner or Jerry Coleman.
4. Travel abroad by backpacking through Red Sox Nation. (Note: A visa is required for Red Sox Nation, and a platinum Visa card is essential for visiting Fenway Park.)
5. Reduce stress by not rooting for the Mets.
6. Help save the environment by going green. When attending Nationals games, wear only reusable canvas shopping bags over your head. And if you're a Pirates fan, purchase only replica jerseys that don't have names on the back so you don't have to throw them away after the Pirates trade the players.
7. Get off the couch and experience nature by attending a game at the Twins' new outdoor ballpark. Be sure to bring a glove so you can catch a snowball.
8. Cut down on your alcohol consumption by drinking only as many beers as you can afford at the ballpark. Or, by not rooting for the Cubs.
9. Reduce your debt by cutting up all the team credit cards with the 23.4 percent interest rates that you applied for at the ballpark during those cold night games back in April just so you could get the free beach towel to wrap around your body for an extra layer of warmth. But keep the towel for those cold night games this April. (Or, if you're going to Minnesota's new outdoor stadium, for games in April, May, June, August and September.)
[+] Enlarge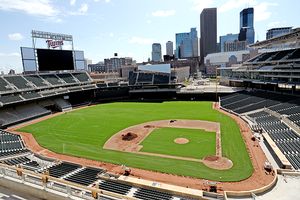 AP Photo/Craig LassigYou'll need to dress appropriately for Target Field!
10. Get better organized by carrying one pocket schedule in your wallet, attaching another to your fridge and taping a third to your office computer.
11. Improve your mind by going back to college. Or at least go back to the College World Series.
12. Stop gambling … right after you put down $50 on your favorite team to reach the World Series. (Padres fans: Do this by midnight Jan. 31 to claim it as a loss on next year's tax returns.)
13. Landscape your yard by mowing stripe patterns into the lawn like a big league outfield.
14. Reduce clutter (and make your spouse very happy) by going through your closet and tossing out all your old satin Starter jackets, any sweatshirts and T-shirts commemorating a wild-card berth, all softball pants, and any caps with visible sweat stains on the outside.
And finally …
15. Help the less fortunate. Attend a Royals game.
DONNY, YOU'RE OUT OF YOUR ELEMENT
• Last week, Associated Press sports editors named "baseball's ongoing drug problem" the 2009 Sports Story of the Year, saying the sport "is in a sort of limbo … unable to shake the taint of drugs no matter how often it tests its players or how many suspensions it hands out." Gee, I wonder why that's the case? Perhaps it's because editors routinely turn every story involving steroids and baseball into a major headline while burying similar stories about football back behind the tire ads, as well as ignoring the alarming -- and far more significant -- reports of concussions and brain damage in that sport.
• If it seems that -- despite all the Twitter alerts, blogs and rumors -- there still are almost as many free agents out there as when the offseason started, it's for good reason. Due to the nontendering of contracts, there still are nearly 150 free agents on the market, including certain and likely Hall of Famers. Here's an All-Star team of available free agents:
1B: Carlos Delgado
2B: Orlando Hudson
SS: Miguel Tejada
3B: Adrian Beltre
OF: Jermaine Dye
OF: Johnny Damon
OF: Matt Holliday
C: Bengie Molina
P: Ben Sheets
• Do yourself a favor and read Liz Merrill's piece on one of the finest people anyone could ever meet, Ernie Harwell, and a few of the people lucky enough to have met him.
Jim Caple is a senior writer for ESPN.com. You can follow him on Twitter at jimcaple.