Commentary
MLB players should love arbitration
Originally Published:
January 20, 2010
By
Jim Caple
| Page 2
Tim Lincecum asked for a record $13 million in salary arbitration on Tuesday -- $5 million more than what the San Francisco Giants offered. It could have been worse for San Francisco, though. Digital Timmy from the video game commercials isn't eligible for arbitration until "MLB 2K11."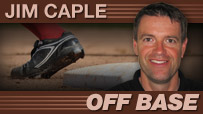 Salary arbitration is a wonderful thing. A player submits a figure that represents about 10 times his previous salary (or in Lincecum's case, 20 times). His team submits a figure that represents about five times his usual salary. The two sides argue their respective cases in front of an independent arbiter, who can choose only one figure or the other. So the player wins the lotto no matter what.
Few cases ever go to a hearing, though. Of the more than 200 players originally eligible for arbitration this winter, only 38 still haven't agreed to a contract. And most of those 38 players will settle before a hearing, as well -- some teams haven't gone to an arbitration hearing in more than a decade.
Why is that? Supposedly, feelings get hurt in arbitration. The player and his agent begin by pointing out that the player had an .897 OPS last season, led all comparable players in runs and extra base hits, had a .995 fielding percentage, helped draw an extra 6,200 fans on his bobblehead night, and therefore deserves $6.4 million. The team counters that while the player was indeed very valuable, he also hit .178 with runners in scoring position, had the lowest zone rating of players at his position, led the league in GIDP, had an unfortunate case of halitosis, and therefore deserves only $4.9 million. The player then gets all upset, stomps out of the hearing, and whines to reporters that "if this is what they really think, then maybe they should just trade me to a real team that will appreciate me."
The player wins his case, but he still pouts all spring training long and through the first three weeks of the season. The fans start booing him, the team winds up in fifth place, and the manager gets fired.
[+] Enlarge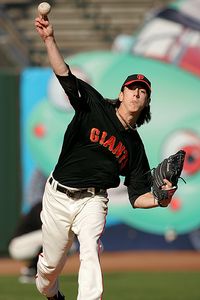 Ezra Shaw/Getty ImagesWhatever happens via arbitration, Tim Lincecum will be collecting a bundle of cash next season.
It's a lose-lose situation for the team. The team can either lose the arbitration hearing, in which case it must pay the player far more than it wants to. Or the team can "win" the hearing, in which case it still pays the player somewhat more than it wants to and also deals with his moping around all season. Negotiating a salary somewhere in between the two arbitration figures is simply the least bad of all the options.
We can all identify with this in the real world, where employees have their own version of salary arbitration. It's called an annual performance review, but it works out just a little bit differently.
Like at an arbitration hearing, you meet with your boss and outline all your achievements. You talk about how you met all your goals from the previous year's review, how you capably filled in for the boss during his/her vacation, and that department productivity is up 22 percent. And then you politely ask for a 10 percent raise, hoping to get 5 percent. The boss nods sympathetically and congratulates you on your fine work, but then points out that you spent an awful lot of company time running the office NCAA bracket pool and talking about your fantasy football team, your TPS reports were always late, you left early too many times to coach your kid's soccer team, and there have been sexual harassment complaints regarding your screen savers.
Just like a player at arbitration, you walk away hurt and upset. Unlike a player, you don't walk away with a raise worth 10 times your previous salary. That's because the boss is also the arbiter. He/she lectures you on how profits are down, how the budget forecast is gloomy, how layoffs are possible, and finally, how you should feel lucky to get a 1.2 percent raise -- and oh, by the way, you'll need to work a couple weekends to earn it.
In other words, players who go to arbitration need to toughen up. So the team said some things that were less than complimentary -- deal with it! Outside baseball, employees don't receive a $4.5 million raise to soothe their hurt feelings. In the real world, if you want the sting from a performance review treated, you need to write a check for the co-pay -- which, the boss forgot to tell you, is going up another $20 per visit.
Jim Caple is a senior writer for ESPN.com. You can follow him on Twitter at jimcaple.