Commentary
Sowing the seeds of Page 2's legacy
Originally Published:
November 5, 2010
By
Jim Caple
| Page 2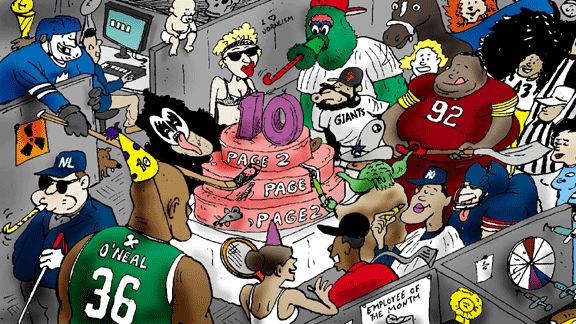 Kurt Snibbe/ESPN.com
Page 2 was revolutionary when it launched 10 years ago, back in the days before YouTube, Facebook, Twitter and Deadspin, when everyone was still pretty much on dial-up and it took minutes to download a decent photo of Anna Kournikova. Editors Kevin Jackson and Jay Lovinger skillfully mixed sports, humor, popular culture and politics to create a page that covered sports like no one else had (but many eventually would).
At least, that's the official history of Page 2. The unofficial history shows that Page 2 germinated for decades before it finally launched …
Page 2, sports section, Seattle Post-Intelligencer, June 2, 1979: "Dear Editor: I really liked your stories about the Sonics championship, but it would have been better if you had someone write about it from the fans' view and talk about how long we waited for this. And maybe you could include some movie references, like how Dennis Johnson's block of Kevin Grevey's 21st and final shot with three seconds left in Game 4 was kind of like Robert De Niro telling the guys in 'The Deer Hunter' that a real man only takes one shot. I think younger readers would really like that sort of thing. And maybe toss in some more photos of the cheerleaders. It's too late for this year, but I know there will be plenty of Seattle championships for you to do this with in years to come! Signed, Kevin Jackson, age 9, Sequim, Wash."
HAPPY BIRTHDAY, PAGE 2!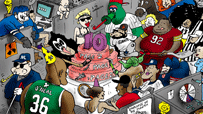 Next week the party continues as we celebrate 10 years of Page 2.
Monday: Vote for Page 2 Hall of Fame nominees
Tuesday: The Best of Page 2
Friday: Page 2 Hall of Fame class revealed
Page 2, Inside Sports, July 1981: After Hunter S. Thompson misses his final, final, final, "I mean it, Hunter, I need that @$ing story right now!" final deadline for a story about heavy drug use among football writers, IS editorial director Jay Lovinger instead runs a full page of photos of newborn Anna Kournikova under the headline "Anna Topless!"
Page 2, rough draft, "Breaks of the Game" by David Halberstam, August 1981: "Long afterward, after he had missed his deadline while drinking in the bar after the Trail Blazers game, the old beat writer remembered how the best-selling author had predicted that, just as American culture was changing, so was sports. Soon, said the tall author in the safari hat, younger readers no longer would want clichéd stories about how their favorite players drink milk and eat Wheaties. They would grow weary of such reportage. They would crave snarky commentary about the players' outlandish behavior and the mainstream media's fawning coverage. They would want stories that mock and parody the players and broadcasters, along with tales of what it was like to be a fan -- the pain of following the Red Sox, the joy of hating the Yankees. They would want comparisons and analogies to movies and TV shows like 'The White Shadow.' Plus, lots of videos and photographs of the team's cheerleaders. 'It,' the author had said, as usual, breaking his sentences into needlessly dramatic and often disruptive short introductory clauses, with way too many commas, 'will change sportswriting." And then the best-selling author left to go fly-fishing in South America on Super Bowl Sunday … "
Page 2, The Seattle Times, Sept. 12, 1985: "Corrections: The Seattle Times regrets that several errors were included in the recent game story written by summer intern Jim Caple about the Mariners' 8-5 loss to the Yankees. Yankees owner George Steinbrenner is the son of Henry and Rita Steinbrenner, not the offspring of a satanic ceremony by a witches' coven as portrayed in the 1968 movie 'Rosemary's Baby.' The manager of the Yankees is Billy Martin, not veteran actor Vic Morrow (who is deceased), and Martin never slapped his son on the mound while making a pitching change. While amyotrophic lateral sclerosis is indeed referred to as Lou Gehrig's disease, it is not true that cirrhosis of the liver is known as 'Mickey Mantle syndrome.' Finally, the Yankees spent $20 million in 1980 to sign free agent Dave Winfield to a 10-year contract, not to build the Death Star that destroyed the peaceful planet of Alderaan."
Page 2, Baseball Digest, January 1986, The Fans Speak Out: "Dear Editor: Does anyone know where I can buy one of those Astros uniforms? I'm not talking about those whacked-out orange rainbow jerseys they wear now (though I like them); I mean the Earthmen and Spacettes uniforms designed by Evelyn Norton Anderson and worn by stadium personnel in the mid-60s when the team moved into the Astrodome. I think they're pretty cool. Sincerely, Paul Lukas, Brooklyn."
LABOR PAINS
Page 2's founding editor, Kevin Jackson, recalls the night our page was born.
Page 2, The New Republic, June 17, 1987: Gregg Easterbrook's article criticizing the space shuttle program ("Stop Me Before I Blast Off Again") gains national attention when, in addition to using pie charts, complex federal budget projections and a standard bell curve to back up his arguments, he includes a gratuitous photo of a Dallas Cowboys cheerleader.
Page 2, English 121, midterm composition, spring semester 1988: Jeff Merron compiles a top 10 list of sports top 10 lists.
Page 2, The Crusader, Oct. 26, 1991: Bill Simmons is placed on double-secret probation at Holy Cross for threatening to kill sports editor Michael Philbrick, after his 12,872-word deconstruction of the career of former Holy Cross two-way football player and Heisman finalist Gordie Lockbaum, including 17 references to "Hoosiers," "Karate Kid" and "Teen Wolf" (not counting footnotes) -- plus a 3,230-word sidebar on his recent trip to Las Vegas -- are edited down to three paragraphs and a photo with a snarky (and very funny) caption at the bottom of page 2 of the school paper.
Page 2, interoffice memo to Ralph Wiley, Sports Illustrated, January 1992: "Look, Ralph, we very much value your riffs on jazz, politics, history, race, etc., but we're a sports magazine and there are only so many pages available each week. So you'll just have to put up with the word limits like everyone else until there's an invention that will somehow miraculously allow infinite space for your copy. Don't hold your breath … "
Page 2, Harrisburg Middle School Times, Oct. 24, 1992: After the Pirates lose another heartbreaking Game 7 to Atlanta in the NLCS, DJ Gallo decides to ignore what happened and instead writes about what he wished had happened. He then runs this headline on the second page of his school paper: "Pirates Win World Series! Parade Route Extended to Circle Barry Bonds' Head."
Page 2, Penthouse magazine, December 1994: "Dear Penthouse: I never thought anything like this would happen to me, but I was at a Mariners game and I sat next to this amazing girl in the bleachers. I noticed her looking at me in the first inning, and she kept edging closer and closer to me as the game went on. Finally, during the seventh-inning stretch, she put her hand in my lap and whispered into my ear, 'Could you help me to the bathroom? I want to show you something.' Needless to say, I got up from my seat even though Ken Griffey Jr. was due to bat in the bottom of the inning. When we got to the bathroom, she immediately peeled off her Edgar Martinez replica T-shirt and then showed me the most revealing pair of stats I could imagine. Did you know OPS is a much better gauge of a batter's true production than batting average, while the Pythagorean theorem predicts how many games a team should win? I think I'm in love. Signed, David Schoenfield."
Page 2, Valentine's Day love letter, Feb. 14, 1995: " … The cliché is of lovers whispering sweet nothings into a receptive ear, but you have spoken sweet somethings loud and clear and directly into my very soul. With your guidance I have seen Kareem's skyhook and Hershiser's fastball, Magic driving to the rim and Garvey and his Popeye biceps stepping to the plate. You have brought the Forum and Dodger Stadium into my living room. Chick Hearn and Vin Scully, you are my Valentines, now and forever. Eric Neel."
Page 2, office e-mail, The Sporting News, Aug. 12, 1998: National columnist Michael Knisley suggests that with the new wave of retro ballparks, "We should do a series where we travel around to all the stadiums in the majors and rank them by architecture, concessions, restrooms, seats, etc." He begins to ponder his future when his editors respond that no one would read that and that what readers really want are 10-day-old box scores.
Page 2, The Washington Times, Aug. 12, 1999: Patrick Hruby's review of "Madden NFL 1999" gets chopped and buried between ads for discount tires and erectile dysfunction treatments after he uses the review to skewer Wizards management, alleges that the Y2K bug hysteria is part of a conspiracy by David Stern to divert attention from lousy referees, suggests that Roger Clemens is growing a third ear and references something called the Whizzinator.
Page 2, ESPN.com, Nov. 6, 2000: Editors Kevin Jackson and Jay Lovinger launch Page 2 after calling artist Kurt Snibbe at 10 p.m. the previous night to ask if he could please draw six cartoons to illustrate the page by 6 a.m. Snibbe draws nine, two of which are censored.
With apologies to the many writers and editors I left out. It's been a great 10 years, folks.
Jim Caple is a senior writer for ESPN.com. You can follow him on Twitter at jimcaple.